Trello Gantt Charts: Guide, Advantages, Boards & Power-ups
Fans of Trello know that the web-app is fantastic for
managing projects
and streamlining workflows. However, Trello's default views and visualizations aren't suited to every project and every goal. To be more specific, project managers
using Trello
sometimes find themselves wishing for a way to visualize and digest high-level project information quickly.
If that sounds anything like your experience with Trello, it might be time to look into creating Gantt charts. Don't worry if you aren't familiar with the concept, we'll be covering all the whats, whys, and hows below, and suggest a number of power-ups for you to use!
What Is A Gantt Chart?
A Gantt chart is a common project visualization tool. It's a sort of bar graph that displays the start and end dates of a project's components along with personnel, timelines, and dependencies.
The chart distinguishes jobs that can be carried out in parallel from those that can't be started or completed until others are finished, and may help identify bottlenecks that were overlooked during the project timeline.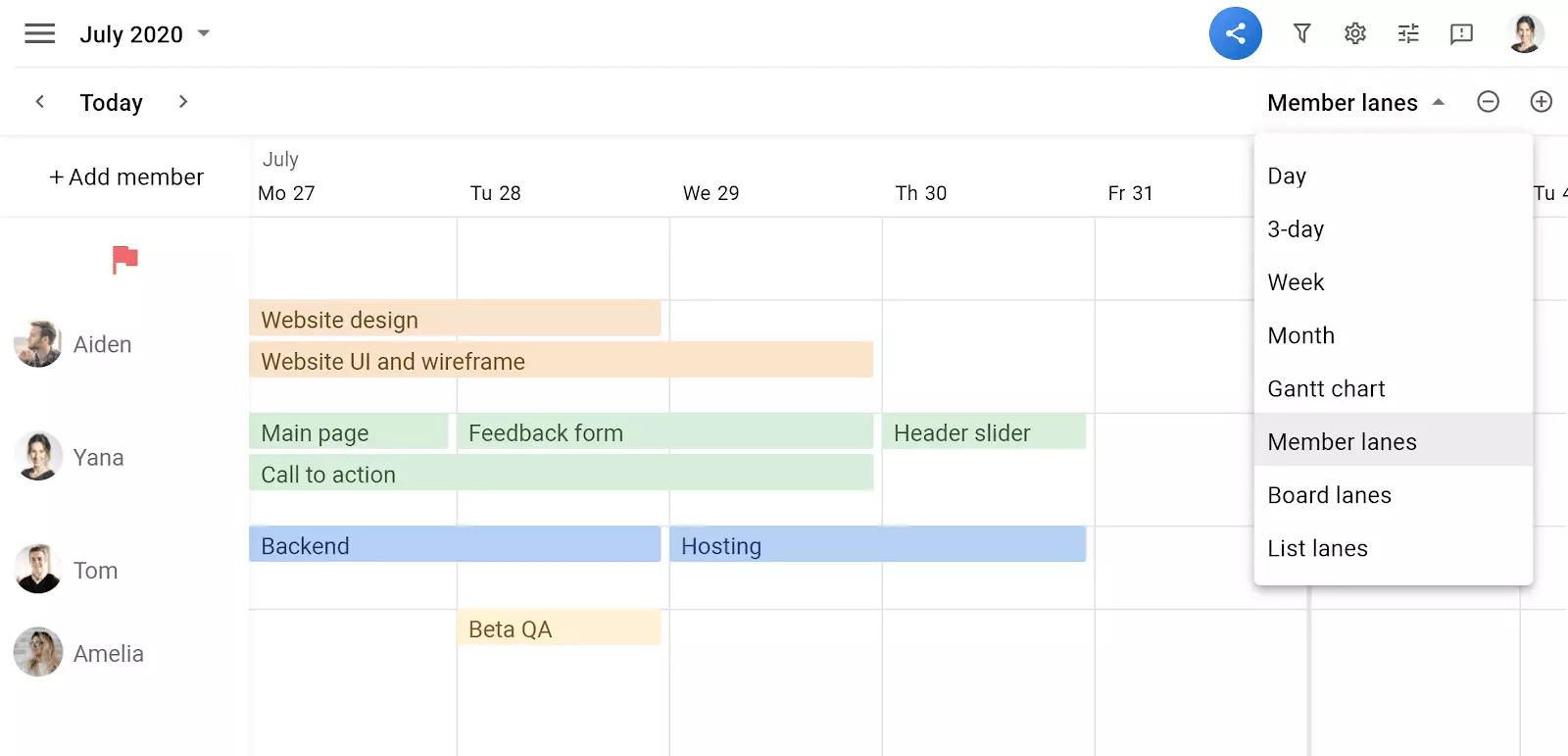 In the example above, the start and end dates of the project's stages are represented by bars. Stages that can be started and worked on simultaneously overlap while stages that can't begin until some prior stage is completed are connected to one another.
In more advanced iterations of the Gantt chart, bars can be systematically filled in with a secondary color to represent some other metric related to the task or stage (e.g., percent of budget used, percent of subtasks completed, etc.).
Is A Gantt Chart Right For You?
While Gantt charts are one of (if not the) most popular project management visualizations, they won't mesh well with every project. To help you decide whether or not a Gantt chart is right for your project's needs, here are some of the main advantages and disadvantages of using Gantt charts:
Advantages Of Gantt Charts
Offer High-Level Overview: Gantt Charts provide a holistic picture of a project and its timeline, both from the perspective of those who are involved with it (executives and other stakeholders) and those with less involvement (managers).
Ideal For Tracking: Gantt charts assist project managers and participants in monitoring activities, targets, and the project as a whole. The chart may indicate possible barriers or issues that need to be addressed.
Boost Productivity: Gantt charts allow all members of a project to see exactly what's happening (and what isn't). This accountability is great for keeping everyone on track.
Support Multitasking: Gantt charts make it easy for project managers to juggle multiple projects simultaneously.
Prioritize Simplicity: Gantt charts simplify complex projects down into simple shapes and colors. This makes it easy to absorb project information at a glance.
Facilitate Realistic Expectations: Gantt charts illustrate the hierarchy of tasks that need to be completed in order for a successful project. This facilitates more realistic expectations when it comes to estimating project and stage completion dates.
Disadvantages Of Gantt Charts
Often Time-Consuming: Gantt charts can be difficult to set up depending on the complexity of the project they're intended to support. Software (like the Power-Ups described below) can make the process easier.
Can Be Confusing: Gantt charts can quickly become confusing when too many concurrent tasks are added or when the chart needs to be reworked mid-project.
Lacks Clear Priorities: Gantt charts depict the order of tasks and the estimated time to complete them. Often, project managers need to supplement them with visualizations that specify priority in order to clarify a project's workflow.
Sub-Dependencies Are Vague: Gantt charts are great for demonstrating dependencies between tasks, but often fail to show dependencies between sub-tasks by nature of their high-level visualization.
Does Trello Have Gantt Charts?
Unfortunately, Trello doesn't offer users any way to create Gantt charts without turning to third-party Power-Ups. Fortunately, many of those third-party Power-Ups are great! So, without further ado, let's cover some of the best options, and what their Gantt charts look like:

Elegantt
Get Power-Up
Note: Elegantt isn't actually a Power-Up but we include it here as if you are looking for Gantt charts for Trello you should really give it a try.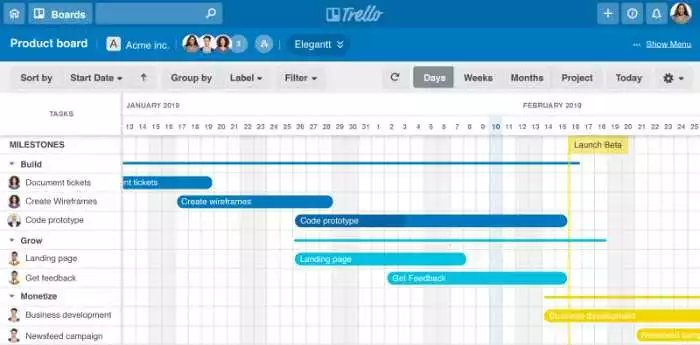 Elegantt is possibly the best Gantt chart app available for Trello. Notice how we didn't call it a Power-Up? That's because Elegantt is actually a Google Chrome extension that integrates seamlessly with Trello. Michael Pryor (Head of Product at Trello) once said that if he and his design team were going to make Gantt chart boards a feature of Trello it would look exactly like Elegantt. That's high praise for a third-party app!
Setup
Elegantt has a well-crafted onboarding process, an easy-to-use interface, and automatically integrates all project data. No need to worry about transferring anything manually!
Price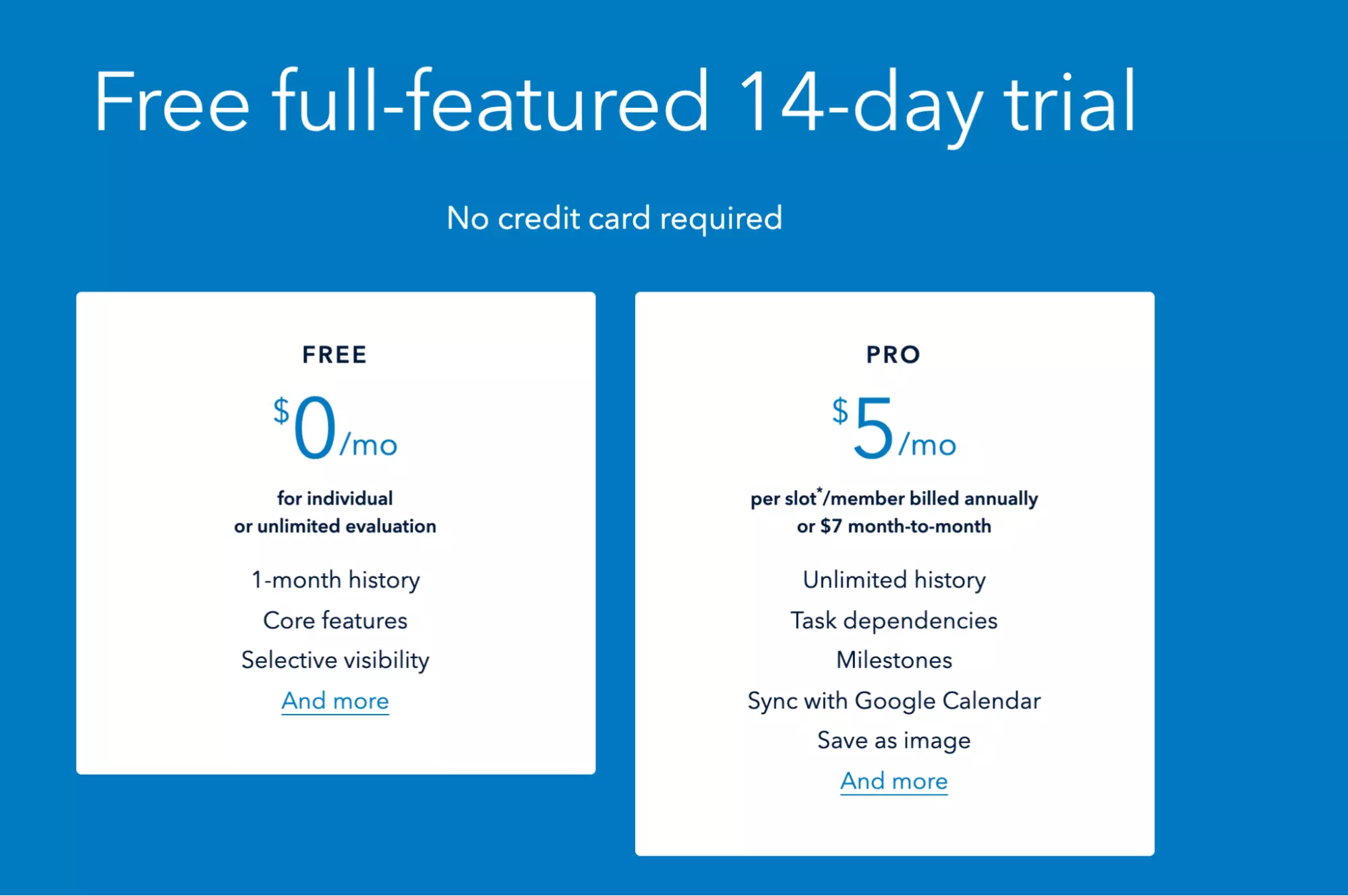 Elegantt's pricing model offers individual users a free option while asking teams to hand over $5/month. This may make it more expensive than some of the other options for small teams. You can also try Elegantt for free for 14 days.
Features
When it comes to features, Elegantt certainly doesn't disappoint. It's packed with all the tools you'd expect to create data-packed Trello Gantt chart boards. Tasks are visually represented by bars that denote start and end dates and they can be assigned to any Member of the Trello project easily.
On top of these basic features, Elegantt offers a suite of extras that help improve workflow. For example, users can graphically represent task dependencies to make sure priorities are clear for all team Members.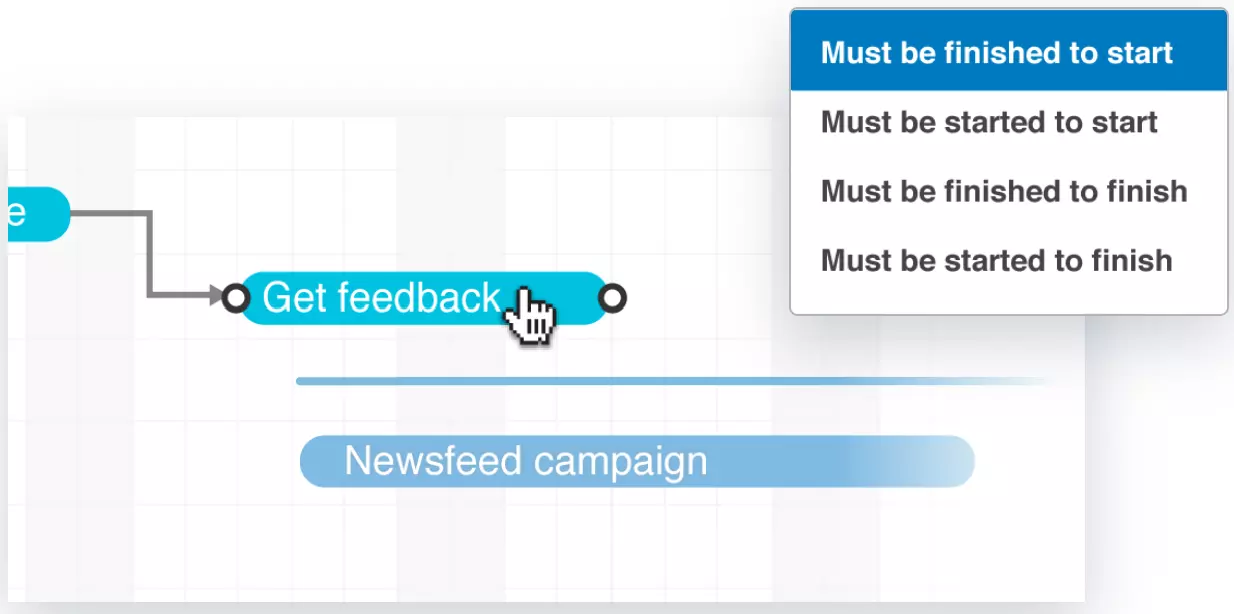 In addition, project managers can visually flag milestones to make sure important deadlines and targets are always in the back of people's minds. This is a great feature that builds on the fact that Gantt charts are great for high-level overviews of a project.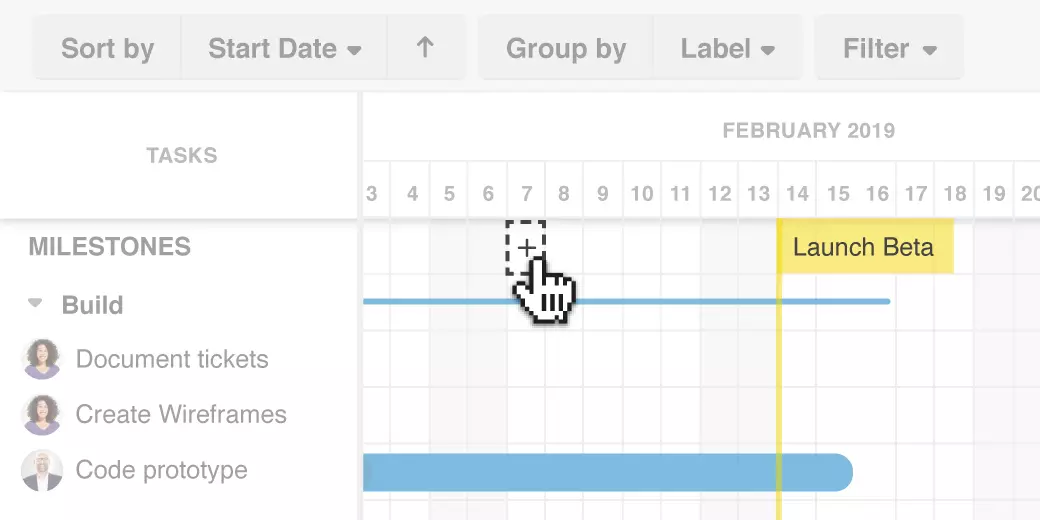 The app also integrates with Google Calendar, iCalendar, and Outlook so project Members can receive alerts about notable events and deadlines.
Key Features
Save As File: Gantt charts can be exported in a variety of formats to be used in presentations and marketing materials.
Click-and-Drag: Almost any element of a Gantt chart can be controlled and altered with simple click-and-drag actions.
Selective Visibility: All Gantt chart elements can be filtered by Member or Label to hide unnecessary tasks and details.
Integration: Elegantt integrates with a variety of calendar apps to keep Members organized while off-app.
The Verdict
Overall, Elegantt is a fantastic Gantt chart app for Trello that has the potential to vastly improve your workflow. It has a wealth of innovative features that feel natural within the Trello ecosystem.

Planyway
250-500k
Free/Paid
Third Party
Get Power-Up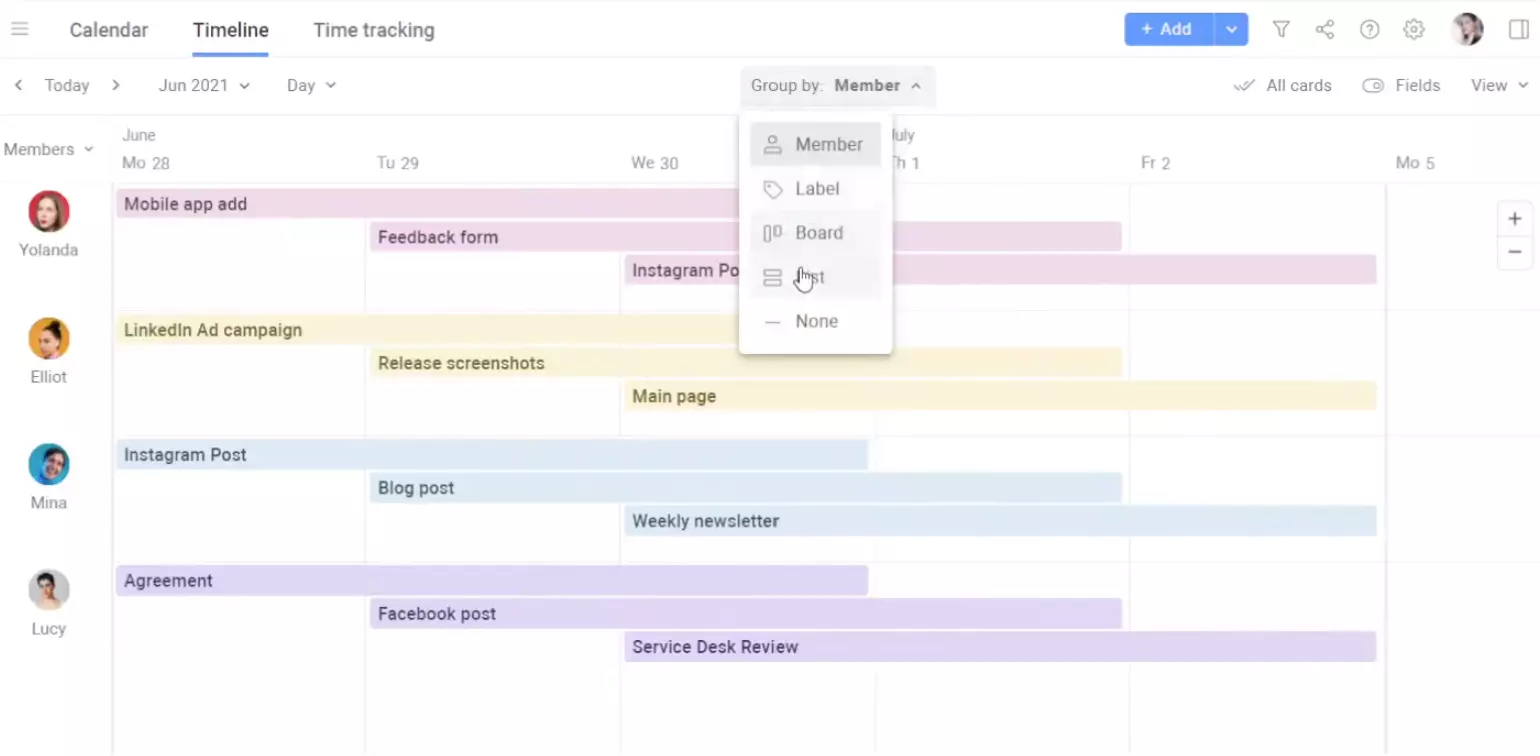 Planyway is one of the most installed Trello Power-Ups thanks to its polished design and well-developed features. While Planyway does not explicitly offer Gantt charts (they choose to refer to the product as a "Timeline"), the result is the same. It has everything you'd expect from a Gantt chart tool.asd
Setup
Overall, the app makes set-up and onboarding incredibly painless. Planyway's Gantt chart boards are clean, modern, and easy to understand, making it easy to install the Power-Up and get to work. In addition, Cards from your Trello project can be imported and Gantt-ified automatically.
However, one notable exception comes when trying to import the start dates from a Trello tasks... you can't. You'll need to re-enter every task's start date directly into Planyway from the get-go and change the start dates in both systems should the need arise.
Price
Planyway is priced extremely reasonably for the service it provides. The Power-Up has a free tier that gives one user near-unlimited access. For teams, the app is priced at $7/user monthly.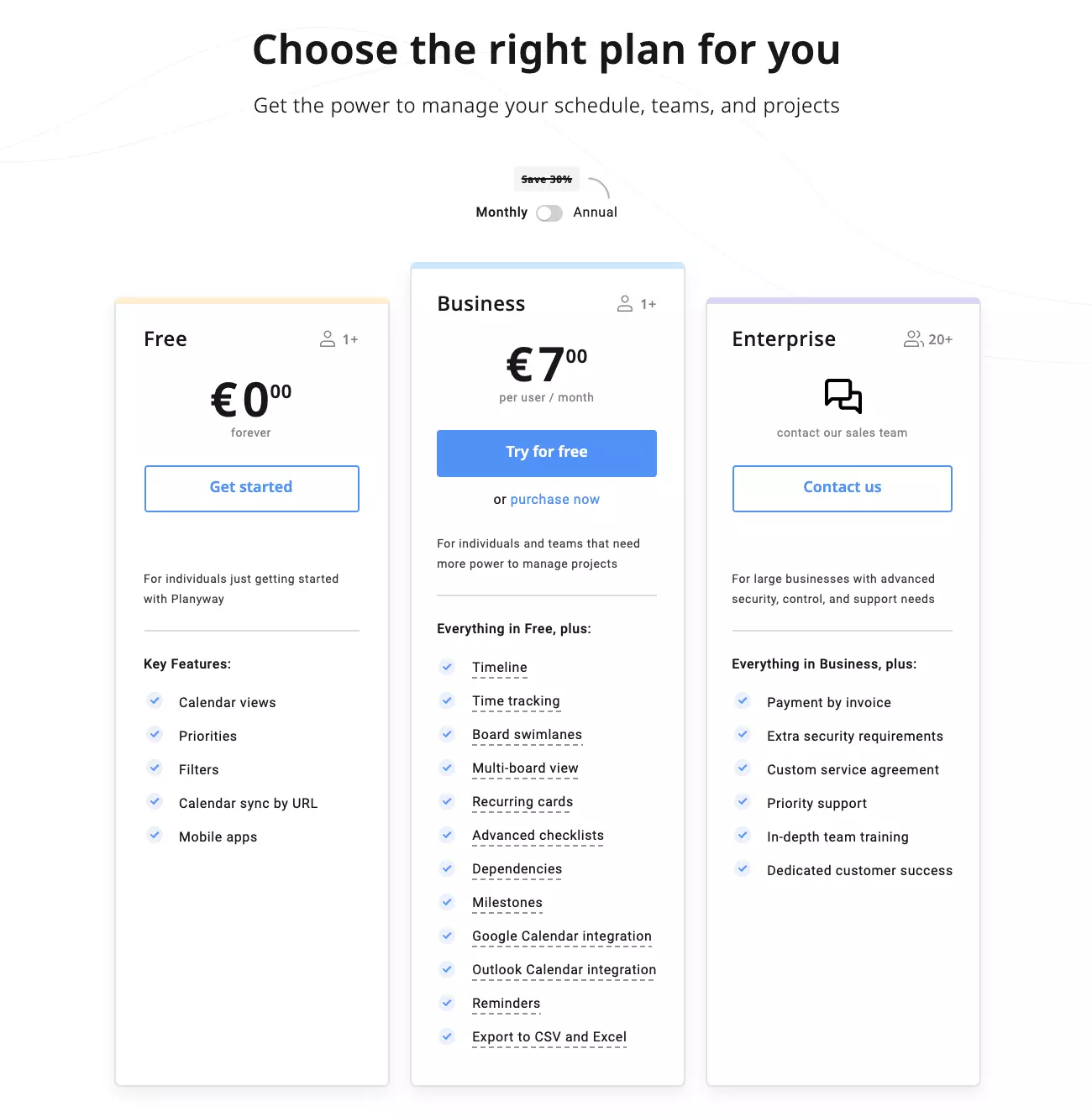 Features
Planyway provides a comprehensive take on the Gantt chart system with a suite of basic features that help project managers visualize tasks and timelines.
In addition, Planyway makes it fairly easy to establish dependencies. All you need to do is edit the corresponding card and manually input the hierarchy of tasks. The process is simple, but still considerably more difficult than Elegantt's click-and-drag system.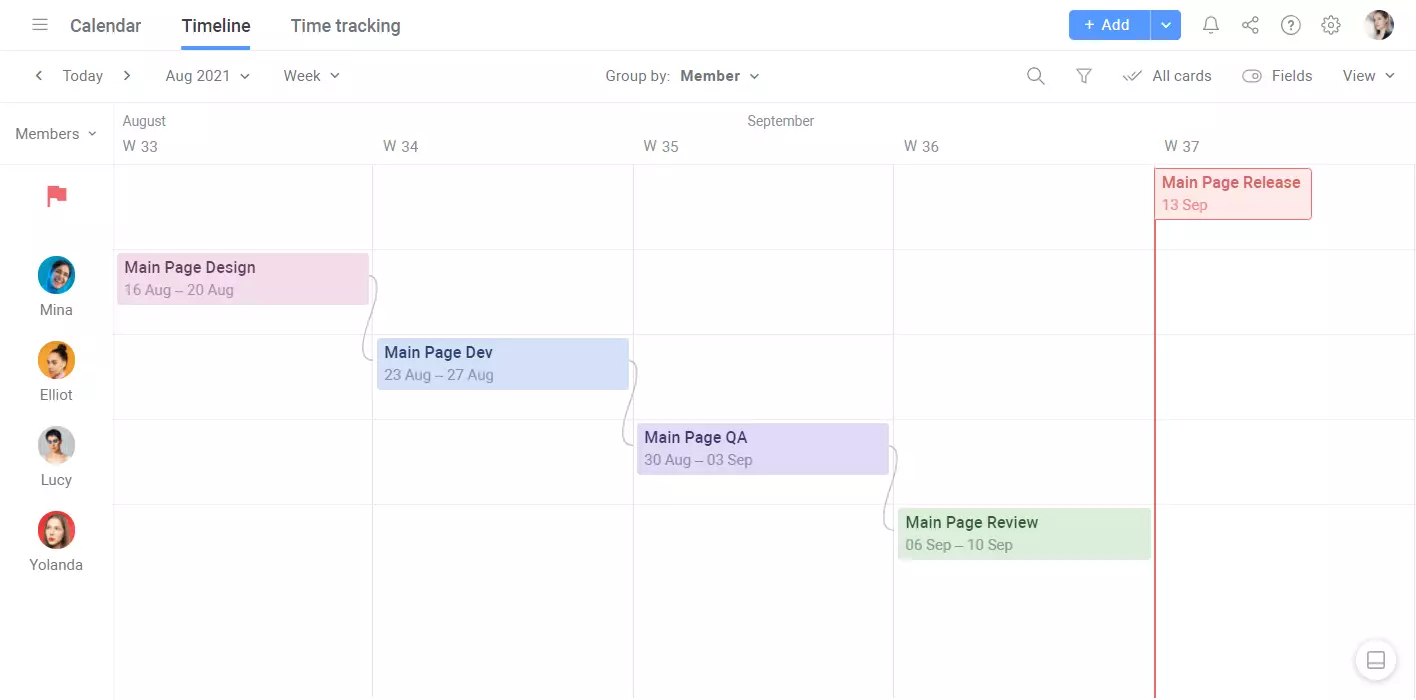 One extremely useful feature that Planyway offers is time-tracking. While time estimation is inherent to the Gantt chart system, the ability to track the amount of time a task actually takes is surprisingly uncommon. In any event, Planyway's time-tracking feature is invaluable as a method for setting realistic expectations for task and project end dates. For more details on this see Planyway in our Trello Time Tracking charts section.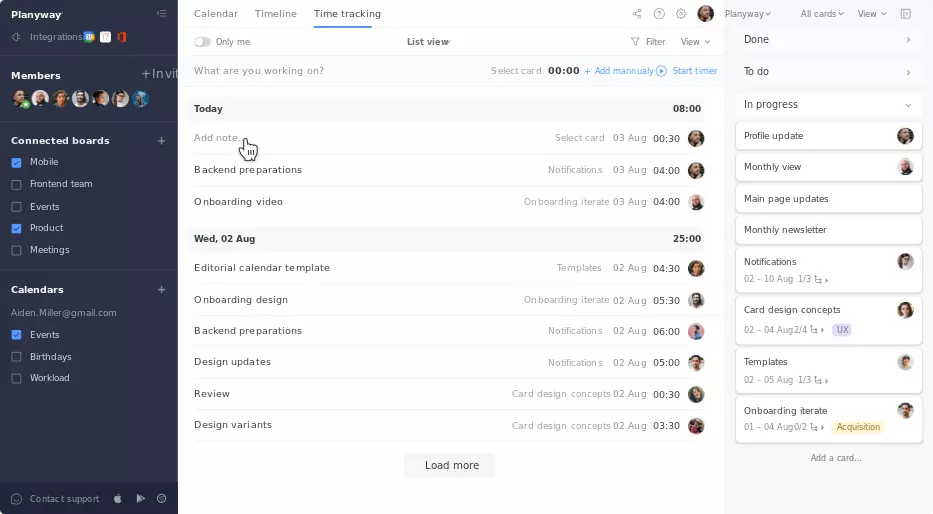 When it comes to timeline views, Planyway gives project managers a lot of options. Project timelines can be grouped in by Member, List, Label, or Board. Depending on how you set up your Trello projects, some of these options will probably be more useful than others. Generally, we find Member and Label to be the most useful - especially when labels are used to categorize different aspects of a project (e.g., "urgent", "bug", "outreach", etc.).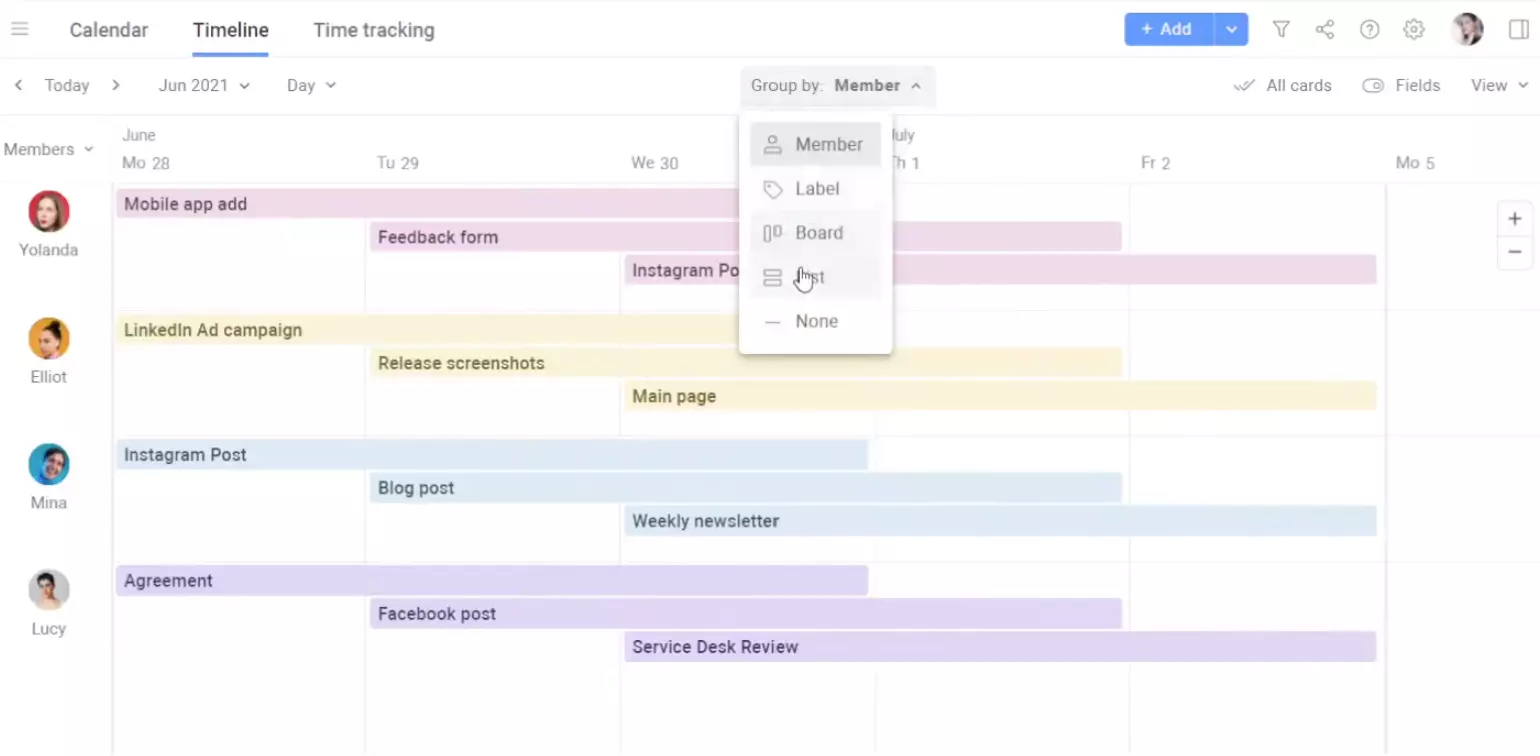 Key Features
Time-Tracking: Planyway allows users to track the time they spend on specific tasks in-app.
Checklist Access: Trello checklists are accessible and interactable directly from Planyway.
Dependencies: Planyway supports dependency graphing so teams can visualize task hierarchies.
Integration: Planyway integrates with a variety of calendar apps to keep Members organized while off-app.
The Verdict
Planyway is a great Gantt chart Power-Up that holds its own against Elegantt when it comes to features, ease of use, and price. Its only flaws (issues when importing tasks and a few unintuitive processes) rarely impact workflow in a significant way.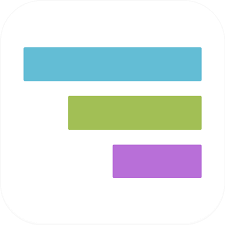 TeamGantt
100-250k
Free/Paid
Third Party
Get Power-Up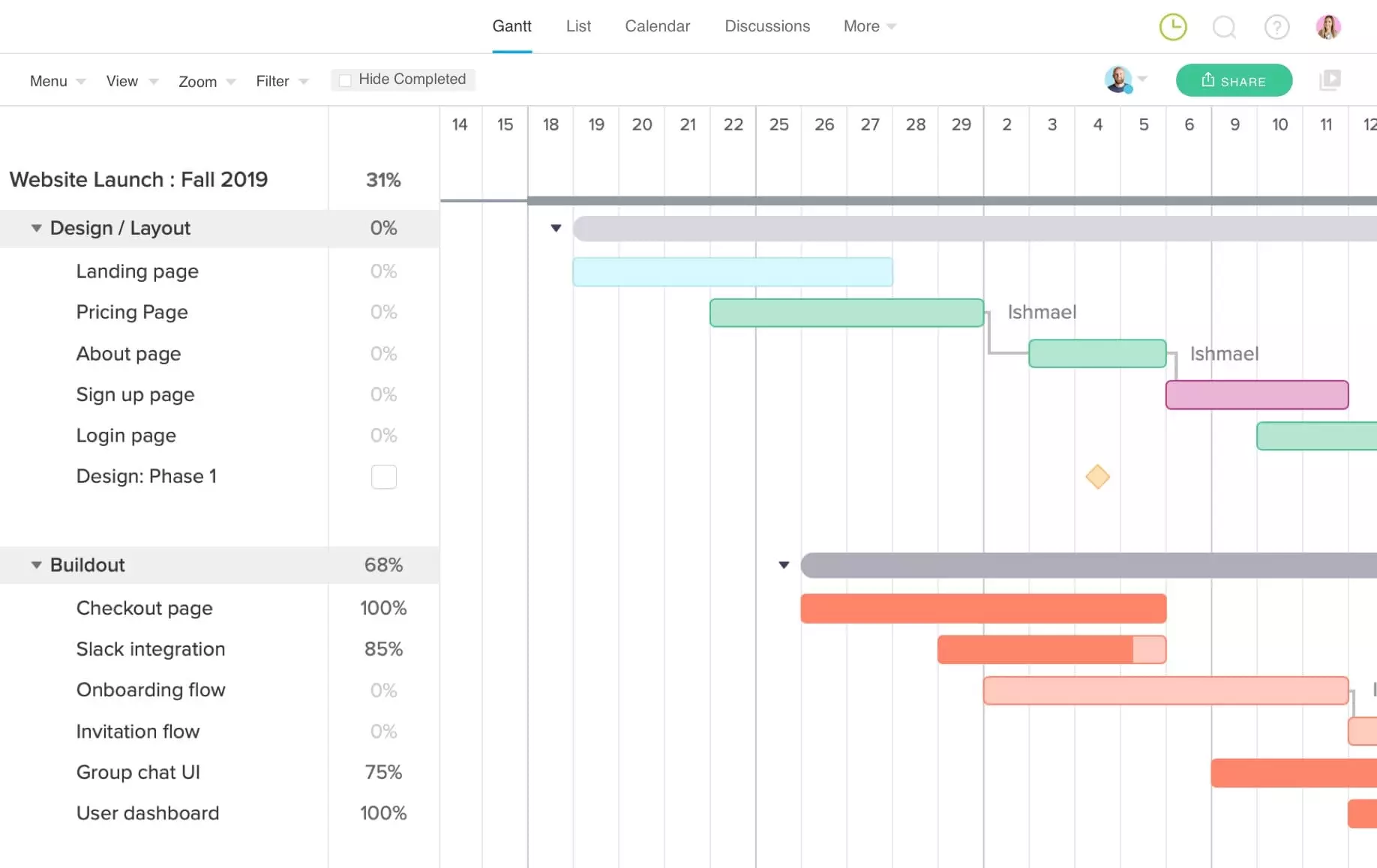 TeamGantt is an up-and-coming Gantt chart Power-Up that is the productivity tool of choice of project managers at Netflix, Amazon, Intuit, and Nike.
Setup
Setting up TeamGantt is a bit more work than the previous two apps we've covered. For starters, you'll need to make an account in order to use the Power-Up at all. We know, not exactly the biggest deal. However, recent Trello updates have tried to make account creation a thing of the past. Most of the other Gantt charts tested either didn't require this or did it for you behind the scenes. This can be an indicator that a Power-Up hasn't been updated in a while (Trello made it easier for Power-Up developers to avoid having to make people create their own accounts some time ago).
In addition, once you're able to access TeamGantt you'll need to do quite a bit of setup before it accurately represents your Trello project. TeamGantt doesn't automatically pick up your initial start and due dates, so you'll need to set those up again in the app. The story's the same with assignments. None of your assignees will be assigned to their respective tasks when you first import them into TeamGantt and you'll need to do this manually.
Price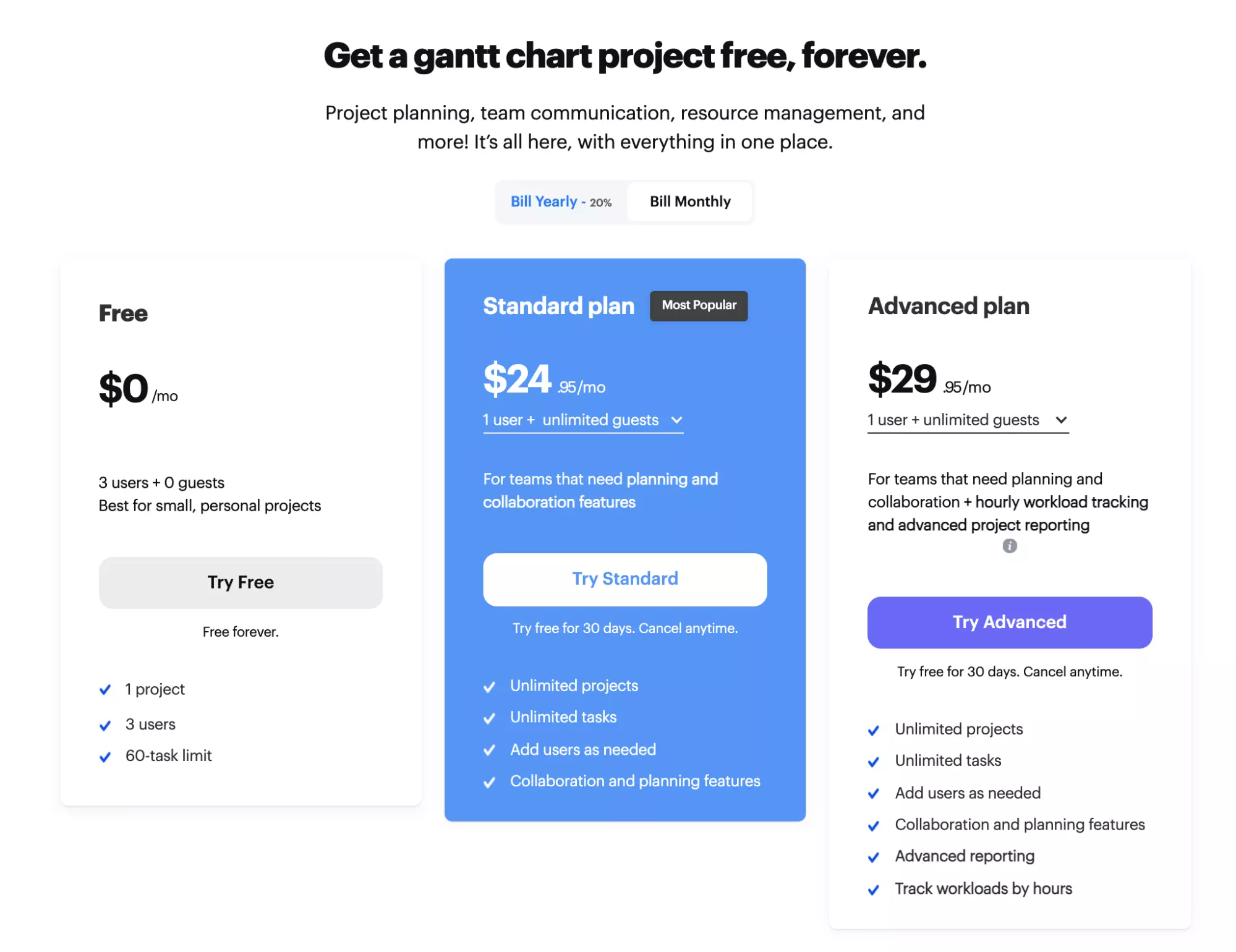 TeamGantt has a generous free forever plan that offers limited access to three users. However, for advanced features like time-tracking, workloads, and reporting the price begins at $24.95/user monthly and goes up to $29.95/user monthly.
Features
Most of the power of TeamGantt is found outside of Trello, but you can still view the Gantt charts within your Trello boards. As with Elegantt, project managers can use click-and-drag gestures to rearrange your project, add dependencies, and adjust start and end dates. Unlike Planyway, adjusting the start and end dates in the TeamGantt app automatically updates them in Trello. This makes it much easier to make adjustments to projects and limits confusion for your team.
One amazing feature that paid TeamGantt users can benefit from is workload visualization. When managing your Gantt chart boards, it can be easy to get carried away with assignments. TeamGantt helps prevent overworking and underutilization with handy charts that convey how many tasks a Member has been assigned.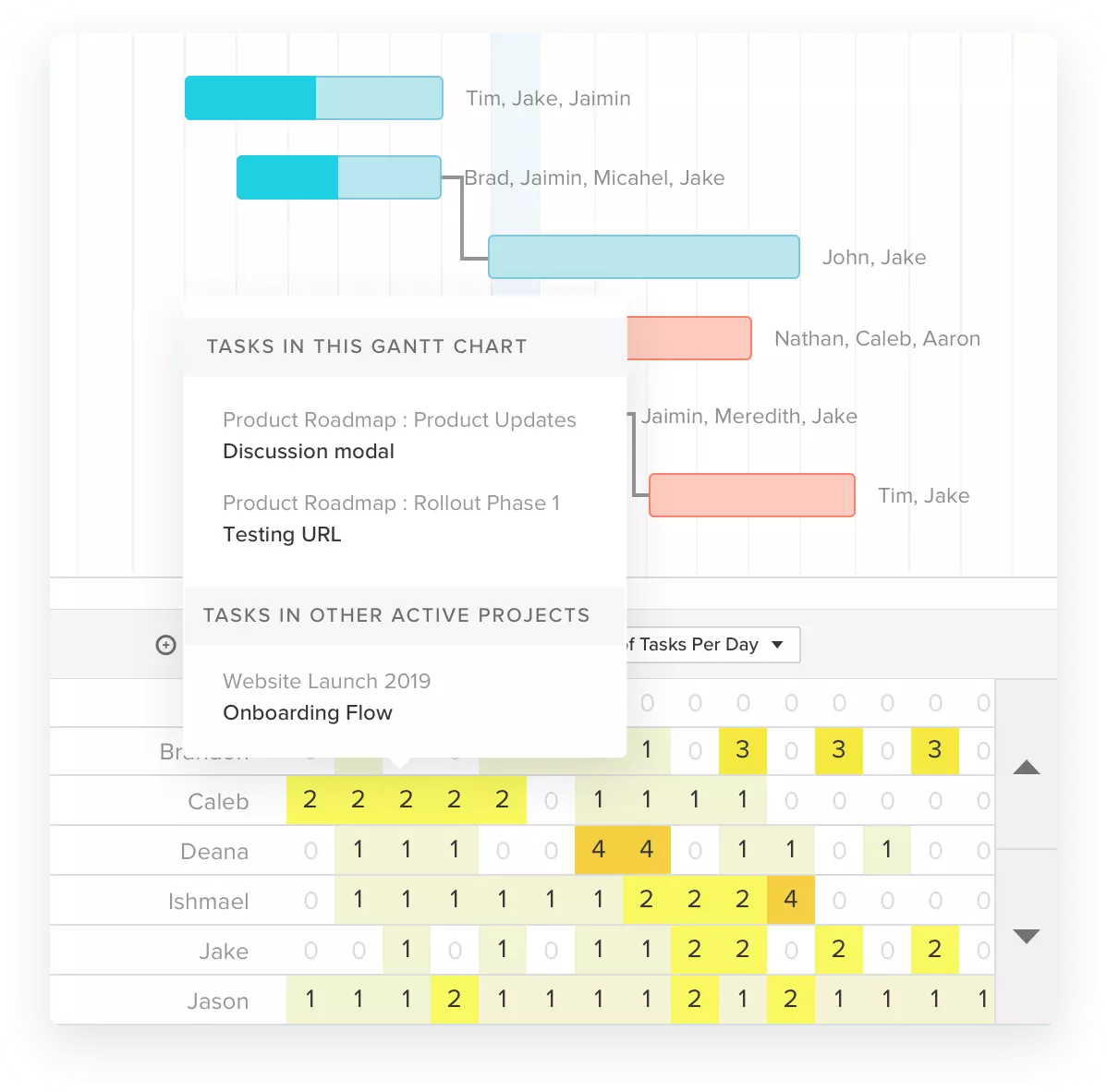 Another unique feature is the planned timeline comparison that comes built-in with TeamGantt. The app makes it easy to compare expected timelines with actual timelines in the pursuit of more accurate estimates in the future.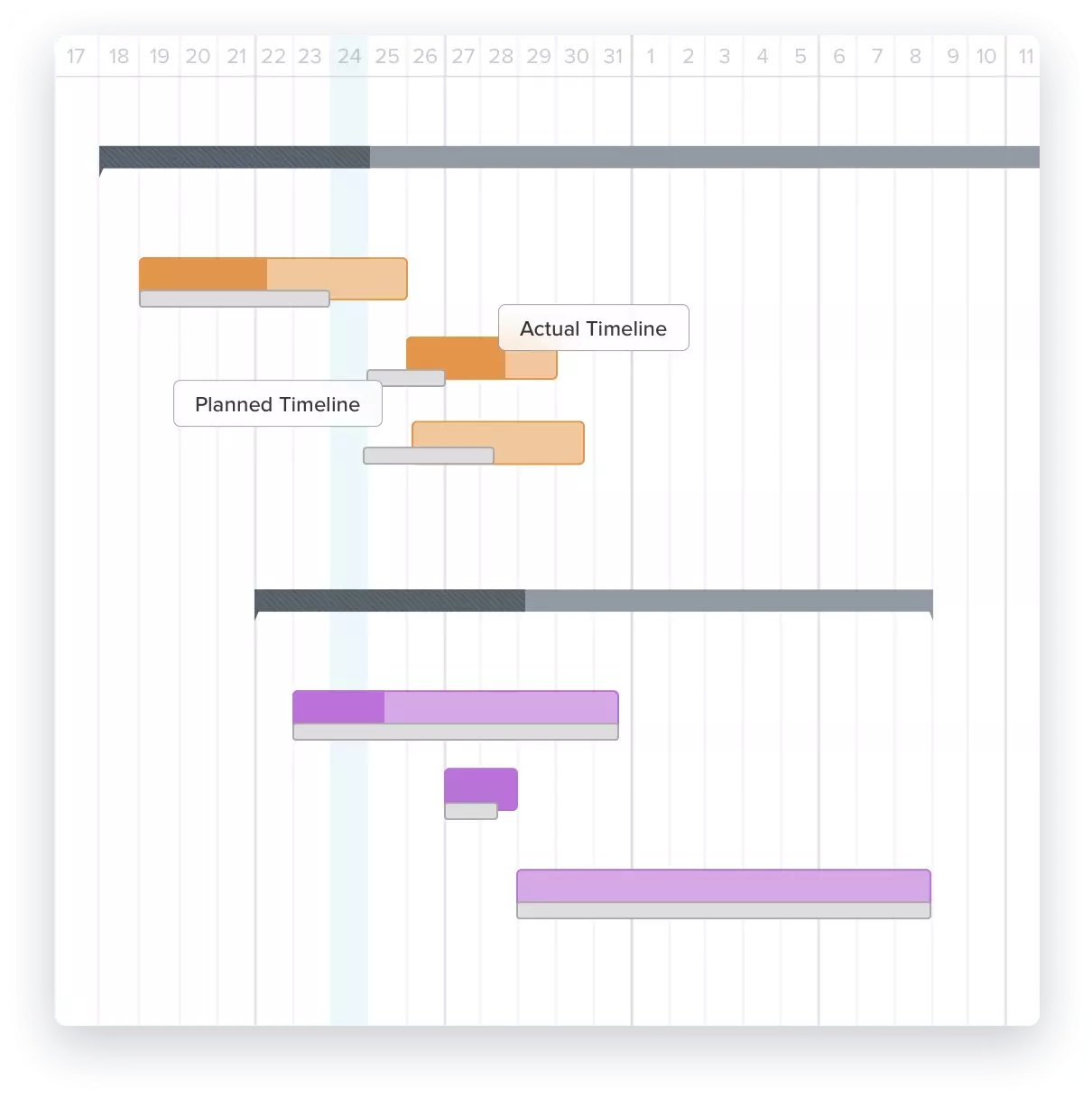 The way the data is grouped in TeamGantt makes more sense than it does within Planyway although there is slightly less flexibility. All projects are stacked vertically on top of one another in the Gantt chart meaning that multiple projects can be viewed simultaneously. However, one downside to this is that the layout can become cluttered when many projects and tasks are running concurrently.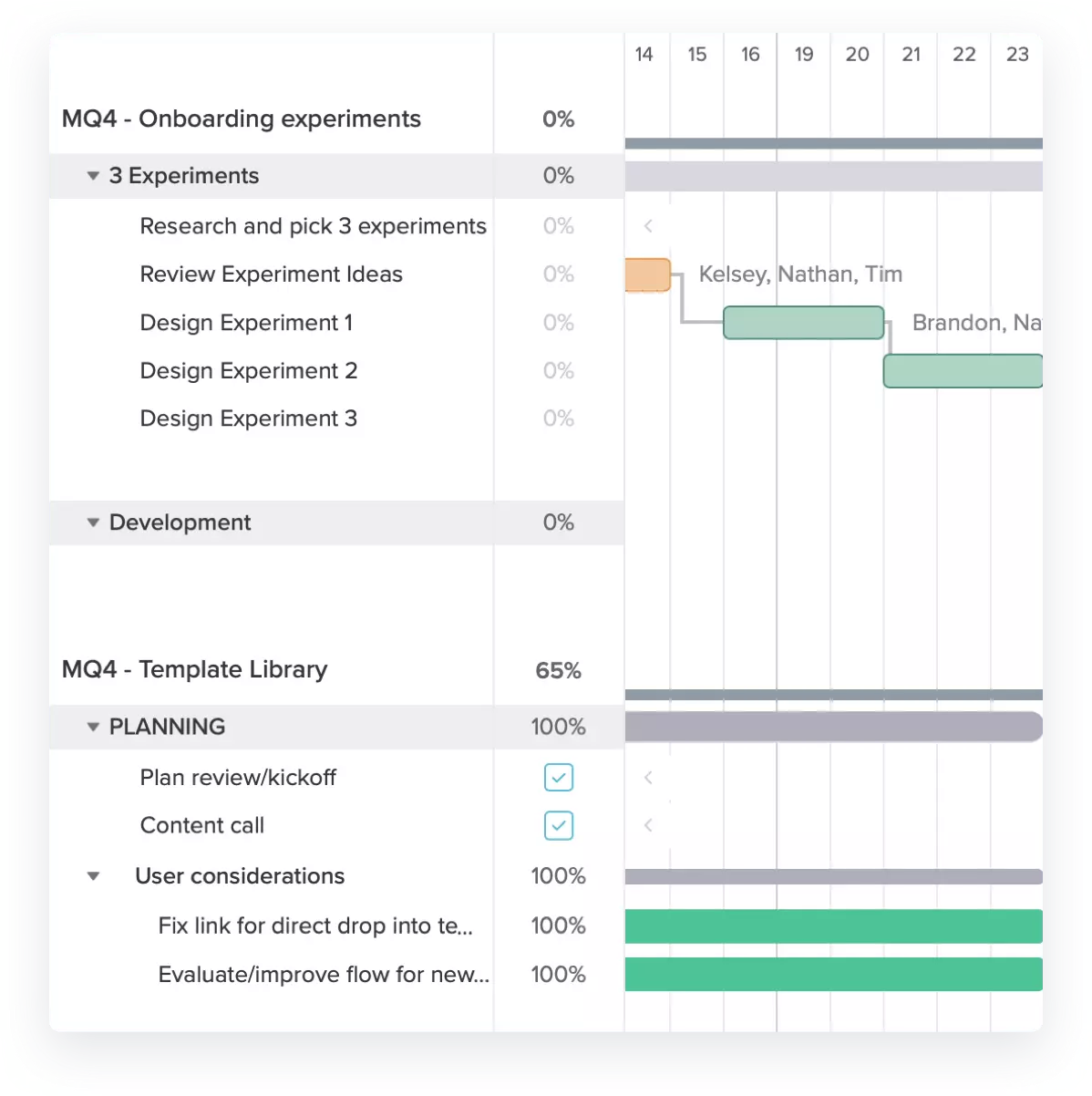 Key Features
Workload Visualization: TeamGantt provides a simple and effective way to make sure team Members aren't over- or under-worked.
Planned Timeline Visualization: Users can compare planned timelines to actual timelines that are automatically updated.
Update Symmetry: Tasks that are updated in Trello are automatically updated in TeamGantt (and vice versa).
Easy Collaboration: All project updates are displayed on a single screen allowing every team Member to stay in the loop.
The Verdict
In general I would say this is the better Gantt chart implementation than Planyway, but some rough edges remain in how you have to double enter data between Trello and TeamGantt. We also had an issue syncing the data from Trello on initial set up. We were told we didn't have permission to create a project so the data couldn't be automatically synced from Trello. However, once we opened TeamGantt in Trello it let us enable auto syncing.This, along with the need for double data entry and no checklist support, suggests that TeamGantt aren't as committed to their Trello integration as you might hope.
BigPicture
Get Power-Up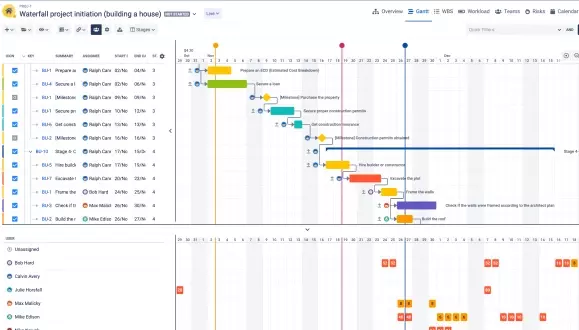 BigPicture is a Power-Up for Trello that can display Gantt chart boards along with 8 other modules (i.e. views). Although the Power-Up can be confusing at first, it is still a well-developed Gantt chart.
Setup
BigPicture takes a bit of work to get working initially. You certainly won't find the onboarding process as easy as some of the other options on this list. Anecdotally, when we tried setting up the Power-Up, none of our Cards showed up at first. Some clicking around in the settings seemed to resolve that, but it wasn't a great first impression. On the plus side, BigPicture didn't ask us to create a new username or password.
In addition to missing Cards, we also found that BigPicture failed to carry over start dates from Trello, so expect to do this manually.
Price
Currently, BigPicture for Trello is free, but its pricing page on Jira indicates that this may not last forever.
Jira pricing: BigPicture has a surprisingly confusing pricing model that involves 17 different tiers across two versions of the app: "Old" and "New". The tiers themselves are labeled with numbers ("10", "6,000", "20,000", etc.) and the landing page offers no indication as to what those numbers might refer to.
In any event, BigPicture's least expensive tier comes in at $5/month and its most expensive (The "20,000 / Old" plan… obviously.) will cost you $9,467.50/month. There is no free plan but the developers do offer a demo for interested parties.
Features
As we previously mentioned, beneath this power-up's complex setup lies a well-designed app that does most of the things you'd expect a Gantt chart tool to be able to do. Grouping options are similar to Planyway with the notable exception of a group by Member option.
With that being said, grouping by Label will work for most projects as long as Members and project managers are diligent and thoughtful about the way they label things in Trello.
Another feature that's lacking is a way to access and interact with Trello checklists from the BigPicture Gantt chart. Unfortunately, you'll need to switch between Trello and the Gantt charts to update progress within tasks.
In terms of positives, BigPicture's UI is fairly appealing, although some will likely find the default view too zoomed out to be easily referenced. In addition, BigPicture makes use of click-and-drag gestures for altering Gantt elements like many other Power-Ups on this list.
Key Features
Solid Basic Features: BigPicture's Gantt chart tool doesn't offer many features beyond the basics. The features that are there are well-developed and will be well-suited to project managers who want a minimalist visualizer.
The Verdict
Aside from some issues in the early stages of use, BigPicture is a capable Gantt chart tool that has a number of productivity boosting features (albeit basic ones). Good luck figuring out which plan to purchase, though!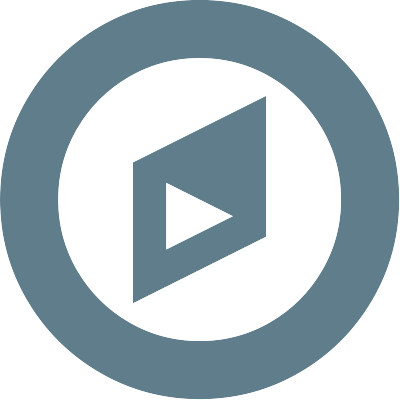 Projects by Placker
Get Power-Up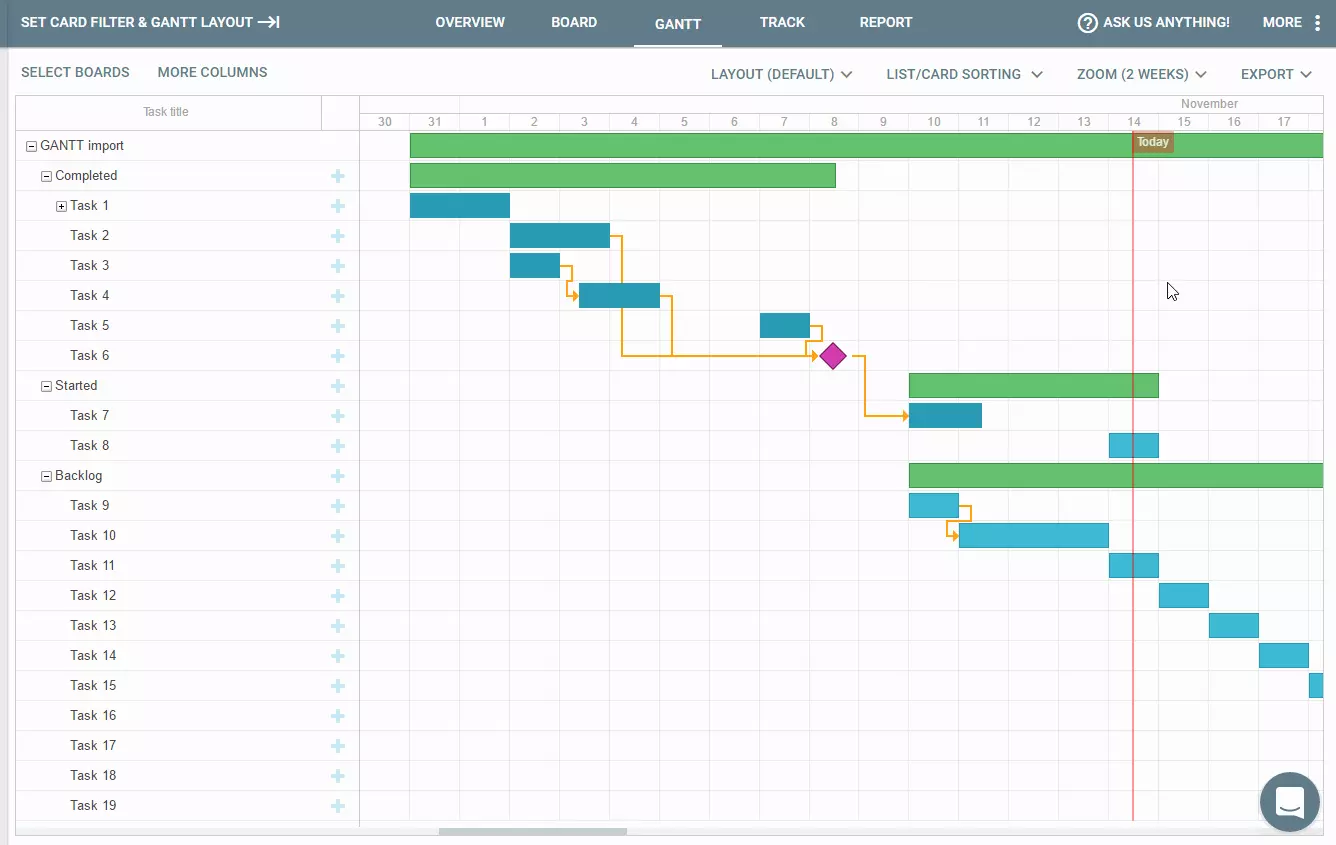 Projects by Placker is a standalone app that integrates with Trello to provide Gantt chart boards and a number of other feature enhancements.
Setup
Getting started with Projects is extremely easy. You can tell the team made seamless integration a priority based on how well the Power-Up communicates with Trello to access the information it needs. You definitely won't be needing to manually input any start and end dates.
Price

Projects by Placker's basic pricing tier starts at $14.98 for 2 Members and then increases at $7.49/Member. Their Pro and Enterprise plans start at $24.98 and $44.98 respectively and offer better support and additional reporting capabilities.
Features
Projects can display your Boards in the standard Trello layout (with Cards grouped by List) or by Member or Label instead. This is a neat feature that gives you multiple ways to wrap your head around a project's structure. In addition, all elements can be moved, assigned, and adjusted using click-and-drag gestures making it easy to make changes.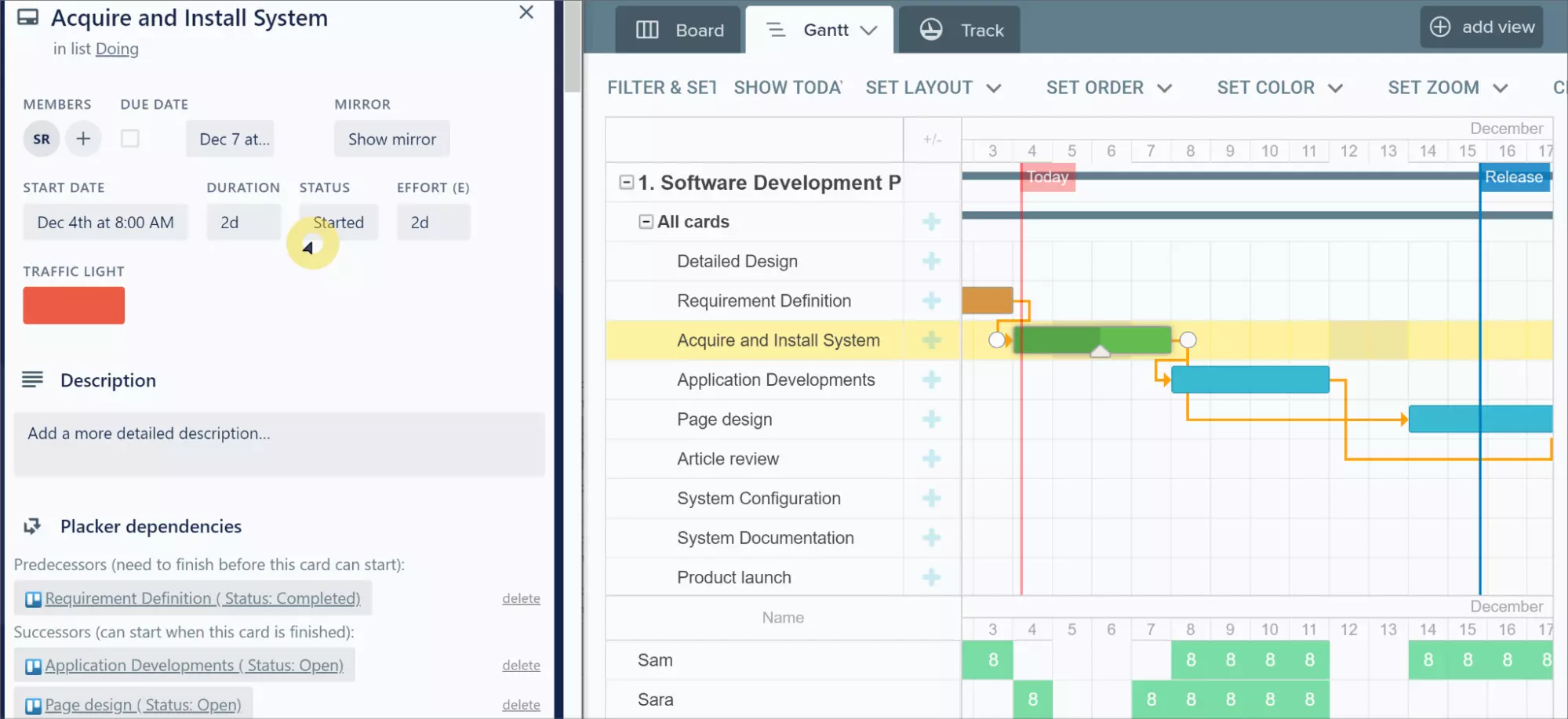 One of the more unique features offered by Projects is the ability to create dependencies across separate Trello Boards. Sure, this won't be a must-have feature for every project, but it's nice to have the option.
Most recent Trello Power-Ups are able to display their content inside of Trello. Sadly, this isn't the case with Projects. To view your Gantt charts you'll need to head over to Placker's website. While this isn't ideal, there is an upside in the fact that you can easily share your chart with others by sending them an URL.
One final thing that needs to be said about Projects is that the Power-Up has a massive amount of customization potential. You can adjust, configure, sort, and filter your Gantt charts based on any Card attribute or custom field supported by Trello. The result is an app that you can adapt to your unique project management style.
Key Features
Easy Sharing: Due to the fact that Gantt charts are accessed through the Placker website, they're easily shareable with parties who aren't included on your plan.
Cross-Project Connection: Users can make tasks dependent on tasks from completely separate Trello Boards.
Customization: Projects supports an uncommon level of customization that will appeal to project managers who often find themselves restricted by layouts and templates.
The Verdict
If you're okay with viewing your charts outside of Trello, Projects is a well-developed Gantt chart tool that offers incredible customization and great basic features.
Not so relevant to this guide is the other features Placker brings (but worth mentioning if you are evaluating this vs other Gantt options). They have Card mirroring, dependencies, time tracking and their own set of fields for tracking/reporting if cards are started, in progress etc. If Placker is a good fit for your reporting requirements you may find they have some other useful features you can make use of. However, because it tries to do so much it can appear a bit confusing and the additional features may just serve to complicate things.