What is Blue Cat Reports?
Blue Cat Reports is the most comprehensive reporting solution for Trello. We let teams create the charts they want with the data they want, then drag and drop those charts in our report editor to build the reports they need. Reports can be viewed in Trello, on bluecatreports.com on desktop and mobile, and can be emailed to users on a recurring schedule.
Blue Cat Reports is built by Cherry Wood Software Ltd. registered in the UK.
Why is Blue Cat Reports?
We had previously created Corrello, a dashboard tool for Scrum and Kanban teams using Trello. My (Robin, the founder) experience was in building reporting systems previously for the BBC, NHS and other organisations in the UK and worldwide. Knowing what was required to build a really great reporting solution, and seeing that Trello weren't going to do it we decided to build it ourselves. Blue Cat builds on decades of experience and expertise creating reporting solutions, and with Corrello we have been building Trello Power-Ups since before Power-Ups were a thing. Corrello was one of the first batch of 3rd party power-ups announced by Trello.
Important highlights
Project start date: Blue Cat Reports was launched in April 2020, work began in around April 2019 Team members: We are proud to be a small team of just 4, and 50% of us work part time. We are fully remote and have been since we started working together. Robin Warren is the founder of Cherry Wood Software which builds Blue Cat Reports and a number of other Power-Ups Our users: We have over 150k Trello members benefiting from Blue Cat Reports right now. Funding: We are fully bootstrapped!
Our other power-ups
Testimonials
Blue Cat Reports enabled our company to pull & present data from Trello that we haven't been able to uncover with any other add-ons. The reports are easy to create, fully customizable and beautifully designed.

Megan Ruediger - Schmidt Family of Companies
Blue Cat reports have been a tremendous help in allowing us to understand and improve our workflow process. The reports are easy to use and just one click away!

Natalie Hecker - www.successacademies.org
Blue Cat reports is providing me with EXACTLY what I need to show my group's performance to upper management. The report setup process is straight-forward and easy to configure. It has even given me new ideas on other data points that we could track.

Michael Wall - www.cint.com
Contact information
Website: bluecatreports.com
Email address: robin [at] bluecatreports.com
Location: Team: Remote, Robin: 🌞 Sunny Teignmouth, UK
Downloads
Get the Logos
Blue Cat Screenshots
Daily update report
Each chart here is configured separately and can be moved around the report or deleted and other charts added. Trello users can add as many charts as they want reporting across 1 or more boards. They have complete control over how to filter the cards or checklist items which are displayed. They can also drill down into each chart to see more data or filter further.
This sort of daily update report is ideal for helping teams organise themselves as it highlights any problems in their process. Teams and their managers can review these sort of reports daily or weekly to make sure no work slips through the cracks.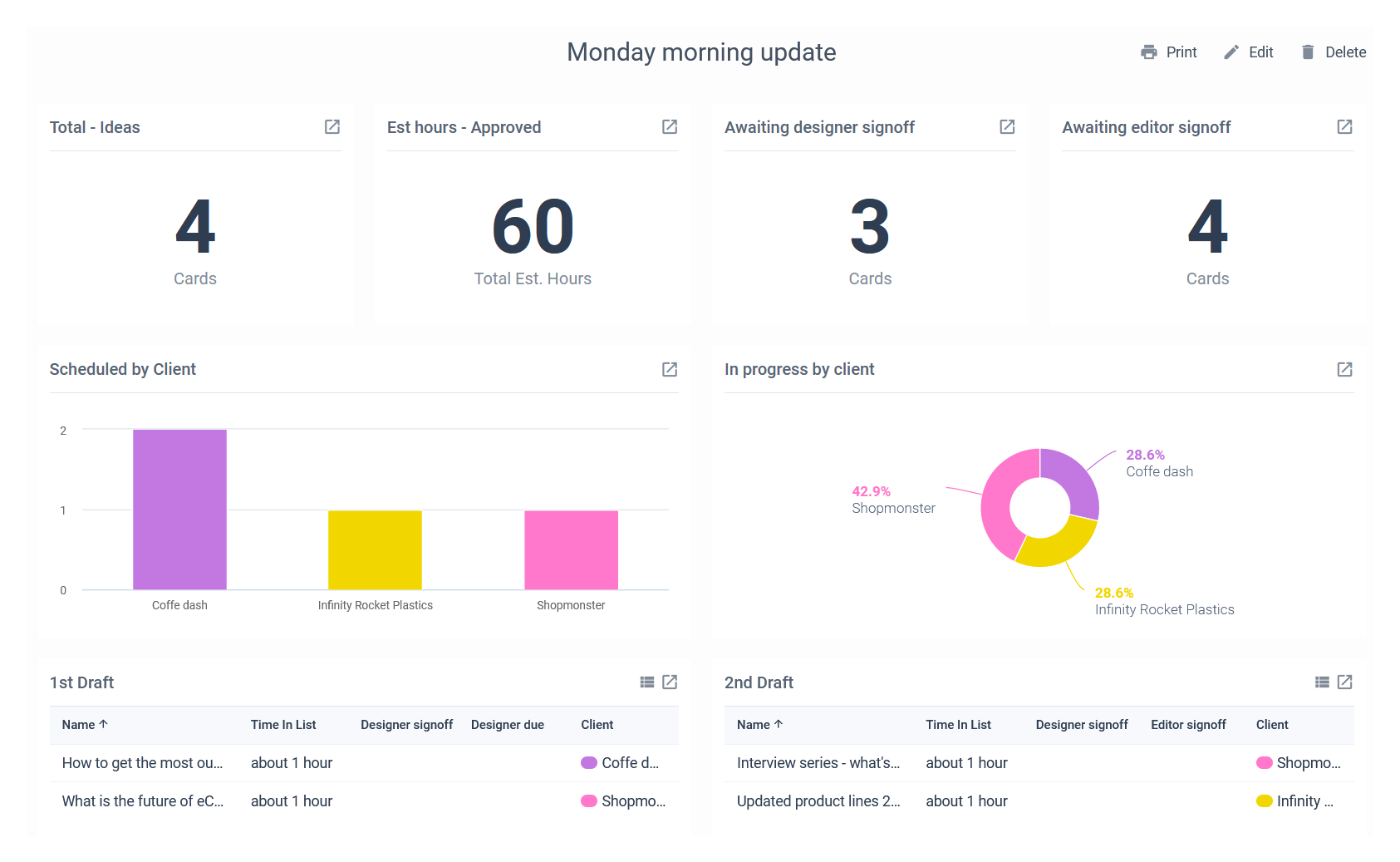 Monthly Analytics report
Analytical reports like this are ideal for managers to check on performance and capacity on their teams. These reports would usually be viewed weekly or monthly. Again, all the charts here were added and configured by the user to get the exact report they wanted.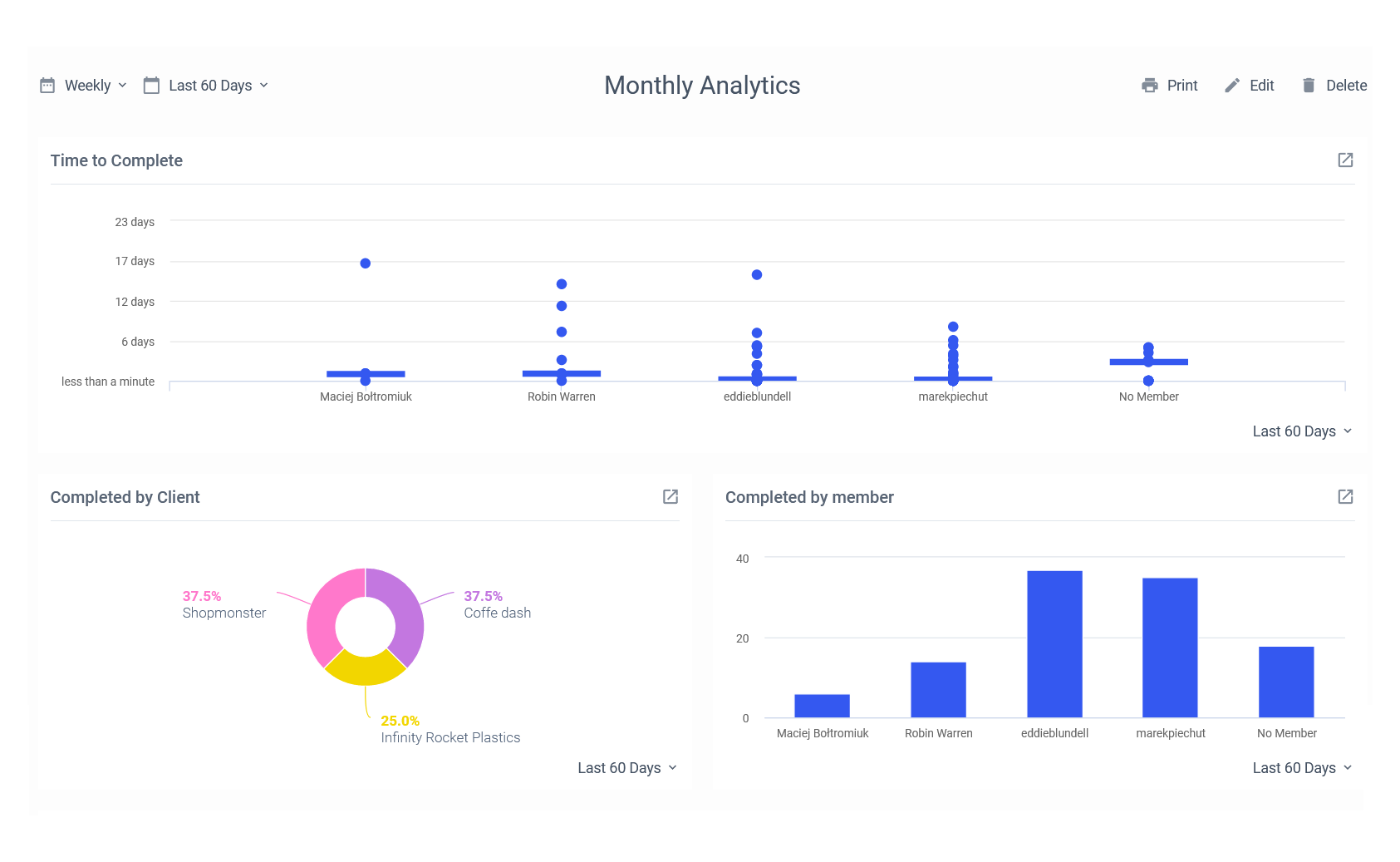 Sharing reports
Reports can be shared with either a link or by scheduled email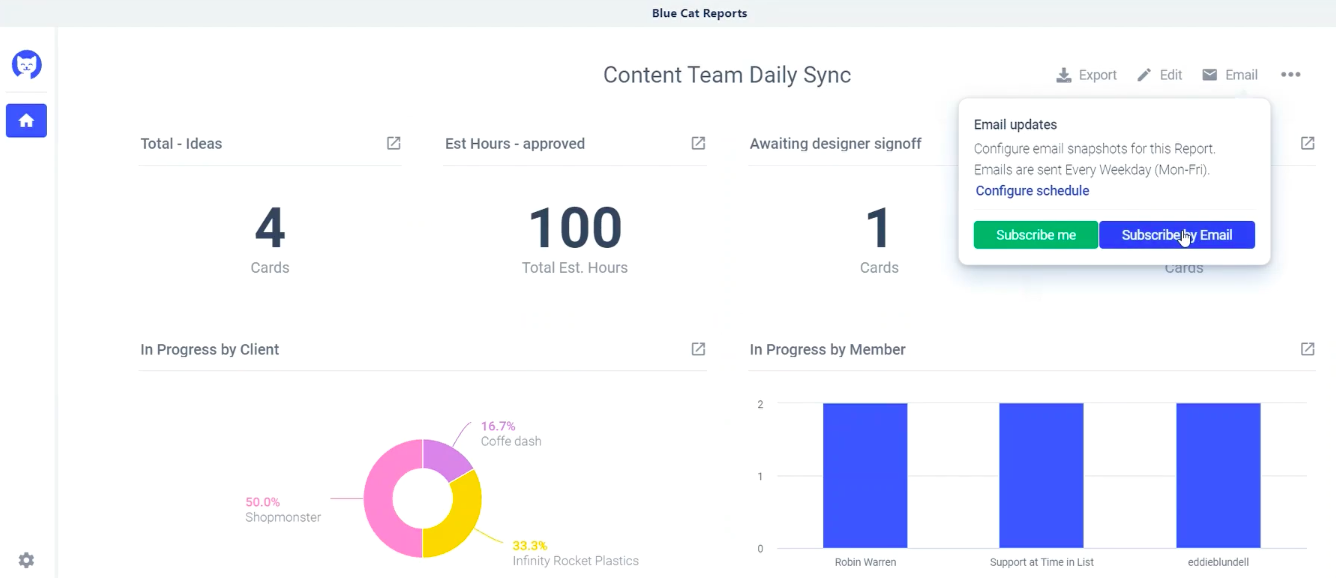 Quick lists functionality goes beyond Trello 'team tables'
Users can easily filter print and export cards and checklist items with our 'auto trader' style filters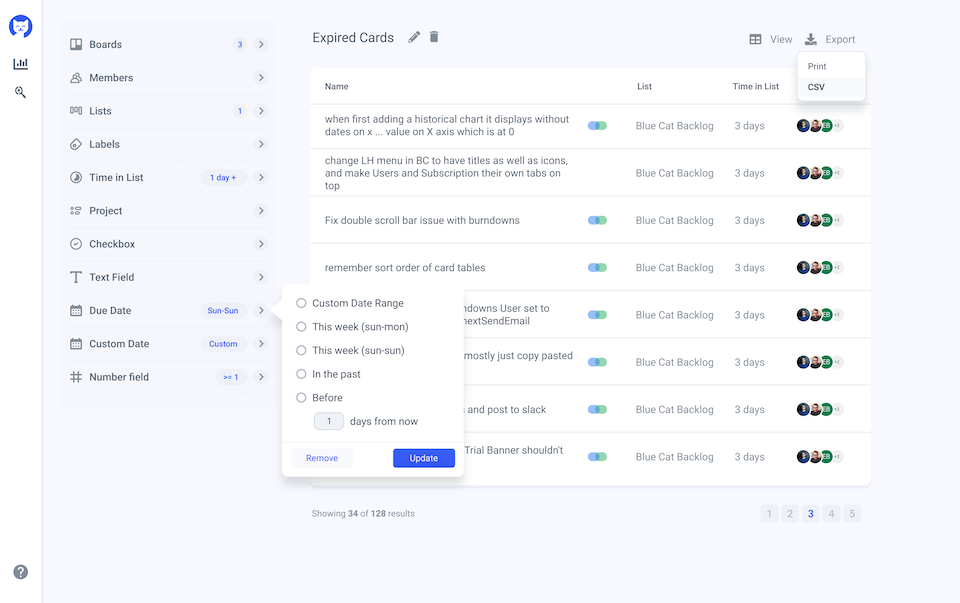 Video
Demo video for Blue Cat Reports
Annual Report Screenshots