While Trello is an excellent tool, it can be a bit of a "blank slate" when you get started. It is hard to know how best to set things up for your team, or if you are doing things which will cause you problems down the line. Well, tremble in fear no longer! as we show you some of the best Trello board examples for improving your workflow, aiding your project management, planning creative tasks, tracking weekly team meetings and setting long term goals.
We have gone through all the Trello board templates to find the best board examples for you to copy or take inspiration from to help you improve your workflow and productivity.
We will also be recomending some power-ups to go with each Trello board. These may be our own, such as Blue Cat Reports, Swimlanes or Imports, or other power-ups we know and love including those on our Free Power-ups guide.
Contents
Trello Project Management Templates
Trello's is great for project management, sometimes you need a more complex tool but a lot of the time Trello has all the power you need and is something your team will find easy to use. No matter what bells and whistles your project management tool has, if the team doesn't update it it's essentially junk! We've got examples here to get your started for a few common Project Management boards, but feel free to take those and remix them for your own purposes.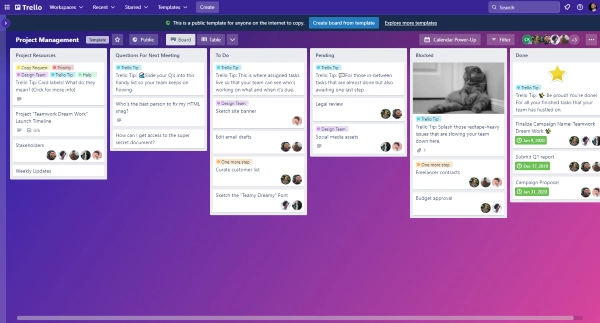 As a project manager, you need to track your tasks and your team effectively. This example board from the team at Trello can help you do just that. There is a column for important project resources, one where you and team members can add questions for the next team meeting followed by some standard lists for planned and in progress work.
This Trello board example allows you to track the progress of a task. Move each job from a concept to action and then follow it through every stage of completion.
While this Trello board is a great view of the work for you and the team, stakeholders often want a different high level view. If you are need to get a simpler view of progress across the whole project, or even multiple projects, check out Blue Cat Reports to get a report on anything with our easy to use drag and drop reports for Trello.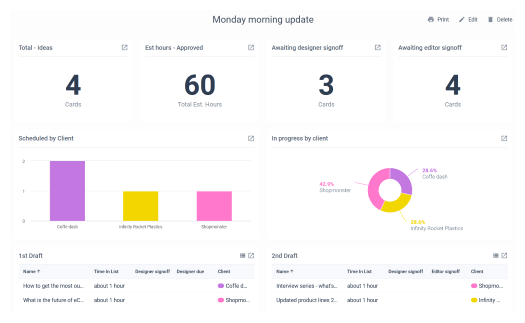 You may also find this post helpful as a project manager: the easiest way to ace Trello for project management.
Take control of your Kanban team with this template from Corrello. With lists for your team backlog, in progress work and completed cards. While you can easily customise the lists in Trello there is a good starting position here, including the abilty to see the state of your 'waiting for' queues. This helps see where work is building up in the process making it easier to track and eliminate bottle necks.
Our top pick power-ups for Kanban teams
Scrum is probably the most popular project management process since waterfall, and about as controversial these days 😺. This template board has everything you need to get your team started with Scrum in Trello. There are also some great tips on getting started with Scrum as part of this template, so it is worth checking it out even if you go ahead and create your own board anyway.
Our top pick power-ups for Scrum teams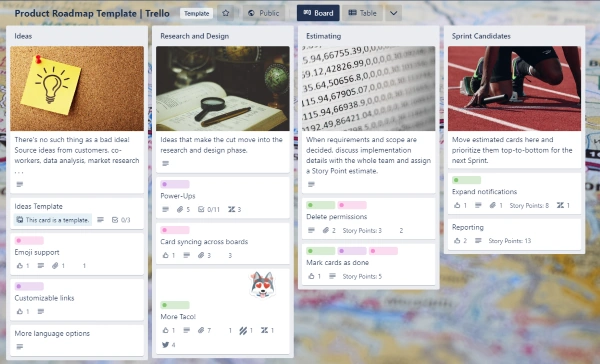 Keep your whole company on track and up to date with you product roadmap and backlog, or even adapt this board and use it as a public roadmap for your customers. Some great features on this board are the Help Scout, Zendesk, Twitter and Intercom power-ups which let you add customer conversations to your cards. The voting power-up lets you collect votes on new ideas directly on your board.
If you have an existing set of enhancements to add to your roadmap board don't forget to add the Imports Power-Up to load them onto your new Trello board.
Effective team meetings can help keep your employees happy and improve your teams work efficiency. Use this board to keep track of what was discussed in your weekly meetings, set the agenda for the next meeting and reference old meetings.
I quite like using Time in List on our team meeting board so we can see how long cards have been on there. It is important to show the team that issues they raise are dealt with in a timely fashion and having the time in list on the front of each card can help keep things moving.
If you work remotely, you may also find this board on remote team meetings useful.
You might be creating content for Twitter, Facebook, LinkedIn, TikTok or any number of social media sites for your marketing campaigns. Use this Trello board to get your plans in order.
Some tweaks we would suggest for this Trello template once you copy it
If you want to get your small business online or start a website for fun, this Trelllo board idea is just what you need to plan, design, launch and backup a professional-looking blog or website in just ten steps.
Each phase comes with a detailed checklist so you can track your progress, and before you know it, your website will be live and ready for use. You could also use this board to give your existing website a facelift to improve the aesthetics and user experience.
Something I always use for website projects in Trello is our Import Power-Up to load the planned work into Trello. That could be a list of pages exported from the existing website, or planned pages for a new site. You can even import custom field data, so if you have existing data from google analytics or etc. you can load it right into Trello when you create the cards.
With nearly 1M new podcasts launched a year maybe it's time you added your voice to the conversation! If you have always dreamed of setting up a podcast for your small business, this Trello board idea has everything you need to get started.

Event Planning and Management requires some serious organisation skills. Check out our full guide to Trello for Event Planners for more ideas. We cover how to keep organised, manage multi-tasking, track time budgets and attendees and access your plan from anywhere. This simple template makes use of Custom Fields to track vendors, budgets and spend.
We would also suggest checking out these power-ups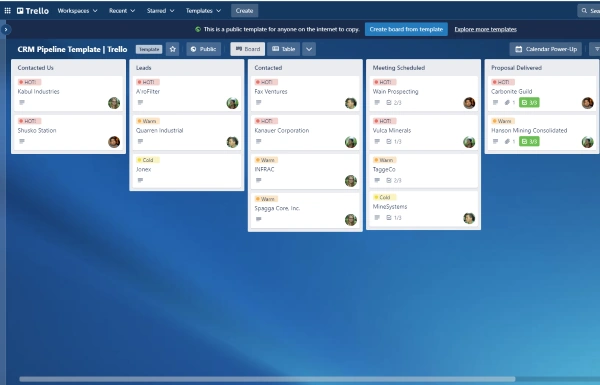 Using Trello for Customer Relationship Management (CRM) is actually a great fit. Here we have a CRM Pipeline example board from the Trello team. Because this is a bit of an older board they don't use Custom fields and only have one power-up on there. Check out our Sales teams recommendations to see the custom field set up we would use.
We would also suggest checking out these power-ups
Trello Personal Templates
Trello isn't just about team performance, you can also get great benefit using it as a personal productivity tool. If you struggle to keep on top of your workload and stick to strict deadlines, these productivity focussed sample Trello boards are going to be a godsend for you. These boards are great for helping you manage your time so that no critical tasks end up getting left behind.
This comprehensive template is your one-stop shop to help you organise everything in one place. Keep all your important notes and brief outlines of what you need to get done daily or weekly on this board. Then plan each task in more detail on your other boards.
This board includes sections to organise your actionable projects, thoughts and ideas, waiting lists (anything you are waiting for approval from your superiors or for tasks to be completed by your team), meeting agendas, and reference materials.
For my personal GTD board I always like to add the Time in List power-up so I can see how long tasks are hanging around on there. The free Swimlanes Power-Up is also great to see where tasks are grouped by their different labels.
The daily task management template is a simple yet effective way to keep tabs on your to-do list for the day.
This template is essentially a running notes tab turned to-do list. Use this board to keep track of tasks you complete daily, such as approvals, meetings with the team, and checking your email inbox. The backlog column acts as a brain dump for all the tasks you want to complete at some stage. You can then move them over from the backlog category into your daily to-do list.
If you are coming from another project management tool you can use the free Import Power-Up to load your current tasks into Trello. I always use the Time in List power-up on my personal boards to keep me honest about how long I let tasks linger on there. And our Swimlanes Power-Up can be useful if you have different labels and want to see your workload broken down by label.
You can also keep tabs on your personal goals using Trello. Feeling on top of your aspirations and having clear monthly and yearly plans for your professional development and personal life can help you feel more motivated to achieve more things within the workplace.
Another way to organise your personal goals is to use a holistic system by which you can see your goals set out by short-term (1-2 weeks) and long-term objectives (2-3 months). This is a great system to use if you like to set a few smaller goals throughout the year as your aspirations and interests change.
As the new year approaches, set aside an hour or two to set up your annual goals. Then use this board to break each goal into manageable portions to achieve each month. Not only can breaking a goal into chunks help inspire you, but you can also get a greater sense of accomplishment when you can use the notes within the board to look back on the progress you have made at the end of the year.
Trello Remote Work Example Boards
The number of teams working from home or in a blended way continues to increase every year. If you and your team no longer work at the same location and often meet through video chat, these Trello boards are great for keeping you on track and sharing ideas through online communications.
Unite your team with this bonding template. Set up a column on this Trello board for each department with a subsection for each team member to fill out. This board can be a great way to make it easier to introduce new employees to the group and help them feel more connected to their team.
You can also include a section for references so the whole office can access information such as budgets, forms or contact information.
Collaborate with your team and between teams with a board that lets you brainstorm new ideas and innovative solutions to any problems that arise.
Use the left-hand column to identify the problems and use the right-hand columns to discuss solutions. Allowing your team to share their ideas openly can help you work together to develop a viable solution to your problems.
The Time in List power-up is a great way to make sure everyone can see how long ideas have been on the board and make sure things don't go stale.
Add Blue Cat Reports To Your Trello Boards
Trello boards can be an excellent way to track your tasks and manage your team. Add the Blue Cat Reports plugin to put your data to good use and improve your productivity. Our easy to use system has been designed to help you use your data analytics to boost your output and track important metrics to achieve more using Trello.
FAQs - Trello Boards and Templates
Here are some of the frequently asked questions we see around Trello Boards and Templates
Why Should You Use Trello Board Templates?
Trello boards allow you to create an organised workflow and keep yourself and your team on track to complete tasks within your deadlines. You may benefit from making your Trello board into a template or downloading a pre existing template if you often find yourself doing similar tasks with the same milestones.
Templates allow you to start new boards with the same setup as you have used previously, thereby saving you time and a lot of headaches.
Where Can I Find Trello Board Templates?
As a Trello Premium member, you can create templates specifically for your needs or use one of the publically available templates from the Trello user community and adapt it to your specific needs. We have linked each Trello template recommended in this post so you can find them easily.
How to create board templates in Trello?
To create a board template in Trello you just create a Trello board as you would normally, then
Open the board menu by clcking on the three ...'s in the top right
Select the ... More option from the menu at the top
Click on the Make template option
You can make your template public by changing the board visibility, or keep the visibility for just you or your team.
How Many Boards Can I Have In Trello?
The number of boards available to you will depend on the type of Trello subscription you purchase. For example, a free user can open up to 10 work boards at a single time, whereas a paid member can create an unlimited number of boards.
What Trello Boards Do I Need?
The beauty of Trello is that you can personalise the number of boards you use and how you use them to suit your work style and goals. We recommend setting up a number of different boards to track all aspects of your work and personal life in one place. You may need to play around with the number of boards you use to find the right combination for your workflow.
How to copy a Trello Board?
Boards in Trello can be copied from the Board Menu accessed from the ...'s button on the top right
Open the board menu by clcking on the three ...'s in the top right
Select the ... More option from the menu at the top
Click on Copy Board and you're done!
Templates are easier to copy as you can just click on the 'Create a board from this Template' button at the top of the board.
How to delete Trello board?
Deleting a board in Trello requires you first to close it
Open the board menu by clcking on the three ...'s in the top right
Select the ... More option from the menu at the top
Click on the Close Board option, this will close your board but still allow you to access or search it in future
To permanently delete your board select the Permanently delete board option after you close th board.
How to change Trello board background?
Changing your board background in Trello, to a simple colour or one of thousands of beautiful images is easy, simply:
Open the board menu by clcking on the three ...'s in the top right
Select the ... Change background option from the menu at the top
Pick the background you want!
How to make Trello board public?
You can set the visibility of Trello boards and templates from the visibility menu in the top left, near the board title.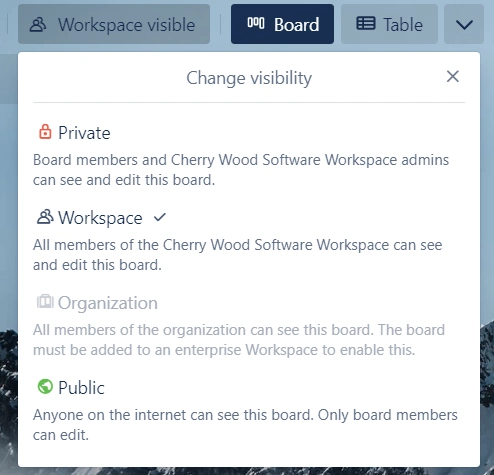 How to move Trello board to another workspace?
You can move your board to a different workspace by:
Open the board menu by clcking on the three ...'s in the top right
Select the ... More option from the menu at the top
Select the Settings option
You can change the workspace and other settings from here
Can you share Trello boards?
You can share Trello boards by clicking on the Share button on the top left of your board. This will let you invite people to work with you on the board.
How to create a template card in Trello?
Template cards can be a useful addition to your Trello boards. You can convert any existing card to a template card from the card back, select the Make template option from the bottom right.