Trello, Monday, and Asana are all popular project management tools used by professional teams and businesses worldwide.
And while their websites boast about features that make them stand out from the crowd, which one really offers the most value now and into the future?
Remember that when it comes to project management tools, what your team needs depends on many factors: size and industry of the business, number of users and collaborators per project or task, and more.
While it's clear that these three tools are at the top of the pack in terms of popularity and usefulness for teams across multiple industries. To help you decide which one is right for your team, let's take a look at each one individually: what features they have to offer, the cost, and any pros and cons of each.
Trello
Trello is a highly visual, intuitive project management tool. It can organize your projects into boards, informing team members on works-in-progress and delegation of tasks. Think of a digital whiteboard with columned sticky notes—each with a task for you and your team.
The NY-based work collaboration tool was founded in 2011 and has since grown to over 150 employees and 4.75 million users. It's a staple in project management used by both small businesses and large companies, including Adobe, Spotify, and Google.
Key features
Kanban Board Software
This wouldn't really be a proper feature review of Trello if we didn't mention the Kanban boards. If you didn't know, Kanban (meaning "visual board" in Japanese) is a visual workflow management system dating back to the 1940s that essentially organizes your tasks in columns representing different phases of its process.
Trello digitalized this renowned team productivity mechanism. And they organize your columns under "to-dos," "Doing," and "Done" (you can edit these). This way, you're able to get a macro view of your company's operations and see what everyone is working on.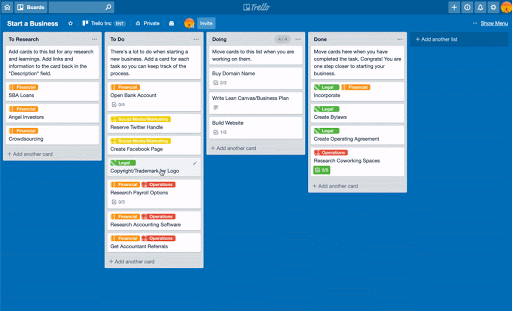 Butler Automations
In Trello, automations (previously called Butler) is an add-on that integrates into your board, where you can set up triggers for different actions to occur. This eliminates all the little repetitive actions you have to do in your day-to-day.
For example, suppose somebody adds a comment or assigns you another weekly task on a card on your board. In that case, an automation can execute an action based on the settings you choose (for instance, automatically adding a "Needs your attention" Label to the Card).
These small automations can add up quickly save us loads of time. It allows you to focus on the tasks that really matter while eliminating any human error—like if you forget to check off the due date, cross off items, and delegates.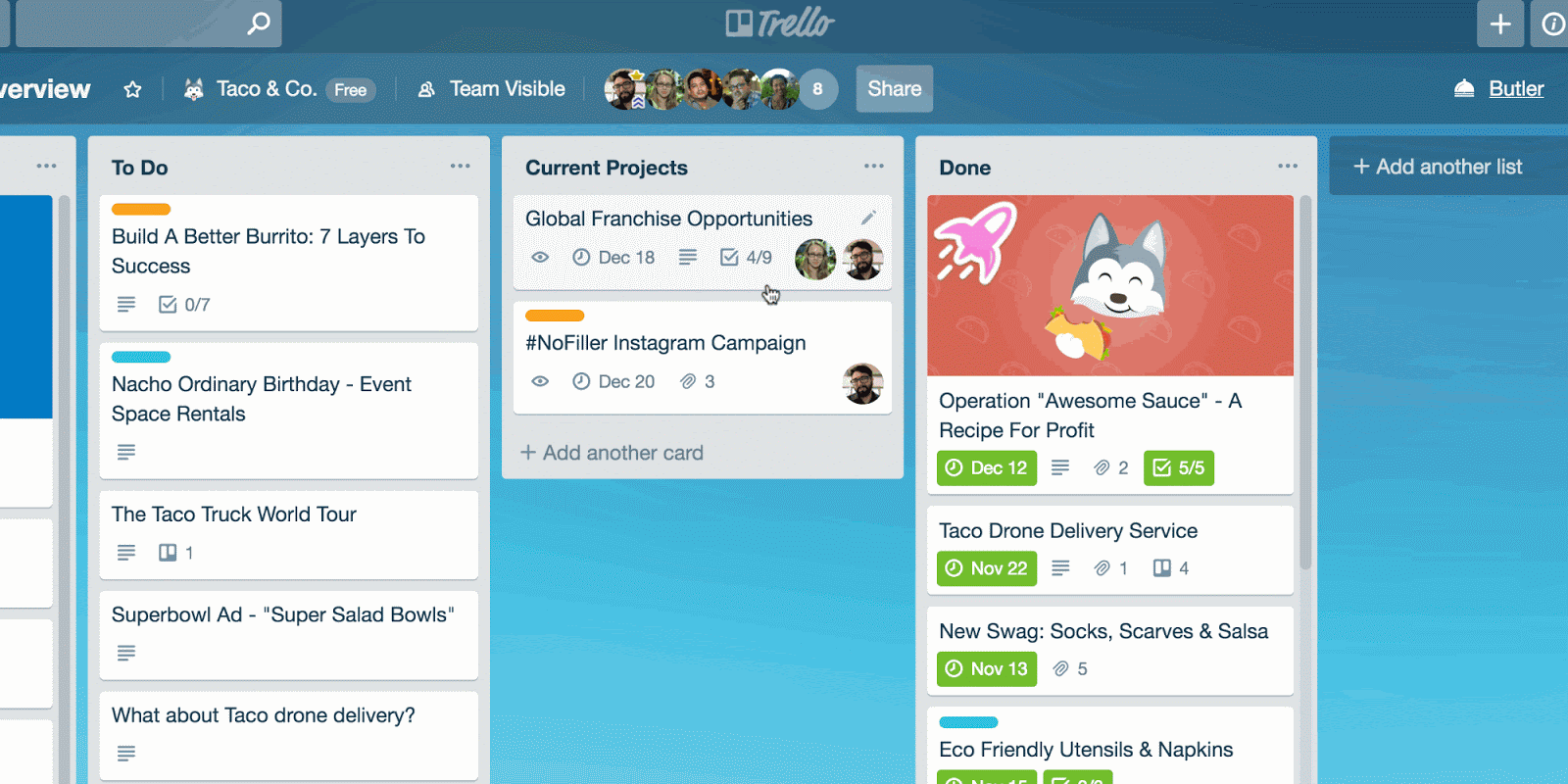 Card Covers
Your Trello boards could be even more visual with card covers and colors—where you can upload personal photos or use the Unsplash gallery to set a front-cover display on your cards.
Card covers make things visually digestible (you could add a picture of, say, graphs to your KPI tracking tasks so users can spot it and understand instantly.) They're also great for your Team Directory board, which can put a face and quick summary to your remote team—since not everyone may know or recognize each other.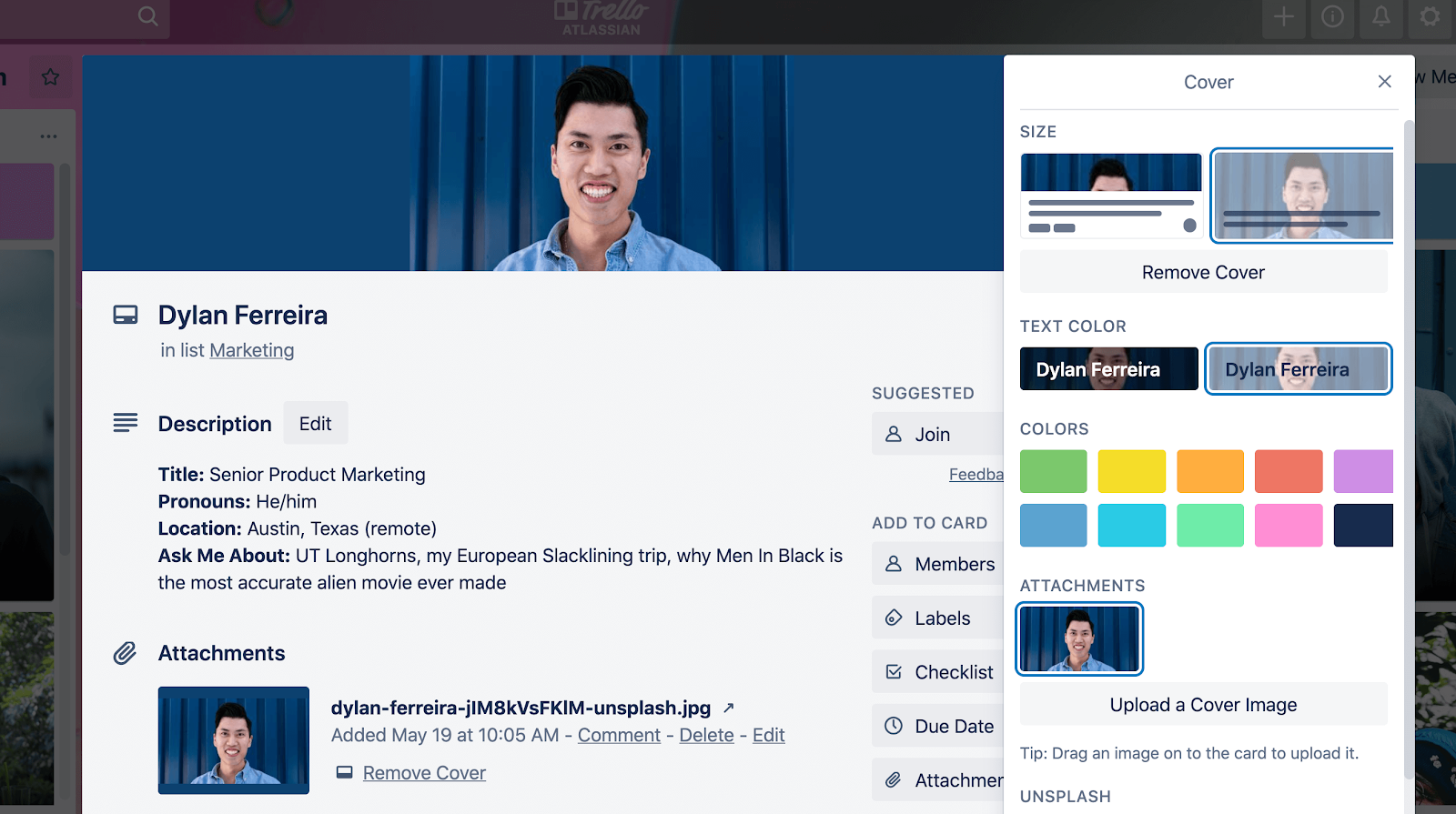 For most businesses, Trello is the best option since it provides all the project management tools you need at the most affordable price. And for the best experience in one accessible hub, Trello Power-Ups (plug-in apps) can bring additional features to your boards.
Apps like Blue Cat Reports, for example, allow you to fully customize reporting over any number of Trello boards. You can start tracking tasks and get macro views of team performance.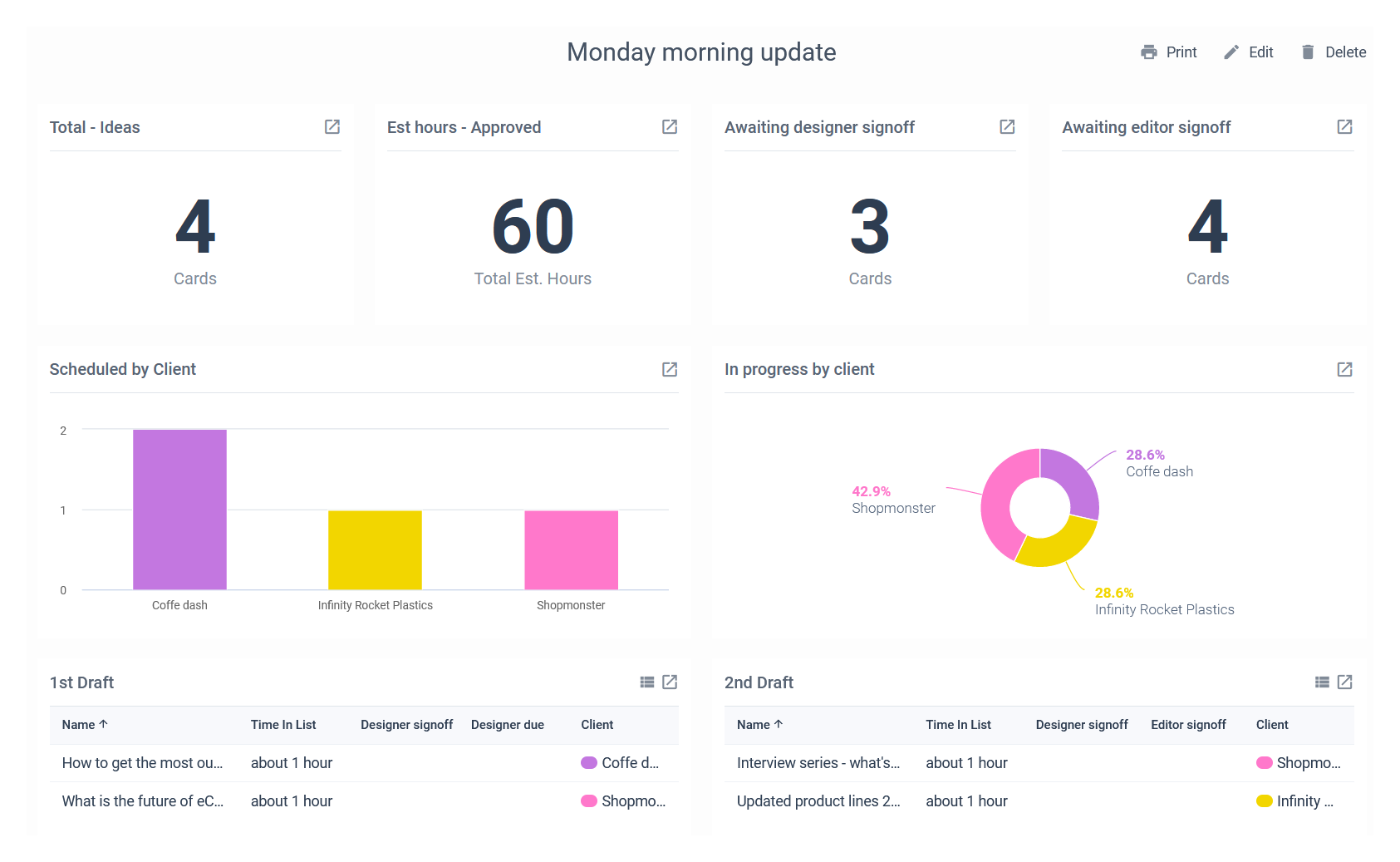 You also have the ability to create various charts (Pie/Bar/Line) to better visualize in-depth reports and see the progress of every card.
Pricing
Trello has some really affordable pricing for all kinds of businesses. Each higher plan stacks new features on top of the ones offered in lower-tier plans, accommodating more advanced business needs.
Most individuals and small teams get by with the free version, but they include a quick snippet on which plans are best for each kind of business: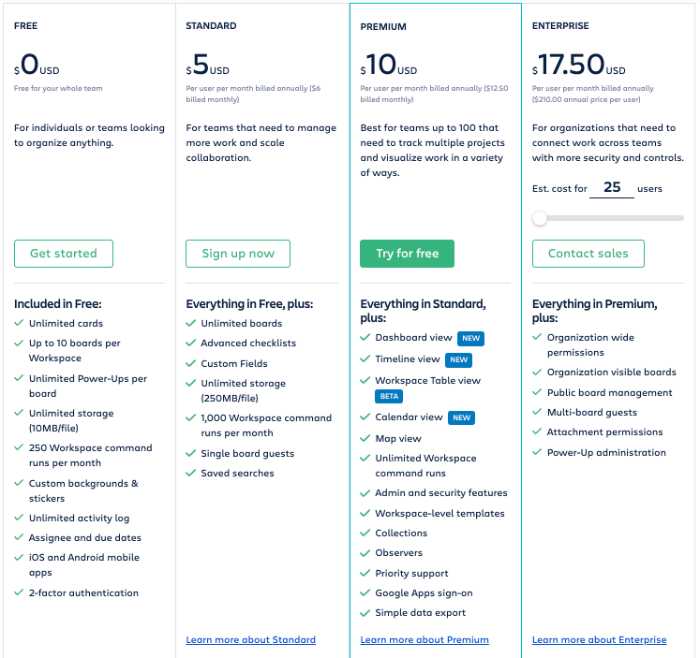 Pros
Free version
Automate certain tasks and flows
Dark mode
Third-party integrations
Cons
Cannot be used offline—must have a stable internet connection
Can get cumbersome with extensive projects involving several steps
Formerly known as DaPulse, Monday is a work operating system that powers teams to confidently run projects and workflows to streamline operations. Several inbuilt functionalities and third-party connections let you execute a wide range of tasks, from bug monitoring to customer relationship management (CRM).
Whereas Trello was more "use these sets of features, we provide you," Monday is like "create and optimize your own workflows, and we'll make it stupid simple to do so."
Founded in 2012, the Israeli project management machine now has over 500 employees and 128 000+ users.
Key features
Easy People Management
When we think of project management tools, we tend to focus solely on projects, tasks, subtasks, and interdependencies. We spend less time thinking about the people behind them. Employees aren't that visible nor reachable on tools like Trello.
Monday is more "people-first." Users favor its straightforward and customizable interface that can align with their brand. Employees can let each other know what they're working on along with their progress, and the advanced collaborative features allow teams to stay on top of projects.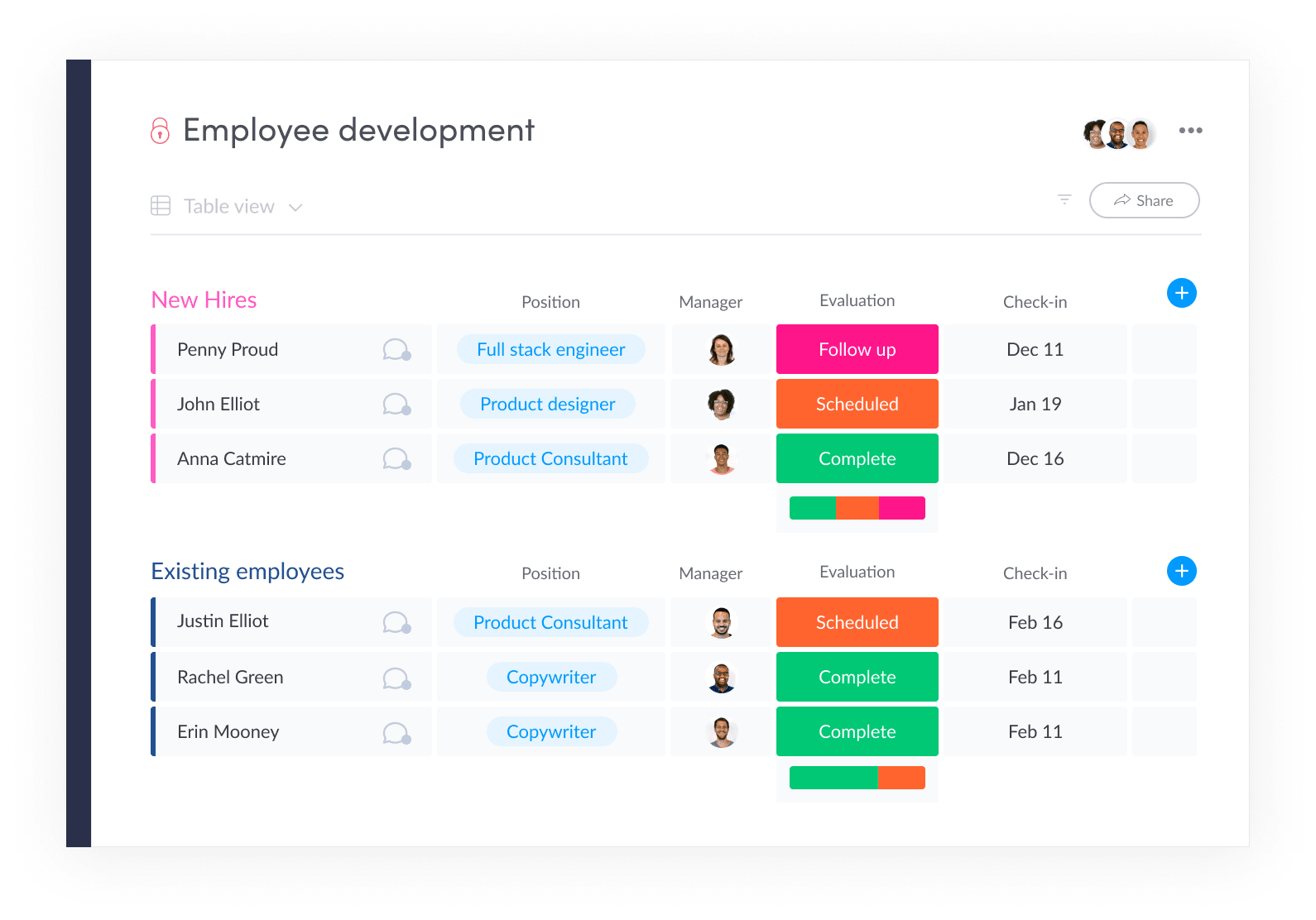 Built-in time tracking
As millions of teams worldwide went remote from the pandemic, time-tracking may have suffered. It became a lot harder to track how much work we were getting done and how long it took to complete with all the distraction and demotivation.
By documenting time durations for a task's completion, managers can keep track of their reports, employees can learn more about their efficiency in different tasks, and businesses can bill clients more accurately for worktime.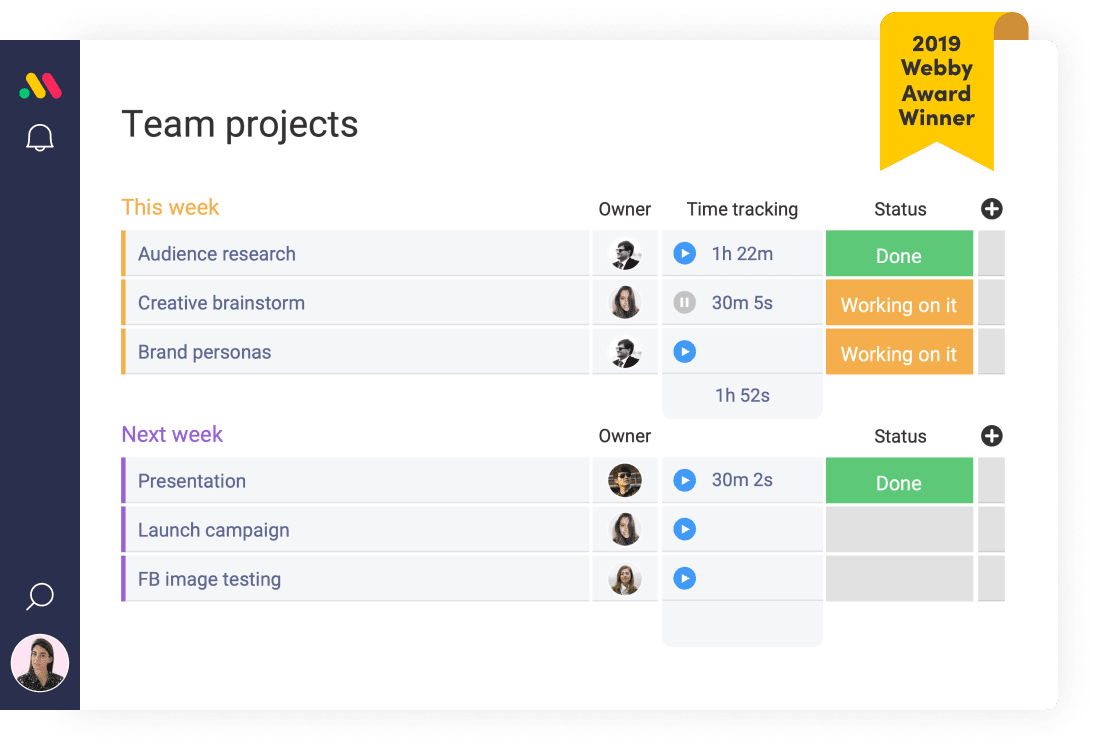 Events Planning
Projects are one part of a company's operations. But you also have dozens of scheduled events like meetups, conferences, trips, team fun days, and whatever else. Well, Monday lets you plan everything intuitively with color codes and organized columns.
This way, you can inform your entire team on the most important event details like the organizer, dates, timelines, type of event, # of attendees, and leave critical notes in the chat section.
Top Tip If you are keen on Trello but need to do Events Planning check out our article on Events Planning and Management with Trello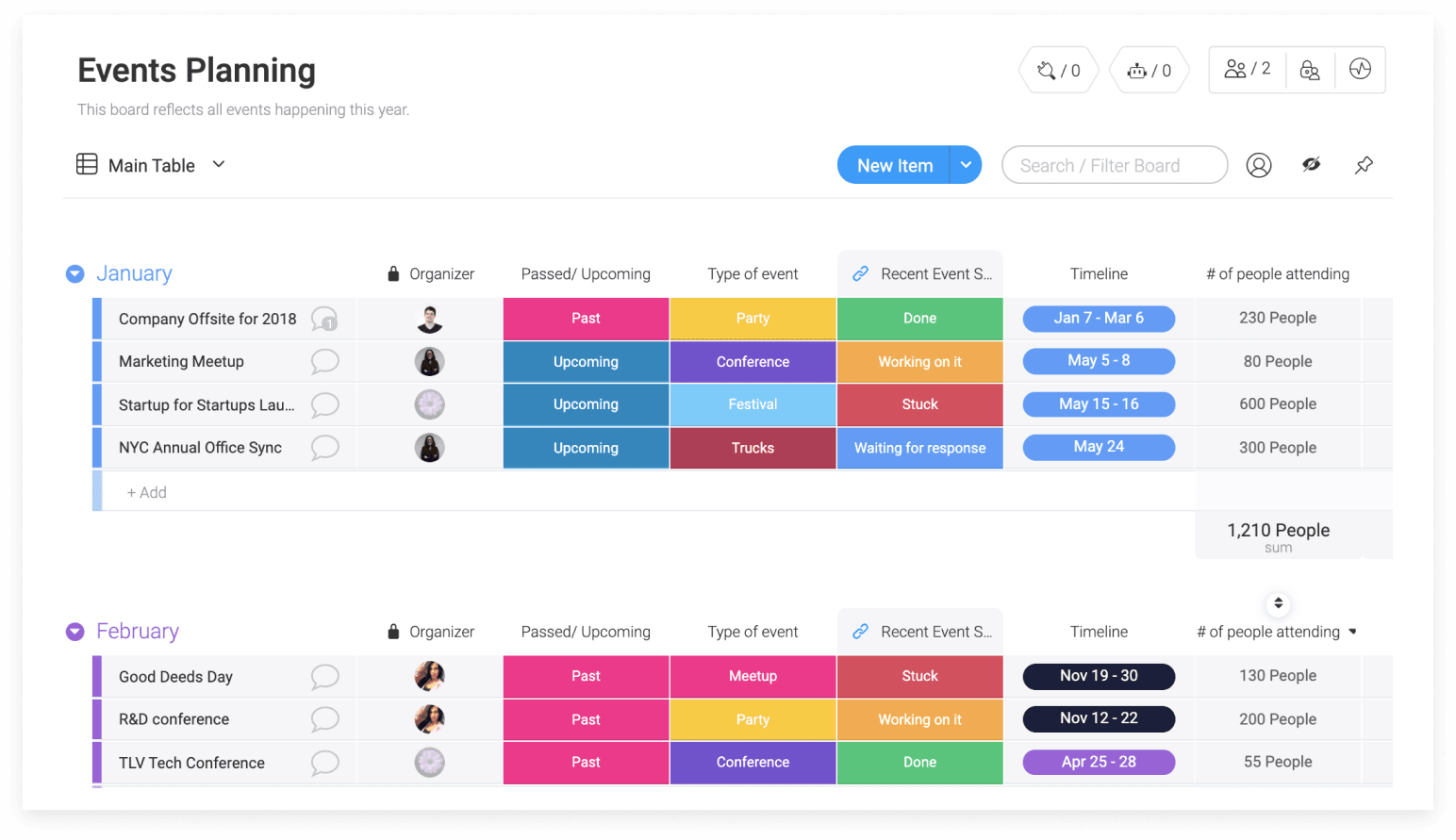 Pricing
Monday.com has a unique pricing strategy compared to Trello. They charge a set monthly amount per seat (user), making things expensive real fast. Although they have a free version for up to 2 seats, most teams will probably require higher tier plans to accommodate their needs.
The good thing is that Monday makes it a bit easier to find the best plan for you by asking for your team size (top left of the screenshot below).
Like Trello, Monday stacks new features on top of what's offered in lower-tier plans. But as each plan upgrades for larger teams, more management tools, automation capacities, and security features are made available: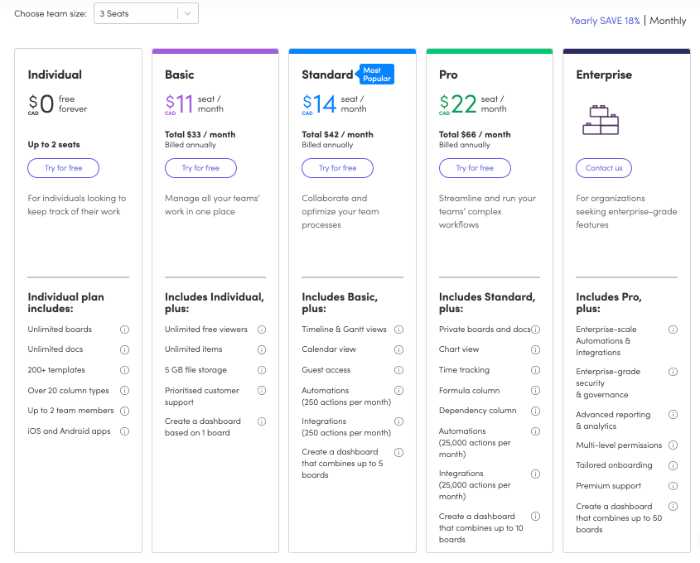 Pros
Modern & Customizable UI
Plan, delegate, and track events
In-app automations
Ready-made templates
Cons
A 14-day trial can be insufficient to learn the app
Complaints about confusing pricing and plans
Not the best fit for smaller businesses with a tighter budget
Asana
Based in San Francisco and founded in 2008, Asana is the longest-standing company on this list. It's a software-as-a-service (SaaS) engineered to improve team collaboration and work management.
An interesting fact about the founders Dustin and Justin: they both worked at Facebook, tasked to bolster employee productivity. Now, their own company Asana has a market cap of $19.64 billion dollars.
Asana makes sure your team projects are flawlessly executed from start to finish by letting you create tasks and subtasks, prioritizing them, delegating them, and managing them.
Key features
Set company objectives
Project management is amazing. But let's take a step back—more like a bird's eye view, what about company objectives? Asana makes it super simple to blueprint all your company objectives in one visible hub.
You can categorize your short-term and long-term goals by different areas of your business, allocate special teams to handle them and set due dates. These are all viewable on a list or calendar, so you're always on top of things: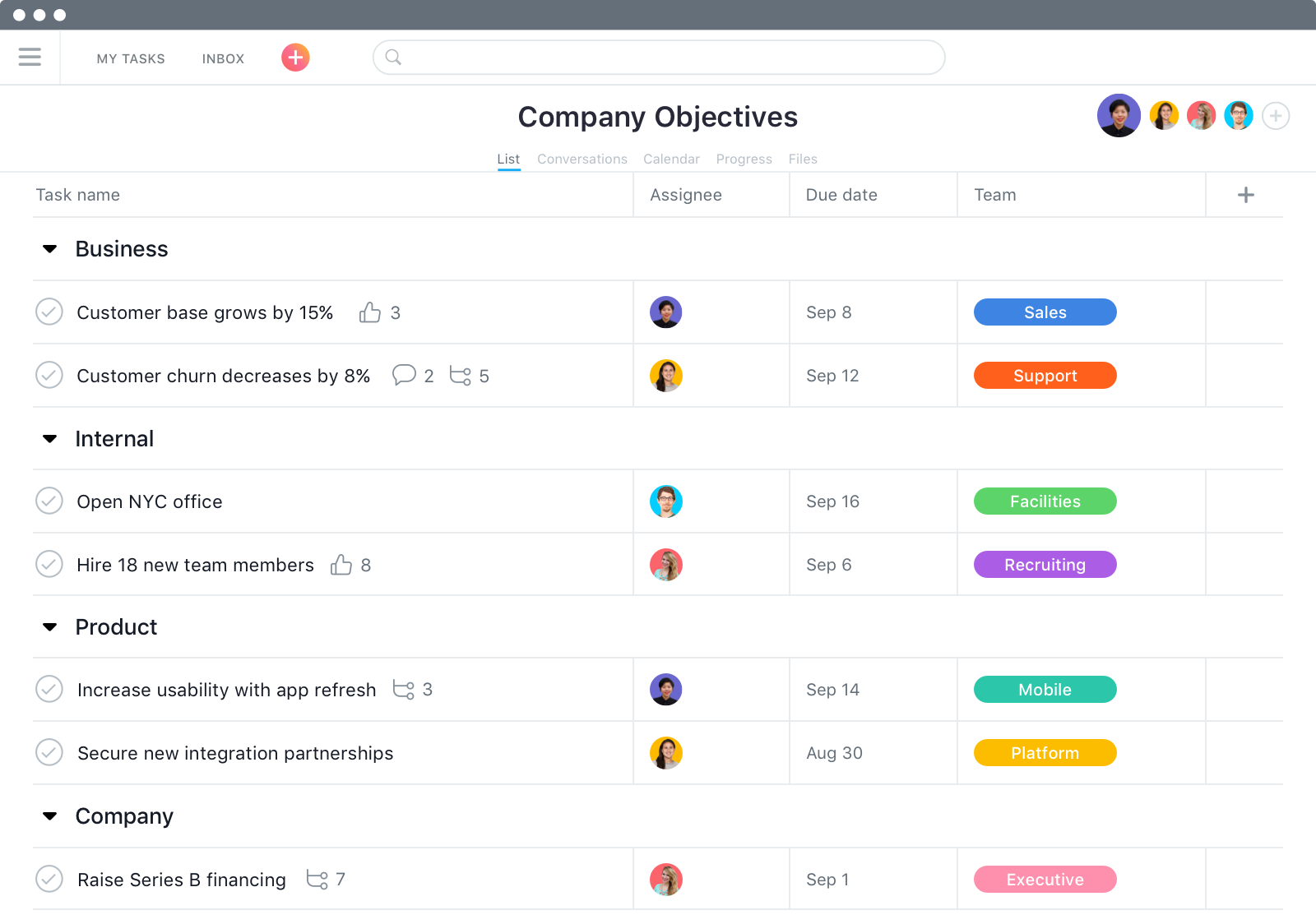 Track real-time progress on team to-dos
It's one thing to set a task and respective subtasks to team members, it's another (great) thing to be able to track the progress of key initiatives in real-time. Asana lets you see how all your projects are progressing, allowing you to proactively address risks and report the news to stakeholders.
Asana doesn't just let you track specific projects though, it can also give you a holistic view of your team's work and priorities. You can also troubleshoot problems like work overload and distribute tasks more evenly amongst team members.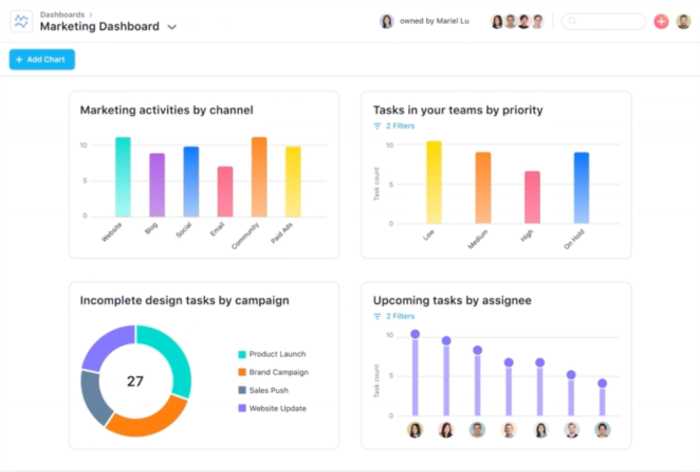 Calendar timeline flows for tasks
When we hear calendar, we think of boxes with more colorful boxes inside with words in them. But, do we ever think about colorful lines and arrows? Profile picture bubbles?
Asana changes the way you hit your deadlines by redesigning the calendar to optimize workflows. Now, you can create a team plan that shows how different project pieces fit together in the long run and by when specific members should complete them.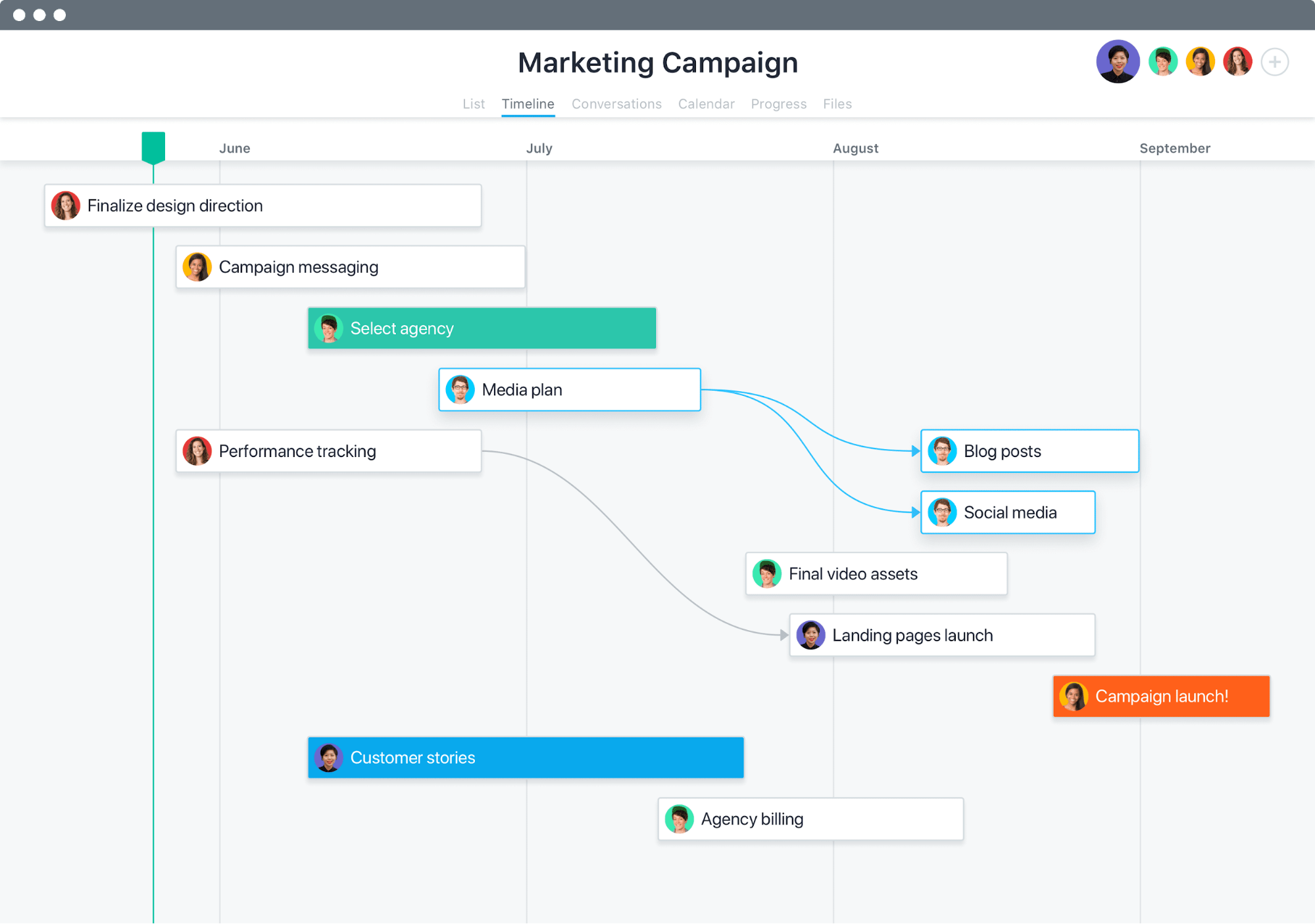 Pricing
Like Monday, Asana follows a similar "per user per month" structure. They offer 3 plans: Basic (free), Premium, and Business—each specialized to accommodate different business sizes and goals: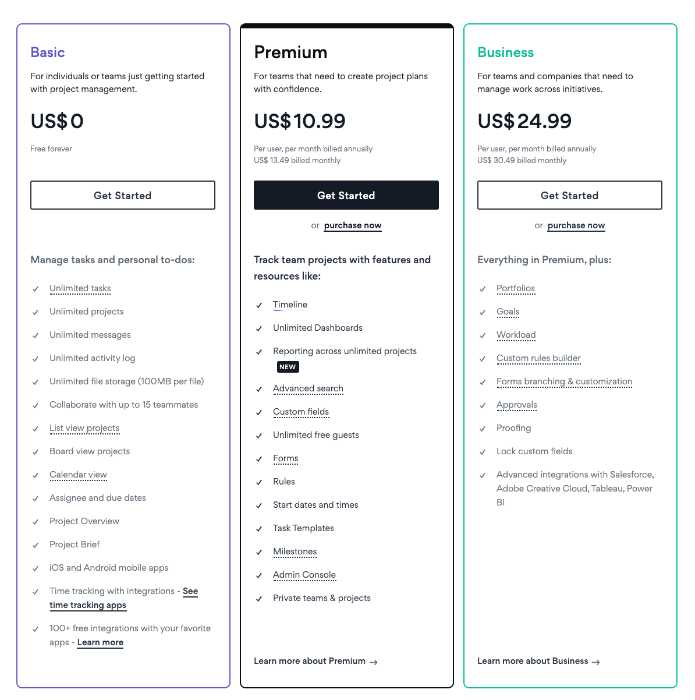 Pros
Variety of integrations
Easily plan, delegate, and track micro and macro objectives
Desktop and mobile-ready
Cons
UI is a bit overwhelming for new and non-technical users
Limited exporting functionality (only JSON/ CSV formats, no PDF or Excel)
Expensive for smaller businesses
Conclusion
It's hard not to be impressed by the capabilities of Trello, Monday, and Asana. Their tools are used worldwide by millions of people all over the world. Which one will reign supreme in 2022? That depends on your more important needs.
Trello is your best option if you're looking to simply manage and delegate tasks to crew members on a budget.
Monday is your best option if, on top of project management, you're looking to keep an eye on your employees, their productivity and efficiency, and plan multiple events your business has.
Asana is your best option if you're heavy on setting and tracking broad objectives, creating interactive timelines between all your teams to complete them, and seeing how your team is faring for all assigned tasks.
It's also important to note that some of the mentioned features are available on all platforms, so you're not necessarily giving up certain perks by choosing one over the other. We highlighted what each company does best, but we'll leave the more granular research to you.
All-in-all, Trello is going to be the best option for all the small businesses and tight-knit teams out there. You get best-in-class project and team management features for the lowest relative price.
And if you're missing the analytics aspect that Asana or Monday offers, Blue Cat is a great Trello plug-in that solves all your reporting needs for super cheap. Good luck!