Event planning and management consistently makes the top 10 lists of most stressful jobs. How they compile those lists I have no idea! But let's agree you could do with a tool by your side to keep things organised, or maybe change career to something a bit calmer like Air Traffic Controller 😂.
What makes being an event planner so stressful
Keeping organised: You need to manage multiple events at once, on different timescales and make sure every task for each project gets done on time
Multi-tasking: Managing all those different events is going to mean juggling lots of different tasks each day
Attention to detail: It's not enough to just crack through a bunch of tasks, you need to make sure everything gets done on time to the high standard you and your clients expect
Managing deadlines Everything has a deadline, lead times for different tasks mean you need to start working on them well in advance of your event or it'll be more stress when you have to find a replacement at short notice.
Managing budgets: Now do all the above but keep costs down!
OK, even writing that has started stressing me out. Let's take a second to look at this nice picture of a sunset in the mountains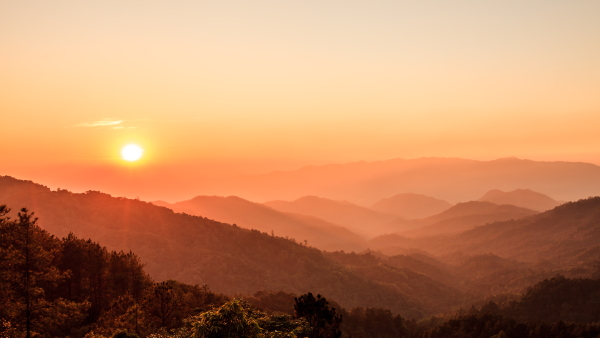 Now breathe 😌... and let's ask...
How can Trello help with event planning?
Organisation: With our (free) Event planning Template Board Trello you will be able to plan and keep everything clearly organised for you and our team.
Multitasking: Get easy overviews of what needs to be done today, tomorrow, this week etc.
Attention to detail: Never miss a task again, even create template events so you don't have to start from scratch with each new event.
Time management We can make it super easy to see overdue tasks, and keep on top of what is due when. The Trello calendar view shows what tasks are due when and reporting tools can pull lists of tasks from multiple boards
Budget management: Track estimated and actual costs, supplier bids and paid and unpaid invoices for each event. Get reports showing total costs by event or expense class.
Attendee tracking: Need a simple way to track who is coming, using a simple Trello template and the Forms power-up you can create a sign-up form for your events and manage attendees in Trello.
Access your plan anywhere: Trello has a great mobile app, no need to save your updates for when you are at your desk as you can take your plans with you.
Trello event planning template board
This board is the core of your event planning process, click through from the link below to make your own copy of this board. You should create a copy of this template for each event. That way each event is kept clearly on it's own board and you can easily see at a glance the status of all tasks and the key information for each event. We will look later at pulling information from all your events into one place.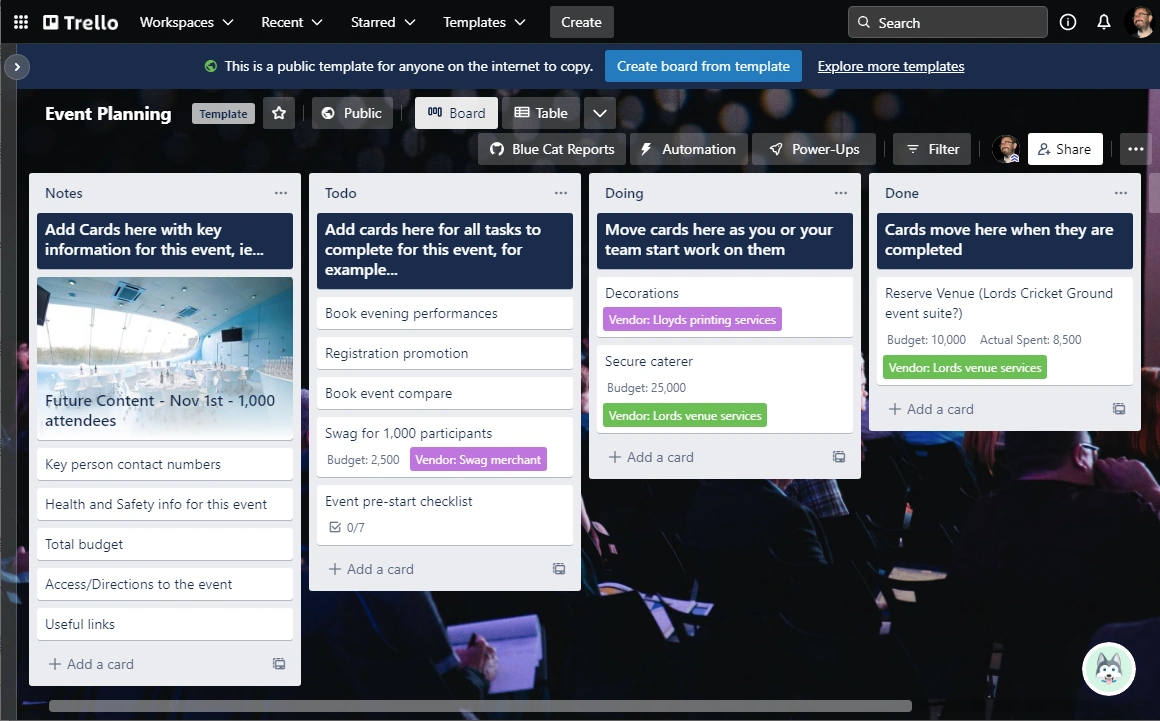 Get the template here. Once you copy that template you will want to do a few things to get it set up for your event
Create all your tasks and assign members
We created some example cards so you can see how the Board would work. You will want to create your own Cards for all the tasks you need to complete.
Assign your team: If you have a team you can invite your team into the Trello board and assign them to Cards in Trello.
Set due dates: Set due dates on your cards so you can easily track what is due when. See later for how to view these dates on a calendar.
Custom fields
We have added some basic custom fields for budget, actual spend and vendor. This lets you add details to each task and will assist with reports if you want to create them later.
For example you might add budget to cards for venue hire, catering and etc. You can then set the actual spend on those cards when you know what the final cost is. This way you can track spending as planning proceeds and avoid overspending or see where you may be able to make some space in your budget. We added some example vendors for our template board, you can edit the vendors (and all custom fields) from the back of your Cards.
Custom fields are one of the simplest but most powerful aspects of Trello, adding further custom fields to the back of your cards can allow you to add your own data in and really make the Trello board your own. If you do add more custom fields it would make sense to create your own template board to copy for future events. That way you will get all your custom fields for each new event. Check out our guide to custom fields if you want more ideas and inspiration about how to use custom fields.
Checklists
Checklists are a great feature in Trello. For individual cards you can create sub-tasks by adding one or more checklists on the back. Checklist items can be assigned to individuals and have their own due dates set. Checklists can also be used in event planning for those moments where you want to run through a checklist and be sure everything is in place. We have created an example Event pre start checklist you might use to run through final checks before the event starts. Hopefully you get the idea on how you might use that feature, especially since Trello has a great mobile app and you can access your checklist as you move around the venue.
View your event planning Timeline and Calendar
Trello has a Timeline and Calendar view built in to your Boards. You can can access these from the Menu in the top left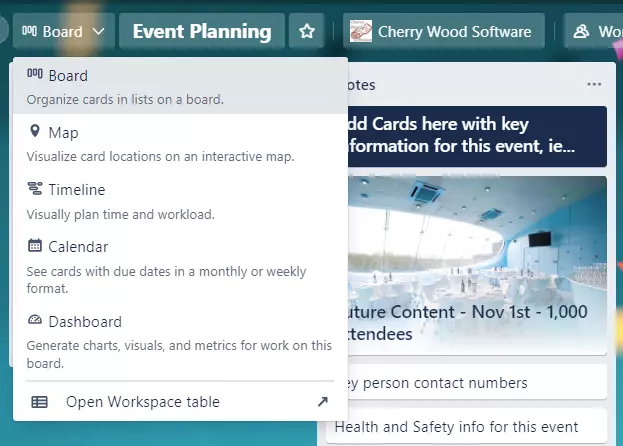 The Timeline shows something like a Gantt style view showing when tasks start and end. You can click and drag tasks to adjust the start and due dates on them. You can also open the cards from the timeline view to update other information or add comments.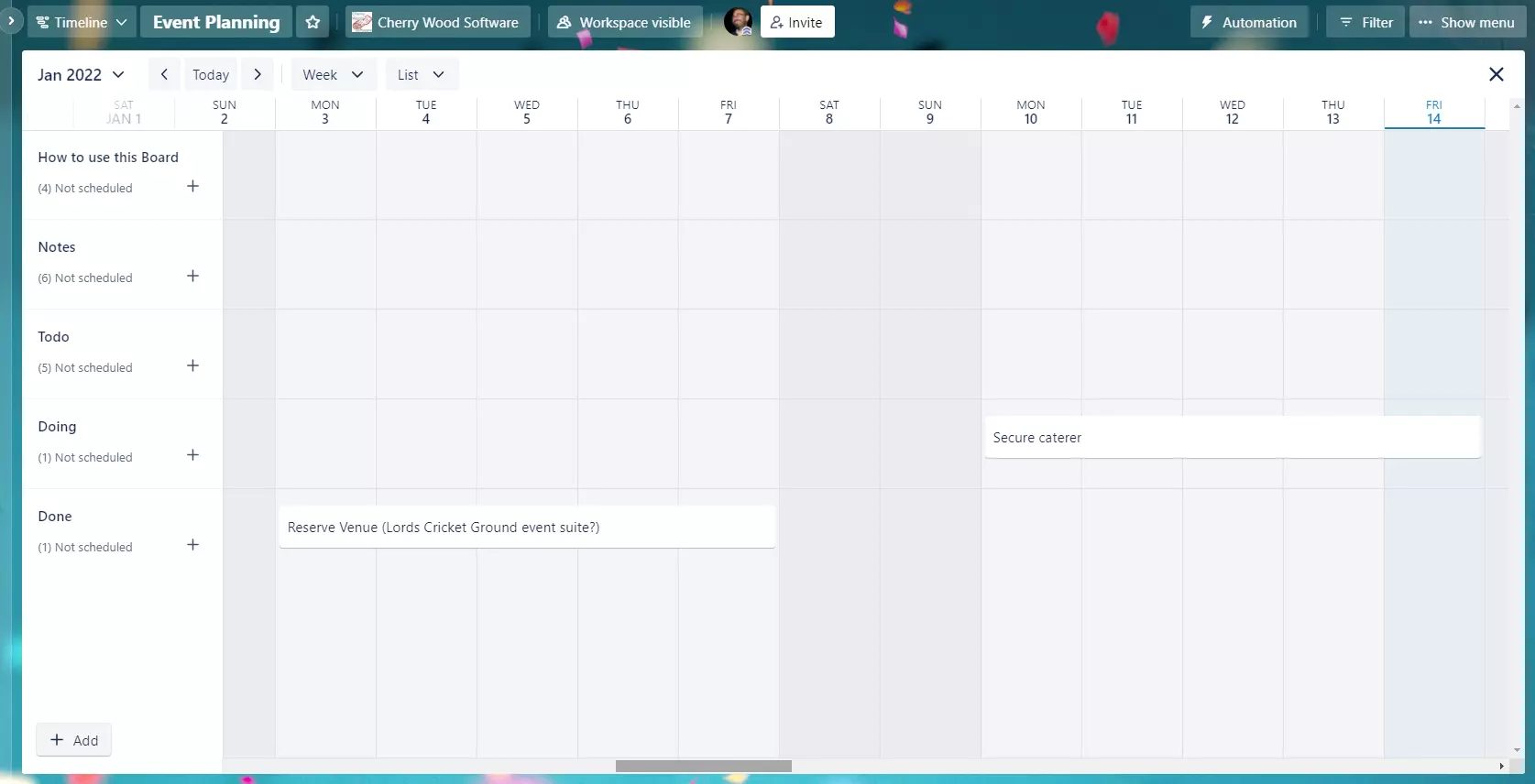 The Calendar view shows the same data but on a Calendar, you can also sync the data here with your personal calendar. Great for those of us who like to be able to see all our upcoming dates on our calendar in one place.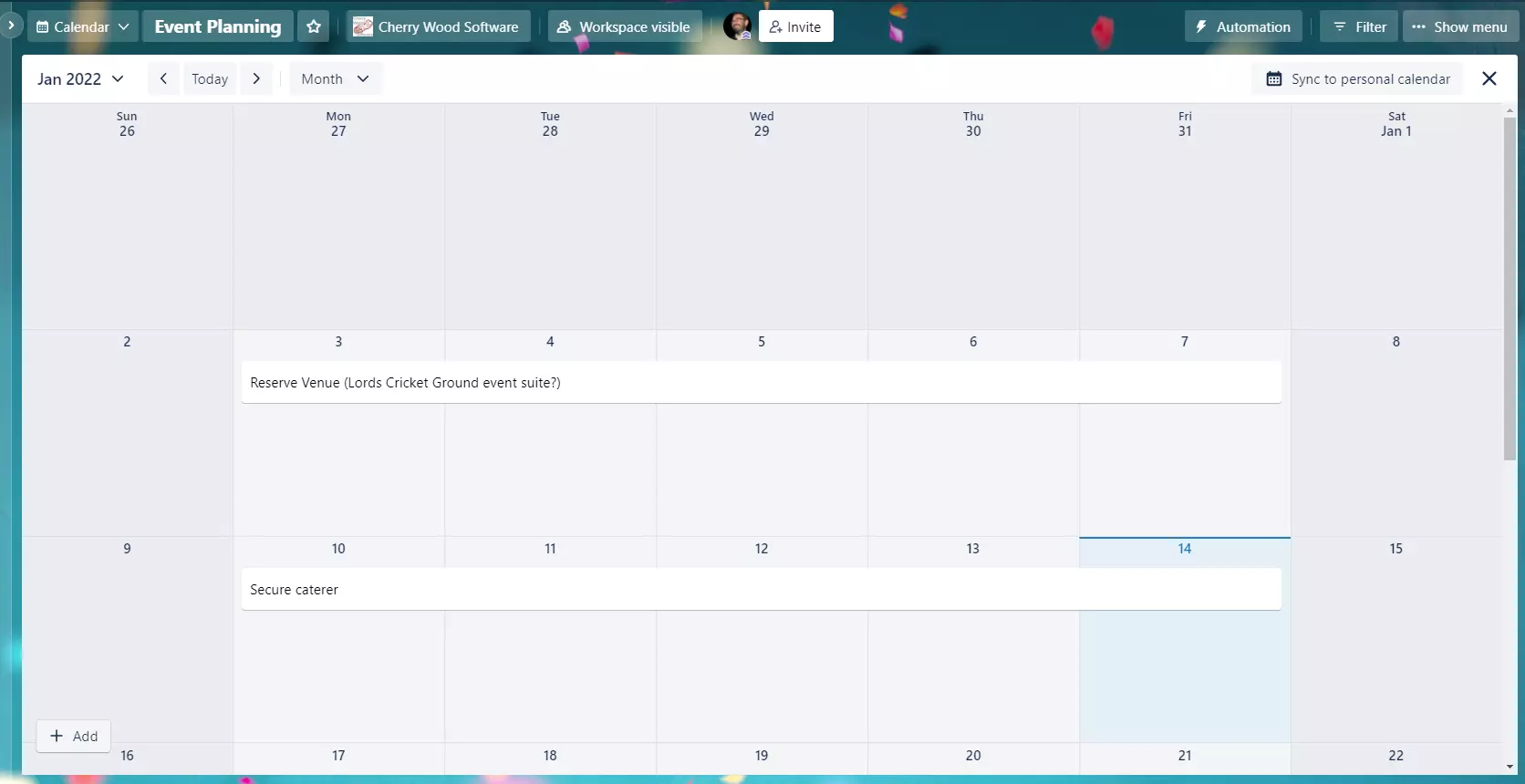 Reporting
For more advanced reporting we would recommend looking at Blue Cat Reports. We have included this power-up on the template board so simply click the Blue Cat Reports button and follow the instructions. Blue Cat Reports is particularly useful in pulling data from multiple boards into one place, and for generating more in-depth reports than Trello alone can.
Example reports you could create
Daily/Weekly todos based on all upcoming and past due dates
Budget reports showing total spend vs budget by event
Total spend with each vendor
unpaid invoices (create each invoice as a card with a due date on it for when it should be paid)
What type of event planning can I use Trello for?
Company and corporate events
Remote/Virtual events
Conferences
Training courses
Workshops
Seminars
Company Retreats
Trade shows
Charity functions
Social media events
Marketing events
Weddings
Conclusion
Trello is a great project management tool and has some great features which really lend it to working for Event Planning. Use our Event Planning Template as a starting point and start setting up your events in Trello. Invite your team (if you have one) and make use of the Trello mobile app to keep on top of things when you are out of the office. Then take a look at the built in calendar and timeline views as well as 3rd party power-ups for some new overviews of your data. Keep on top of all your projects in one place and never miss a deadline or a budget again!