Do you feel like you're always frantically trying to organize your life and work schedule with little success? Fortunately, the Trello Calendar View makes managing your work and personal life as simple as brushing your teeth.
As project managers, marketing and sales executives, and business owners, you know the value of structuring your time and keeping track of your various responsibilities. Therefore, you'll likely appreciate the Calendar View and could benefit from the Trello power-ups available to help you boost your productivity within the organization tool.
Combine the Calendar View option with Blue Cat Reports power-up tool to help you see all your data in one place. These features can help you skyrocket your productivity and stay on track with your monthly goals.
This guide is an extension to our complete beginners and experts Trello tutorial to help you master Trello Calendar View and improve your workflow.
Why You Should Switch to Trello Calendar
Trello calendar view offers a one glance solution to seeing what you have scheduled for the month ahead. Additionally, it allows you to record the details of each event and use a system to color-code each of your activities.
Trello planner can help you stay organized as each board and checklist's due dates are kept in the calendar and the new cards you add to your board automatically sync to your calendar.
If your schedule is often changing, you can use the Trello calendar to rearrange your timetable in just a few clicks.
You may wish to use Trello Calendar to…
Set up a Trello content calendar to plan your business social media schedule or create a system for a Trello editorial calendar for arranging the new blog posts for your website.
Organize your team meetings or client calls. Once you are a Trello calendar view convert, try and get your team to use Trello to help improve your workflow and productivity by making communication and scheduling straightforward.
Plan company events or introductions for new staff members.
Stay on track of your monthly targets and check you are on target using the Blue Cat Reports Power-Up, which will give you an easy way to view your insights within the Trello app.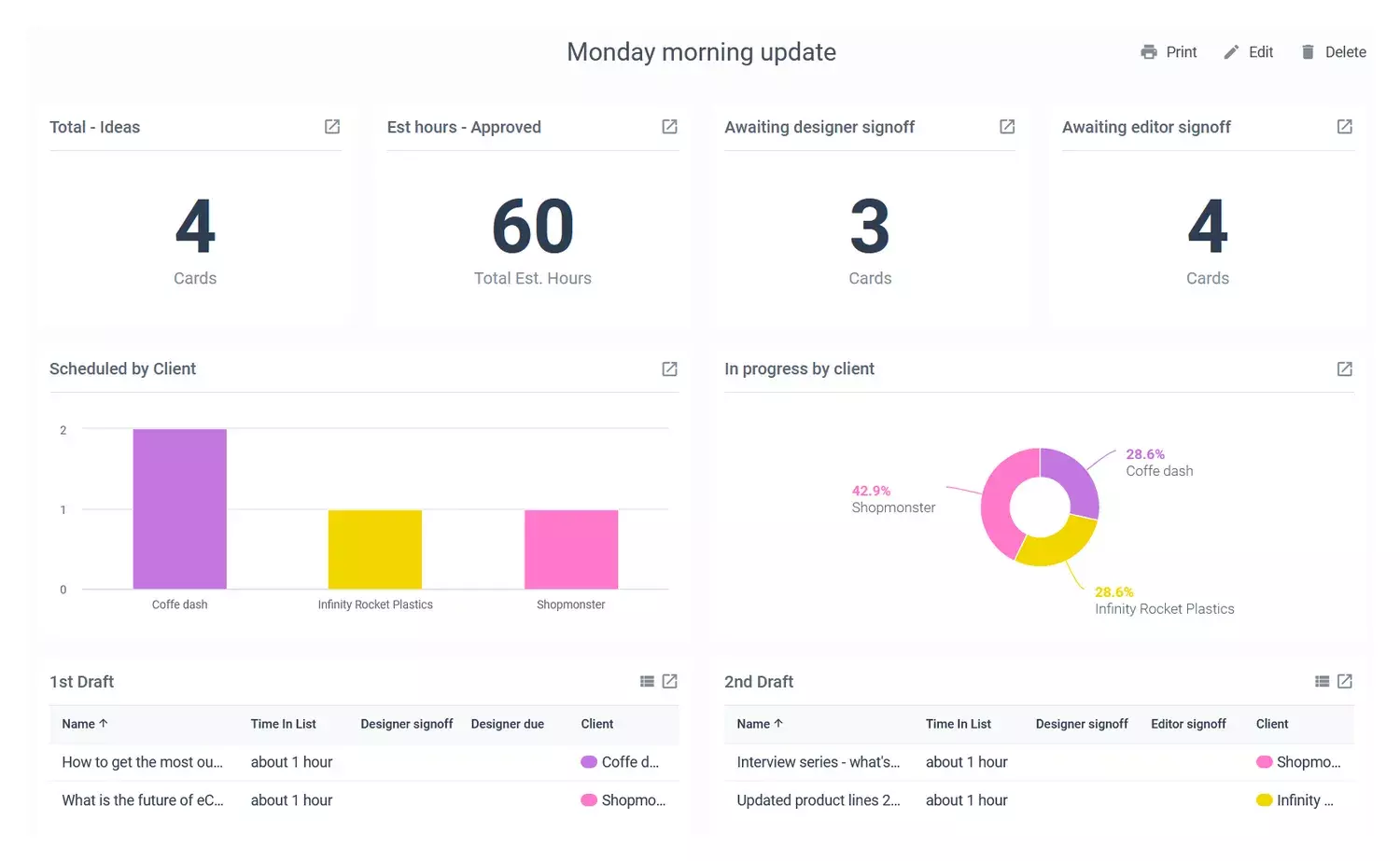 Trello Calendar Features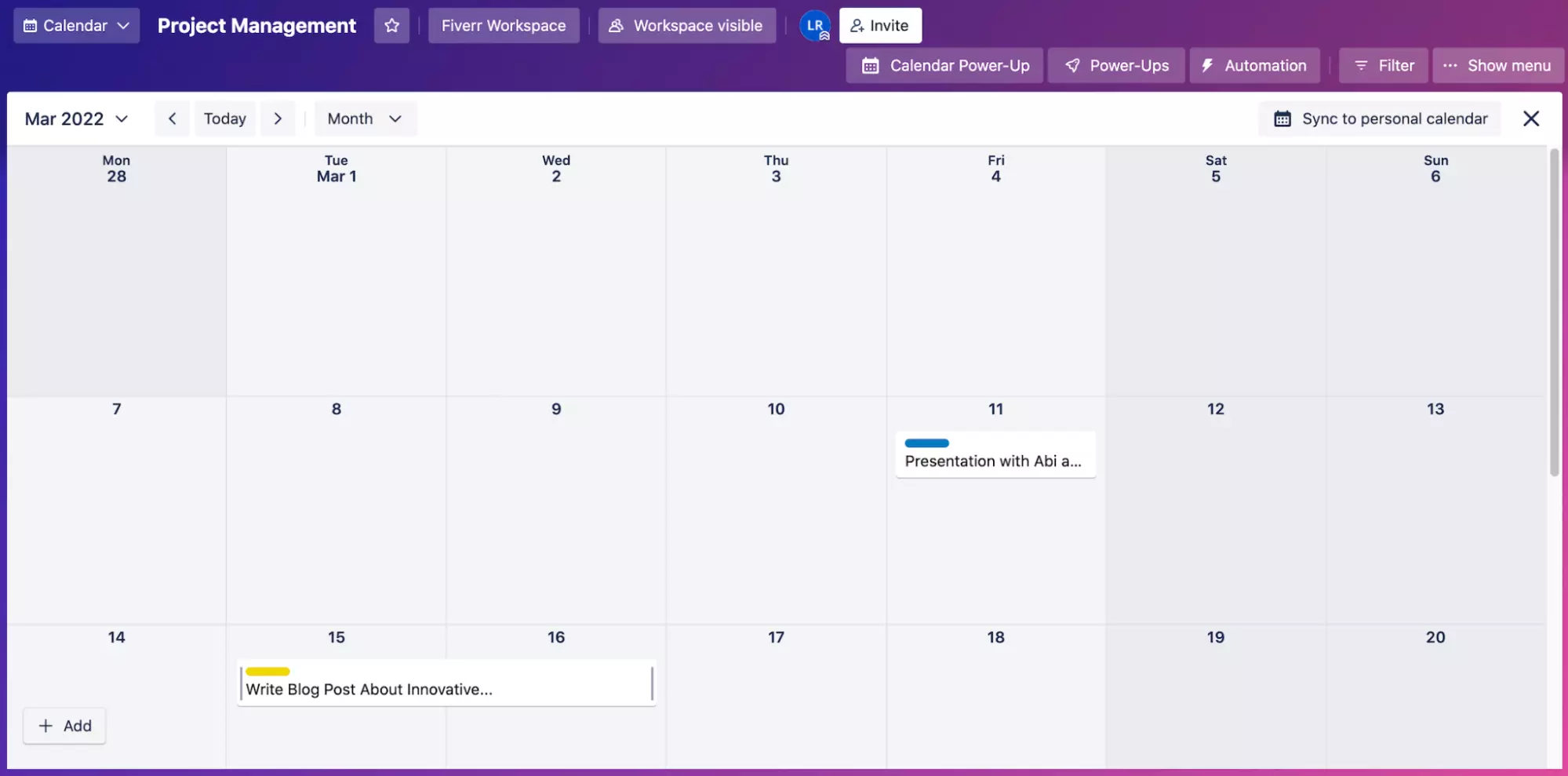 Timeline: View your calendar in a monthly, weekly, or daily setup, depending on how packed your schedule looks.
Cards: You probably already know that a 'card' is the event you place within your boards or calendar. However, you may not know that you can stretch the side of these cards, so the event is set over multiple days by using the arrows of the side of the card (see above). You can also rearrange your calendar when something unexpected occurs by using the drag and drop tools to move the cards to a different day.
Details and dates: Add information to each card to help you stay on target for each task, including the start and end dates for each job.
Checklists: Any task that requires more than a few steps should include a checklist so you can skillfully complete the assignments in priority order.
Trello Power-Ups: Customise your Tello calendar using Trello Power-Ups such as the Card Repeater Power-Up which allows you to copy over any tasks you perform on a routine basis or the Blue Cat Reports Power-Up which will create data reports for your projects. Blue Cat Reports also allows you to view these data in one place to help you comprehend the bigger picture and stay on target for each project.
How to set up Trello Calendar like a Pro: Step-By-Step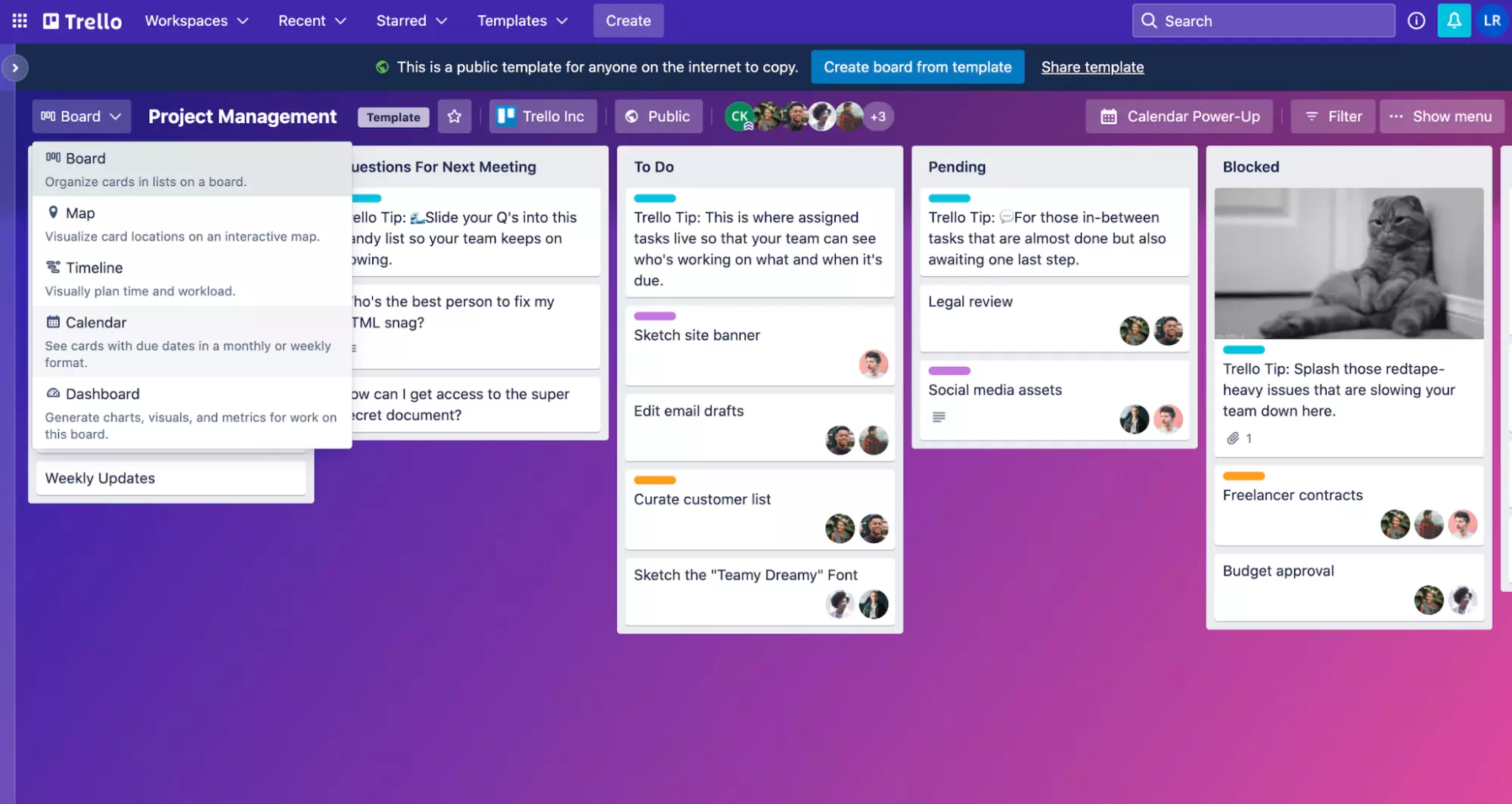 Locate the view switcher dropdown menu in the top left of the screen.

Select 'Calendar View'. This option will come 4th in the list after Board, Map, and Timeline. It really is that simple to set up! Your boards and their cards will automatically sync to the calendar view, so there is no need to manually set aside your valuable work time to add each event to your diary.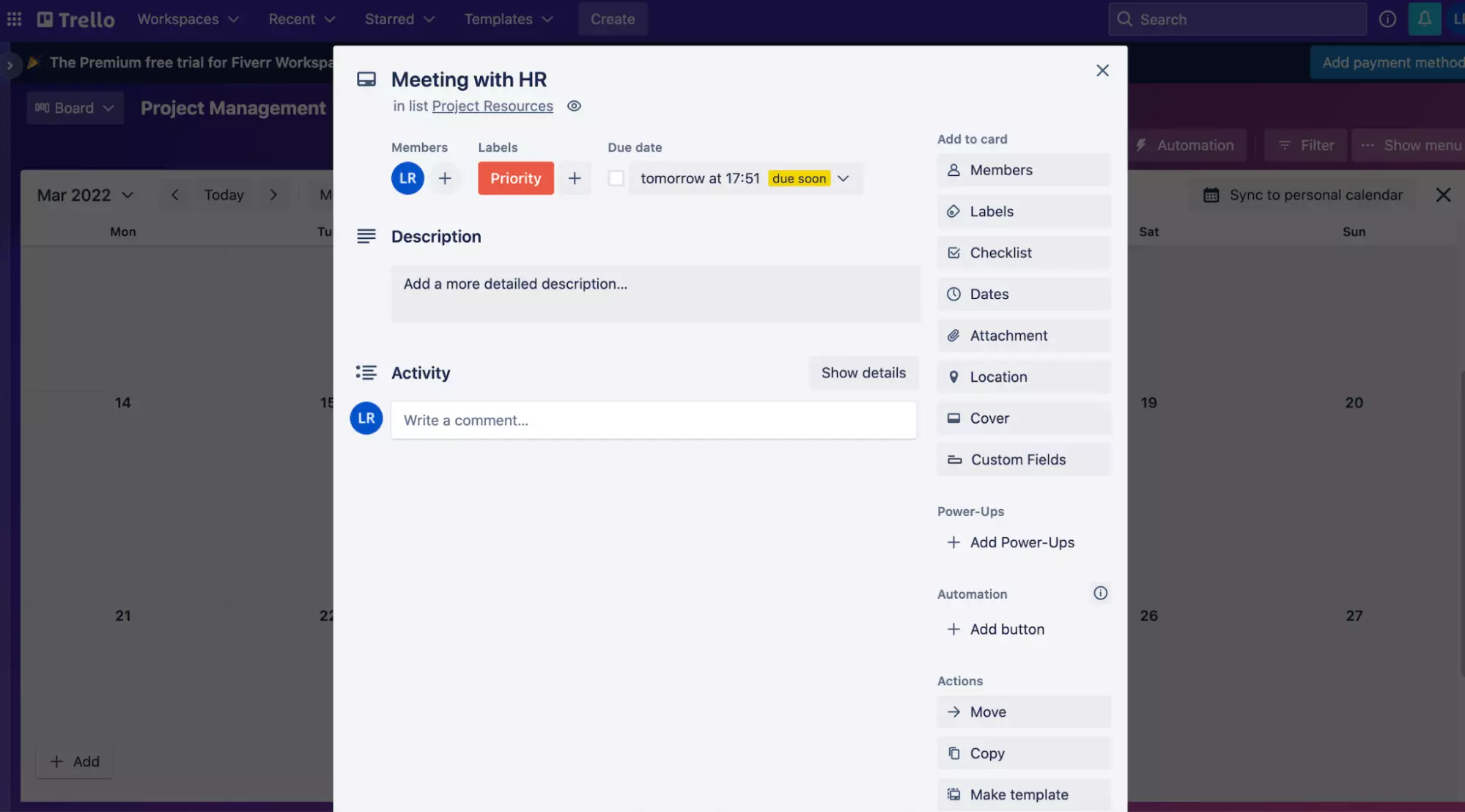 Trello will then automatically organize your cards by their due dates. You can also view the additional information you added to these cards, such as the labels, team members assigned to each task, and the checklists (see the 'add to card' options when you click on a card).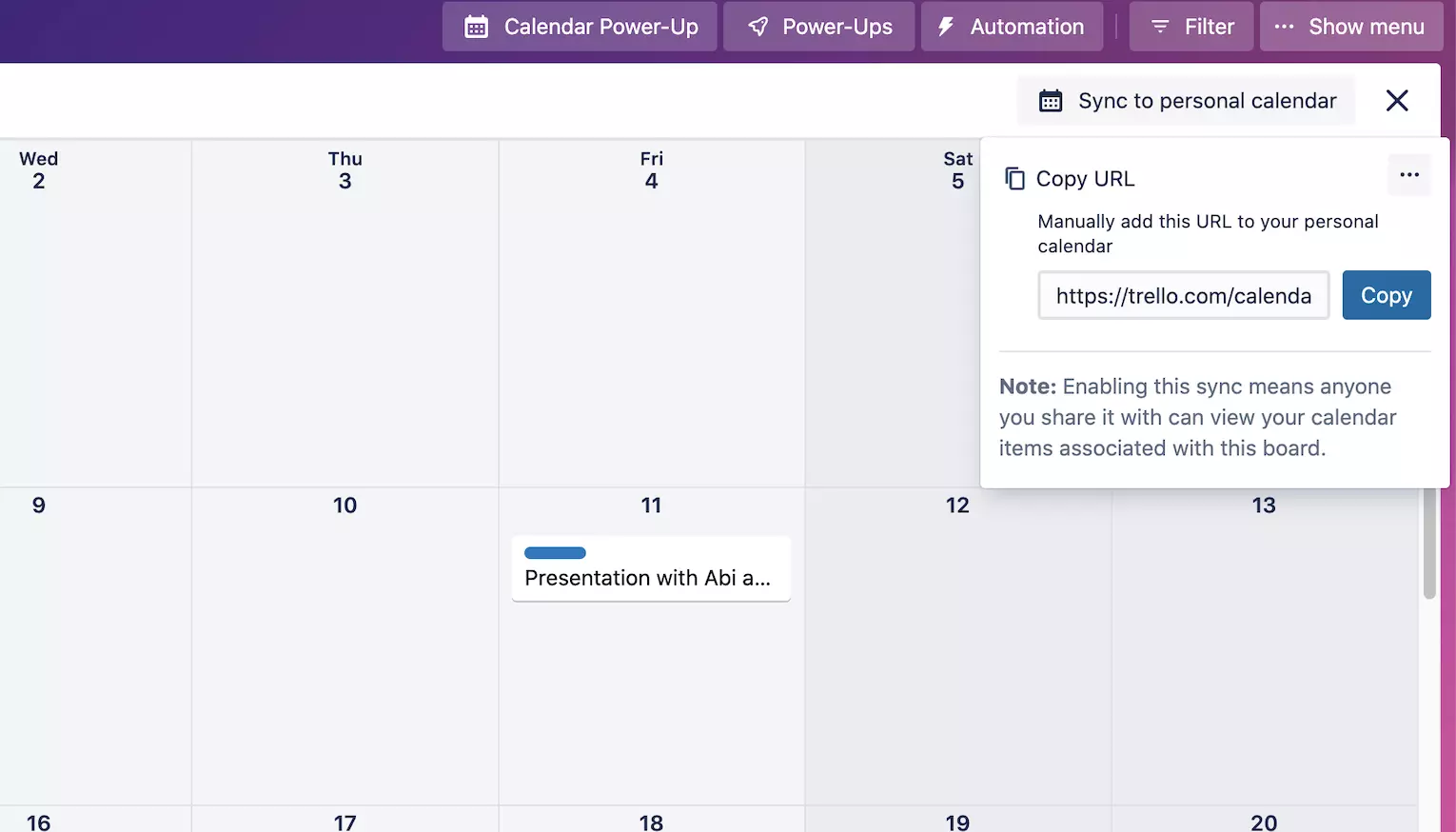 Sync Trello with Google Calendar or another existing calendar using the 'sync to personal calendar' button on the top right of the calendar view. Then copy the URL. Open Google Calendar and click to open the drop-down menu after 'Add calendar' using the three dots and select 'From URL'.
Paste your Trello URL and confirm to add to the calendar. Your Google Calendar will now automatically sync with Trello, and all items from your existing Google Calendar will appear in one color label. When you book new meetings on Google Calendar, they will automatically appear in your Trello Calendar, which can help optimize your workflow.
The final stage in setting up your Trello calendar is to experiment, experiment, experiment! The only way to optimize Trello for your workflow is to set up systems, test them for 3-4 weeks and keep notes of what works and what could be improved. Then you can refine your Trello system to create the perfect strategy for your business.
Trello Calendar FAQ
Is the Trello calendar view always a monthly view?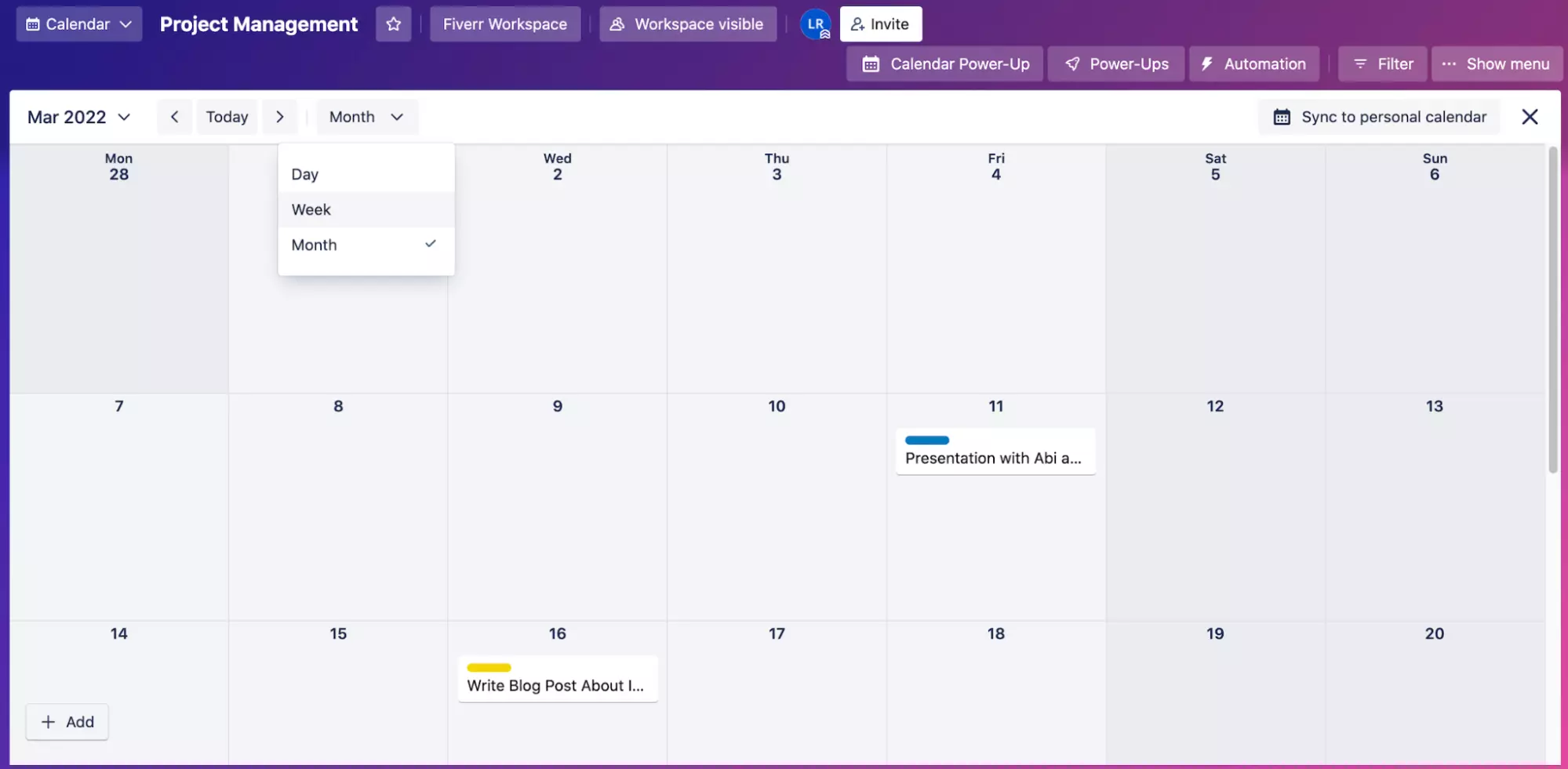 No. If you prefer a weekly or daily calendar view, you can toggle to these views by selecting 'day' or 'week' in the drop-down menu on the left-hand side above the calendar. Using these shorter calendar windows can be helpful if you have a hectic schedule and need to read more details about the events for the day or if you are overwhelmed by your calendar and wish to view only the day you have ahead of you.
Which third-party calendars are compatible with the Trello calendar?
You can use the Trello calendar integration feature (top right of the screen) to sync your personal calendar with your Trello account. Trello Calendar View is compatible with Google, Outlook, Apple, and other well-known calendars that accept .ics links.
Can you get the Trello calendar on mobile devices?
Absolutely! You can add your Trello calendar to your mobile devices using the Trello app. The Trello app also works offline, so you can continue viewing and editing your schedule when you are on the go without an internet connection. In addition, the app will automatically save your changes and sync them with the app next time your mobile device connects to the internet.
How to download a ready-to-go Trello weekly planner template
If you love to take advantage of Trello board templates, you may be wondering if you can download a weekly Trello scheduling template to help cut down the time it takes to set up your Trello account. Well, you're in luck! You can search Trello's templates to find the perfect plan for you.
Can you view more than one board in a single Trello calendar?
Yes! Using the Workspace Calendar View, you can view all your cards across multiple boards. This can help you see a snapshot of your entire schedule for the months ahead and can help you plan your work and prioritize tasks. This option also allows you to see personal and work-related boards on one calendar, which may help you avoid overbooking yourself or missing important family arrangements.
Who can access Trello Calendar View?
All Trello Premium customers can take advantage of this view option alongside the Timeline and Table views. As a Premium member, you'll also get to create unlimited boards, break down larger tasks using the Advance Checklists feature and automate the more mundane tasks within your day, among other things.
Can you try Trello Calendar View before subscribing as a Trello Premium member?
If you aren't convinced and want to try the Trello calendar before committing to the membership plan, you can take advantage of the Trello Premium 14 day free trial. When you start your 2 week free trial of Trello Premium you may also wish to sign up for Blue Cat Reports 7 day free trial to see how to truly maximize your workflow.
Ready for an Easier and More Efficient Workflow for You and Your Team?
Over 1 million teams are already successfully using Trello teams and it's not too late for you and your team to hop on board with your own Trello board (excuse the pun). As an expert in Trello and using Trello power-ups, you may also benefit from the Trello Calendar View option which can allow you to see your schedule in a more visual format. You can use your existing Trello boards and view your cards on the calendar by their due date so you can stay organized, communicate with your team, and set achievable targets. Using the Blue Cat Reports Power-Up you can also ensure you are set to reach your monthly and quarterly goals using the insights.