Trello Chrome extensions are a project manager's best friend. As an app, Trello is the most trusted assistant manager, but even with all the organizational, management, and oversight features offered by the platform, projects and collaborations can get so complex and expansive. Managers start to feel like they need an app to manage their management app.
There are even more ways to optimize the app
Beyond power-ups like ours, there is an enormous library of Google Chrome extensions for Trello that allow users to customize, personalize, and optimize the productivity boost that Trello was made to deliver.
With so many options and functionalities, it can be hard to know which apps and add-ons to choose. In this article, the team at Blue Cat Reports outlines some of our favorite Trello add-ons that can be used to enhance and improve your experience of the program. We sort them below by category and recommend some must-haves for every project manager and user.
Part I: Time capturing and scheduling tools
This Trello plugin for Chrome allows teams to visually manage their schedule and calendar to efficiently track deadlines and activity. The plugin allows team members to easily record their time spent on any given task and generate a report based on that timesheet to make invoicing and estimation easier and more accurate.
The app syncs with external calendars including Outlook, Google Calendar, or Apple Calendar to ensure users can gain a comprehensive view of their overall availability. The calendar even allows for 'dependencies' between tasks and meetings and demarcations of milestones timing, so that steps that need to follow one another in a process will be marked to avoid disorganized and illogical scheduling.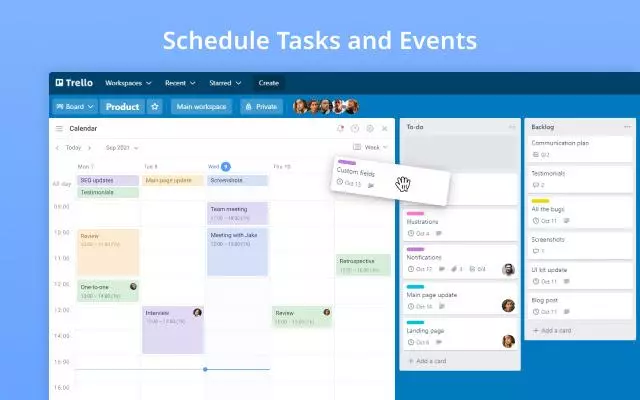 This Trello extension for Chrome allows team members to track their work by starting and stopping timers within the browser, keeping track of meeting lengths, email response time, research time, and more.
Users can then gain insights from the data they produce by generating reports showing time spent in each category, providing a natural audit for project progress and timeline estimations. The app can even generate invoices based on the information it gathers and can integrate with Google Calendar and Outlook through its comprehensive desktop and mobile versions.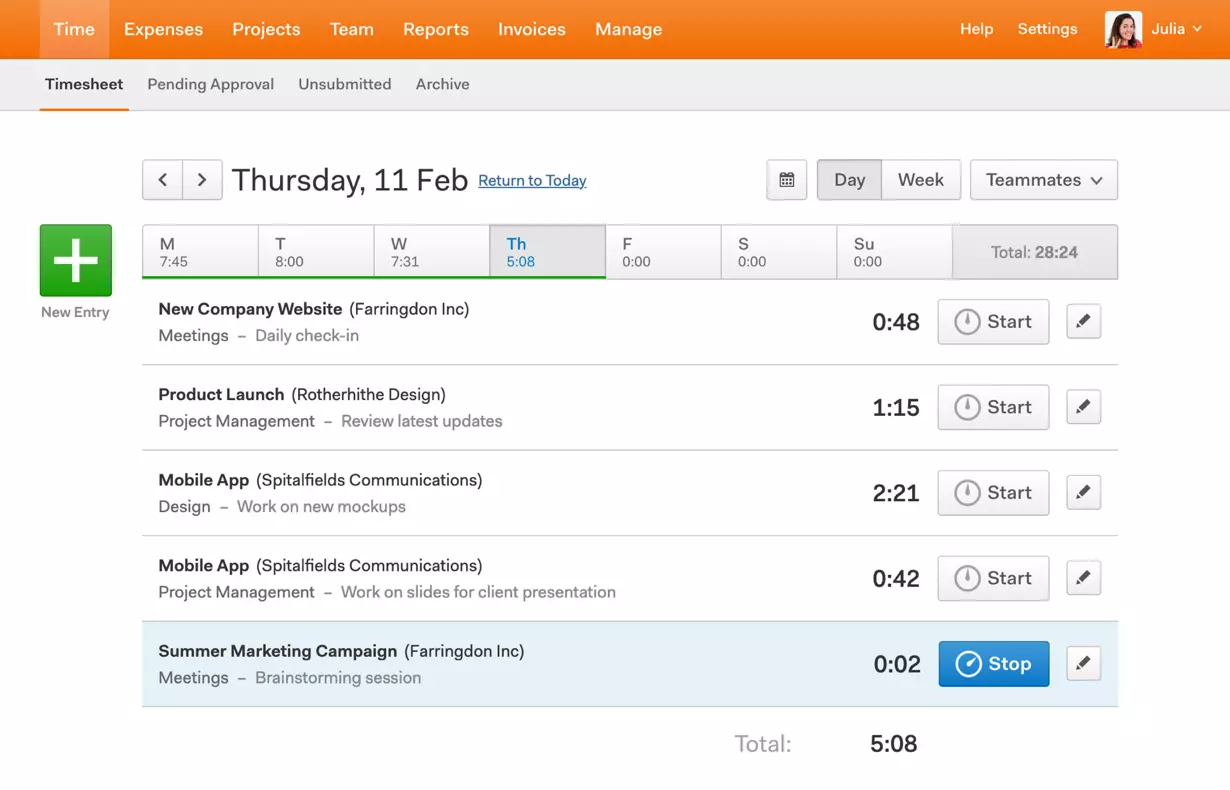 (source)
This Trello Extension has the capability of tracking time and synching with each Trello card to display how long each task takes to complete. Users can simply click play to start the browser timer which will run in the background of each task, allowing project managers to see a full picture of each team member's time spent per assignment and per client overall.
The app will also generate charts of time spent in each program or on each website and can take screenshots of the work that team members are completing, uploading those assets to the task card in Trello to keep every item organized and in order as the work gets complete, avoiding the need for any retrospective information filing.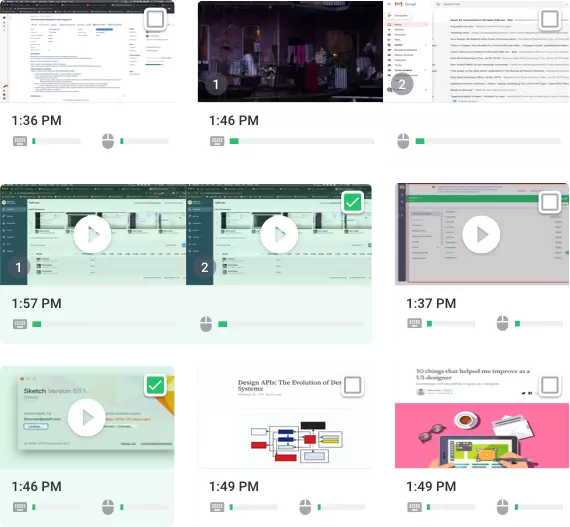 (source)
Part II: Personalization and appearance tools
This Trello extension enables users to integrate their many platforms all in one place, to get a full picture of their workload. Compatible with services beyond Trello, including Gmail, GitHub, Asana, and 40 others, for those individuals who hold multiple roles or work between platforms for different clients, Taco increases efficiency and productivity by bringing all this content into one centralized location.
Instead of being another provider of task lists, Taco doesn't have task-creation features, but is simply a way to visually understand one's holistic workload and timeline across numerous projects. Taco saves time by coordinating across platforms for you, so that you can easily understand your priorities and deadlines in a non-intimidating visual format that lets you get right to work.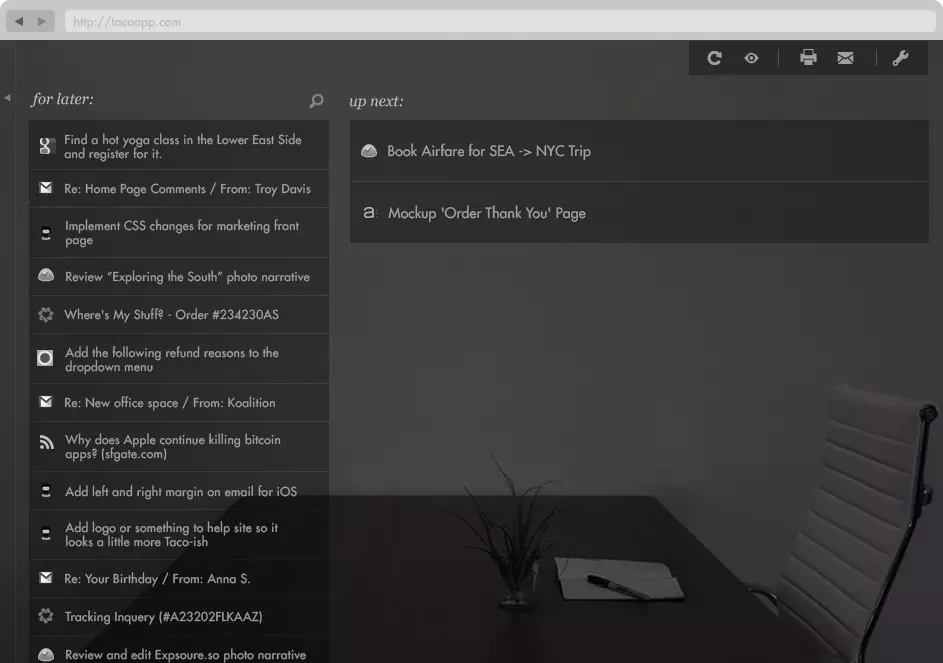 This extension makes it easier to visually organize and sort your Trello boards by offering color coding and formatting that is based on indicated labels, tags, titles, priorities, and other attributes. Trello Cards Optimizer also will visually enhance your experience by offering the ability to collapse empty lists, resize columns, sort cards, group cards, and color list backgrounds for at-a-glance organization.
This app is truly a manager of your manager platform, allowing users to get ahold of their complex and ever-growing lists, collaborations, projects, and schedules. It enhances the already powerful tools offered by Trello, bringing them to the next level in its user-friendly features that are visually engaging and understandable at a quick glance.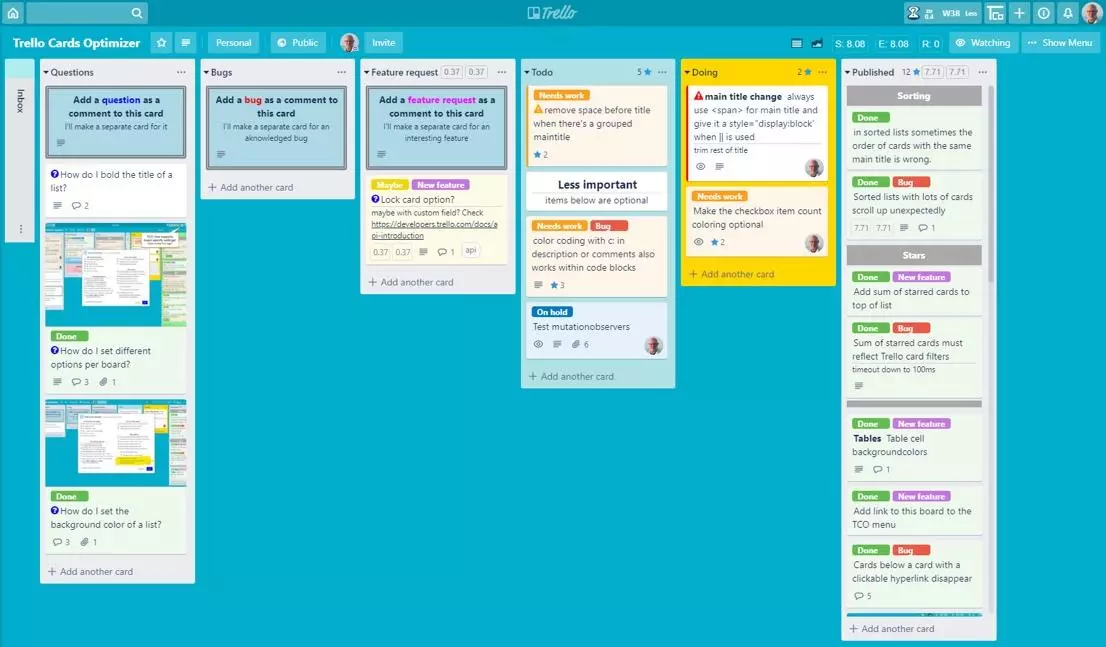 Part III: Efficiency
This Chrome add-on allows users to integrate Trello into their communications and workflow in just a single click. By adding a button to the Gmail UI, users can add content from within their emails to a Trello card which eliminates toggling between programs and makes workflows more optimized, fluid, and efficient.
By using one's communications and email as a way of generating tasks, meetings, timelines, and more, each interaction can be direct and effective, integrating seamlessly into the project management software.
This app fills in extra features that are not present in the original Trello integration to make the pairing with Gmail as effective as possible. When workers spend so much time in their email, responding to queries and working out solutions to team-based problems, it only makes sense to optimize this opportunity and integrate it within the Trello task process.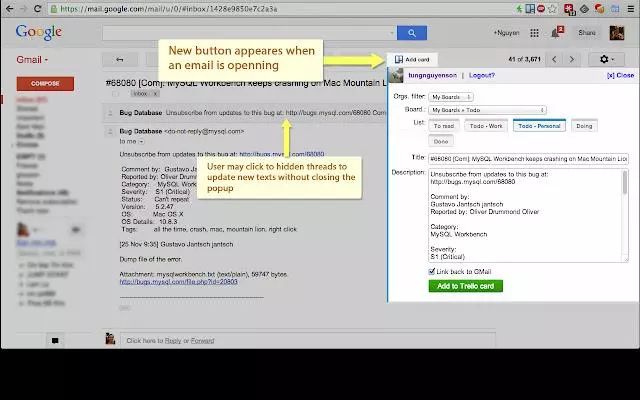 The Pomodoro Technique is famous for boosting productivity, focus, and efficiency and is based in a method where individuals work in bursts of 25-minutes, with 5-minute breaks in between.
The Pomello Trello Chrome extension brings this efficiency and logic to the Trello app, helping users stay focused and on-task. Each Trello card is converted into a timed Pomodoro task to make to do lists more manageable and achievable and allowing workers to accomplish tasks faster. The app itself uses up only a small section of the screen to reduce distractions and further enhance the goal of productivity.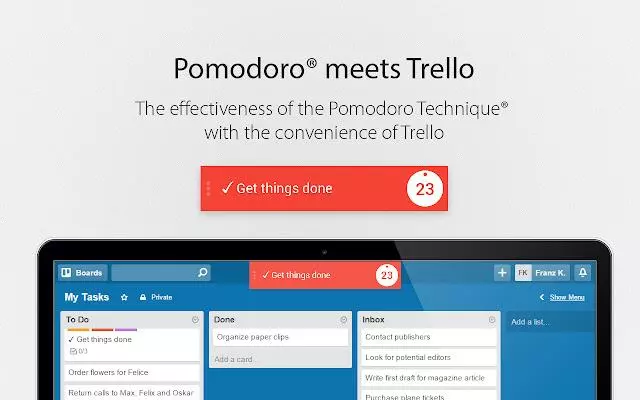 (source)
Any program or software will have glitches, go down occasionally, and stop working for a few minutes. Waiting to communicate with customer service can be a time sink that takes hours out of one's day.
With Capture for Trello, users are able to screenshot and report any bugs within the program by uploading them directly to Trello without leaving the web page or app itself. You can take screenshots of something you see going wrong and add any annotations, diagrams, arrows, or explanations needed to show the support team what is happening, expediting the process of repair and enhancement.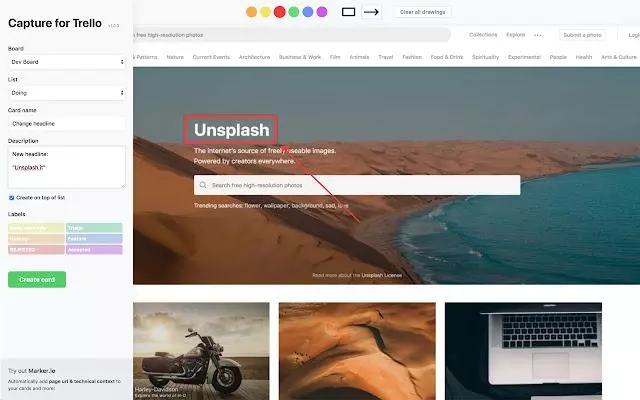 Part IV: List management and organization
As a Trello Extension that helps make your workload more manageable, List Layouts acts as a master for all your tasks and projects, allowing you to quickly view all of your lists in the chrome window in either a horizontal or vertical grid. Toggling between the two, users can optimize their viewing capacity and gain a better understanding of their tasks.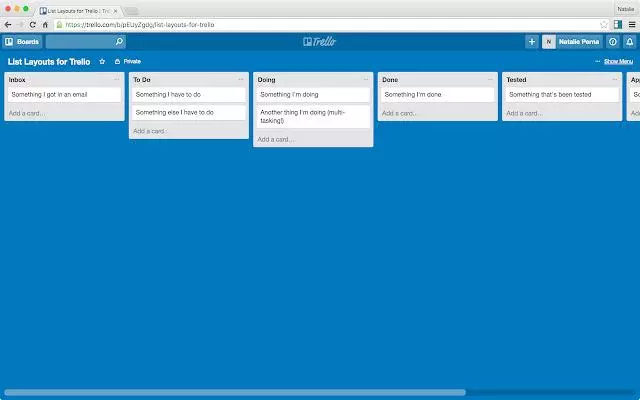 This extension allows users to reorganize their lists according to values such as deadline, title, labels, creation date, and more, providing endless customization and opportunities to optimize the layout and format of the app. With a high volume of tasks and cards, it can be hard to keep everything organized and orderly, and Ultimello brings additional organizational features to the existing accessibility options of the Trello app.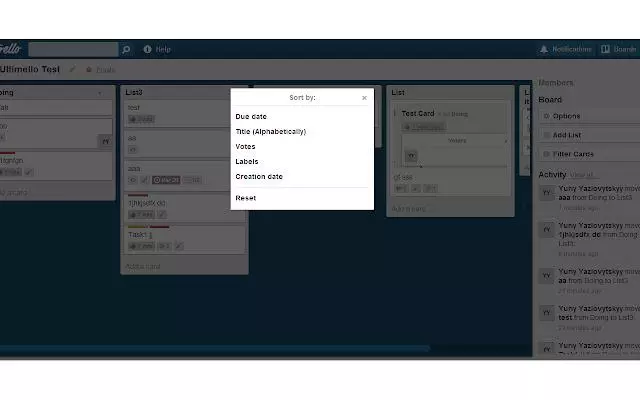 Our goal is to make Trello more productive for users…
At Blue Cat Reports, we help Trello users zoom out to see the bigger picture beyond the day to day. With the ability to use and generate charts and reports, project managers can understand every element of the process, the status of each step, time commitments, and more with a birds-eye view driven by data.
Here are some of the top features:
Reports can combine data from across various boards to create simplified and comprehensive summaries of tangled or complex information and timelines.
Strong visualizations of data will allow team members to report on their projects in a clear and explanatory manner, to instill confidence in management and clients.
Generate periodic email summary reports to send out on a daily, weekly, or monthly basis. Using filters and cards, users can set a customized email schedule with tailored details and content to show stakeholders periodic progress in a clear and comprehensive manner.
Time reporting allows projects and users to show how long each project takes and which stage they are on, allowing for accurate invoicing, future quoting, and project delegation at every step.
Trello Checklist reports allow you to assign due dates to each member and view them in a list format to enhance the tracking of every stage of the project.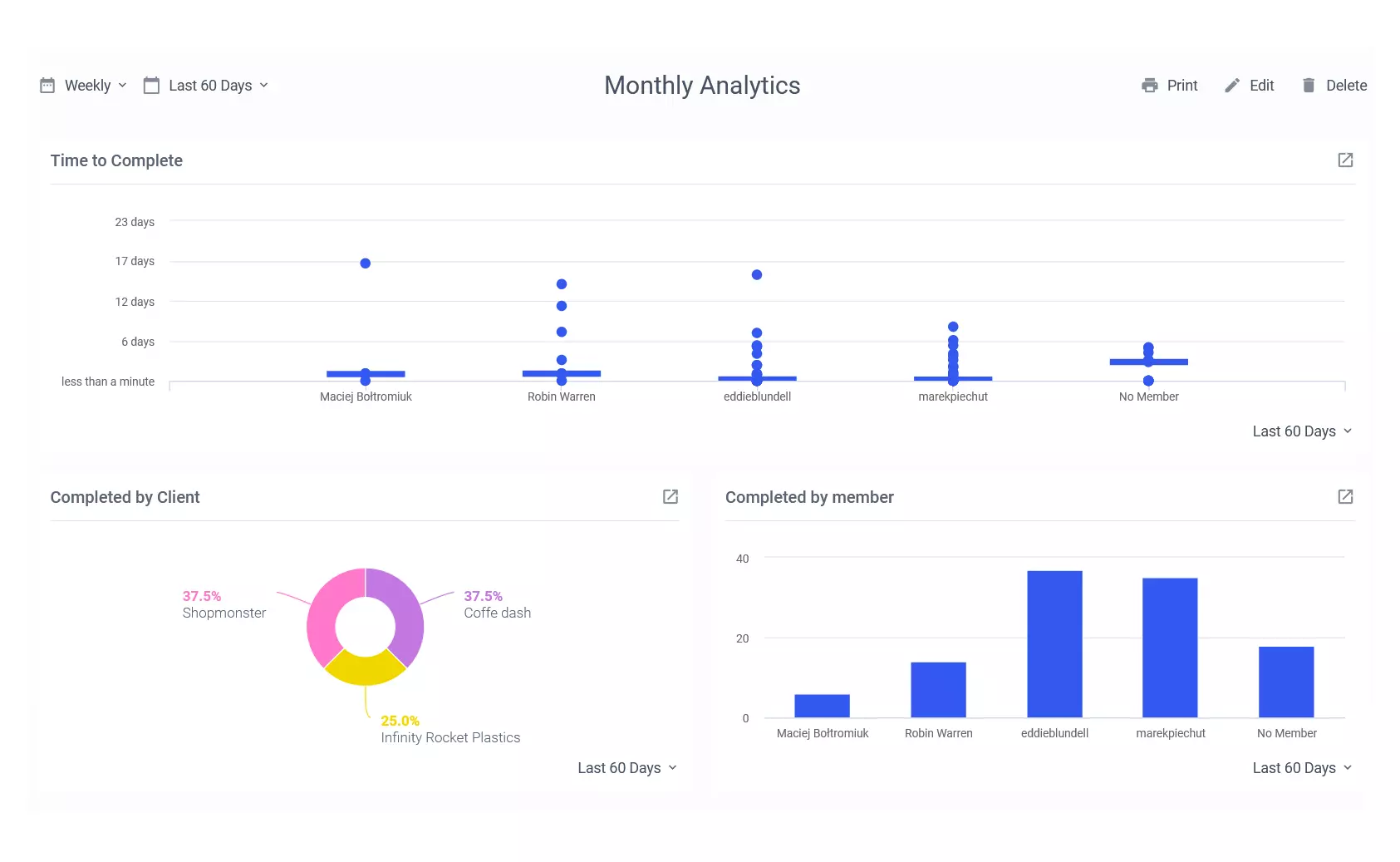 Visit Blue Cat Reports to learn more about maximizing your use of Trello and optimizing your business and team.