Choosing the right agile project management tool can be a daunting task with so many decent options out there. When it comes down to it, the two most popular platforms for agile project management in 2022 are Trello vs. Jira.
Both are now owned by Atlassian, but they have different strengths and use cases, so it's still worth comparing which is the best tool for your team and project. With that said, let's dive right in: what are the key differences between Trello and Jira?
TLDR: Key Differences Between Trello Vs. Jira
Cost: Jira is free for up to 10 users, with paid plans starting at $7.50 per user. By contrast, the basic version of Trello is free forever with unlimited users, and its paid plans start a little cheaper, at $5 per user.

Complexity: Jira is designed especially for agile project management and is much more complex than Trello, requiring a steep learning curve for new users. Its main features are Kanban boards, Sprints, access controls and reports.

Meanwhile, Trello is much more simple to use and is adaptable to different use cases. The Kanban-style software can be customized to your needs using Power-Ups which offer similar functionalities to Jira. For example, Blue Cat Reports on Trello will allow you to create beautiful, informative reports to help you understand and improve your workflow.

Target users: Jira is mainly used by software developers, engineers, and product managers in mid-market and enterprise organisations, and its pricing reflects this. Trello's typical users are freelancers or developers and project managers in small- to medium-sized businesses. Thanks to its adaptability, Trello can be used by any team, from content marketers to tech contractors.

Integrations: Jira has an extensive list of third-party integrations allowing for a variety of use cases from CRM to test management to code review. Trello offers hundreds of Power-Ups enabling external integrations, for example with time tracking apps, Zendesk, Slack, and Salesforce, and native apps, like calendars and reports.
Trello Alternative: What Is Jira?
Jira is a best-selling issue tracking, product development and agile project management software tool from Atlassian that supports both Scrum and Kanban boards. What's more, Jira can be used as a cloud-based or on-premise platform: an important difference from Trello for companies who want to self-host their data. Released in 2002, it currently has four different packages:
Jira Work Management (generic project management)
Jira Software (base software with agile project management features)
Jira Service Management (for use by IT operations or service desks)
Jira Align (for strategic product and portfolio management)
Jira: Key Features
Jira Agile Project Management
Jira is specifically designed for agile project management and offers a wide range of features in support of this goal. Its built-in workflows can be used to help teams build, test, and release software. Or, users can create custom workflows for other product development and agile scenarios.
Plan, organize, prioritize and run your projects and product backlog using sprints with Jira as a Scrum tool. Alternatively, visualize your projects with Kanban boards on Jira - or do a mix of the two.
Jira Task Management & Team Collaboration
Jira facilitates task management and collaboration from an agile perspective. You can create Kanban boards and assign and move cards as with Trello, or you can build and customize your workflow, setting up advanced rules for how cards move from one status to another and limiting which team members can see certain columns.
Notifications about the status of cards and in-app messaging are built into Jira to facilitate collaboration and communication.
While Jira's automation capabilities are welcomed by some teams, when not used correctly, they can risk miscommunication and lost productivity.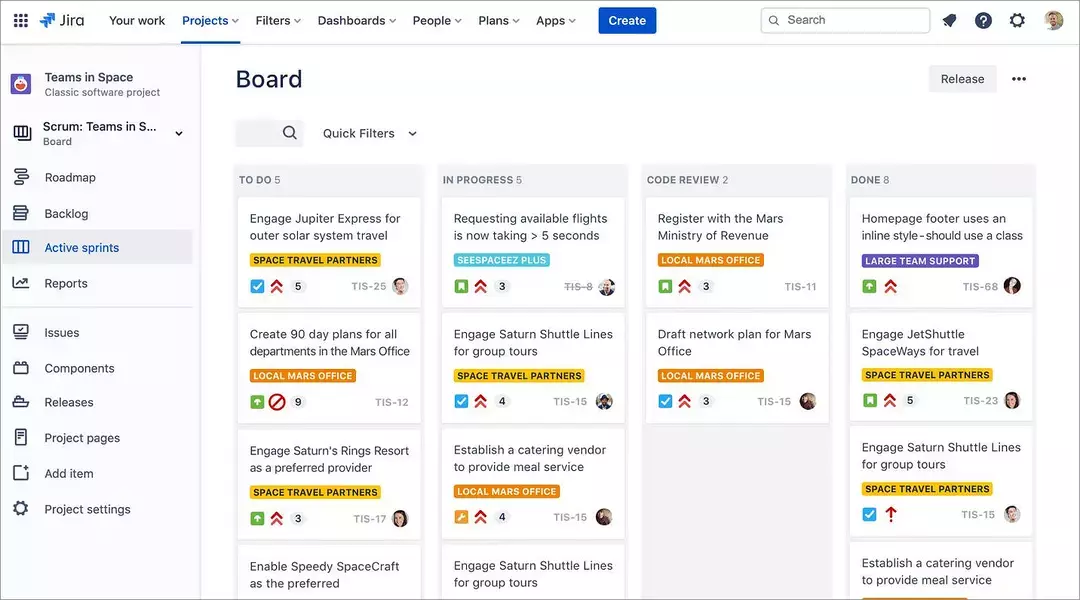 Jira Reports
Jira has a highly configurable dashboard providing any insight you may want about your team and workflow. Built-in agile reporting features including burn up, burn down, sprint planning and cumulative charts can be easily generated, helping you stay on track and deliver fast, functional product increments.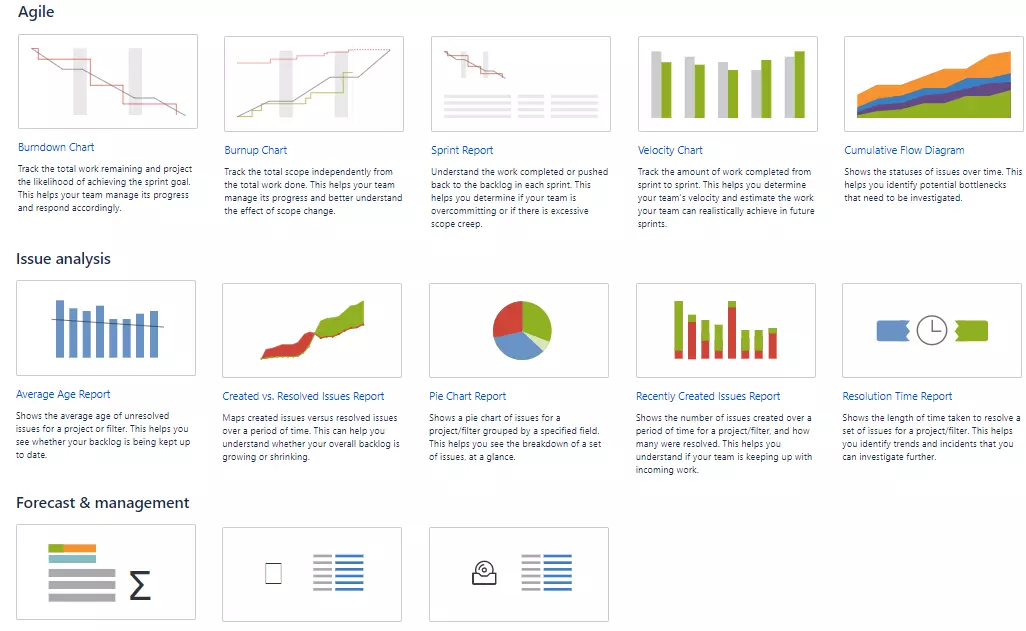 Jira Integrations
Jira boasts a massive library of over 1000 tools so you can integrate your time tracking app, CRM software, email and other communications tools, cloud storage, analytics and more. You can also pull data from Slack or a code repository to facilitate software development. Jira offers free access to its public API so you can also add your own custom integration.
Jira Pricing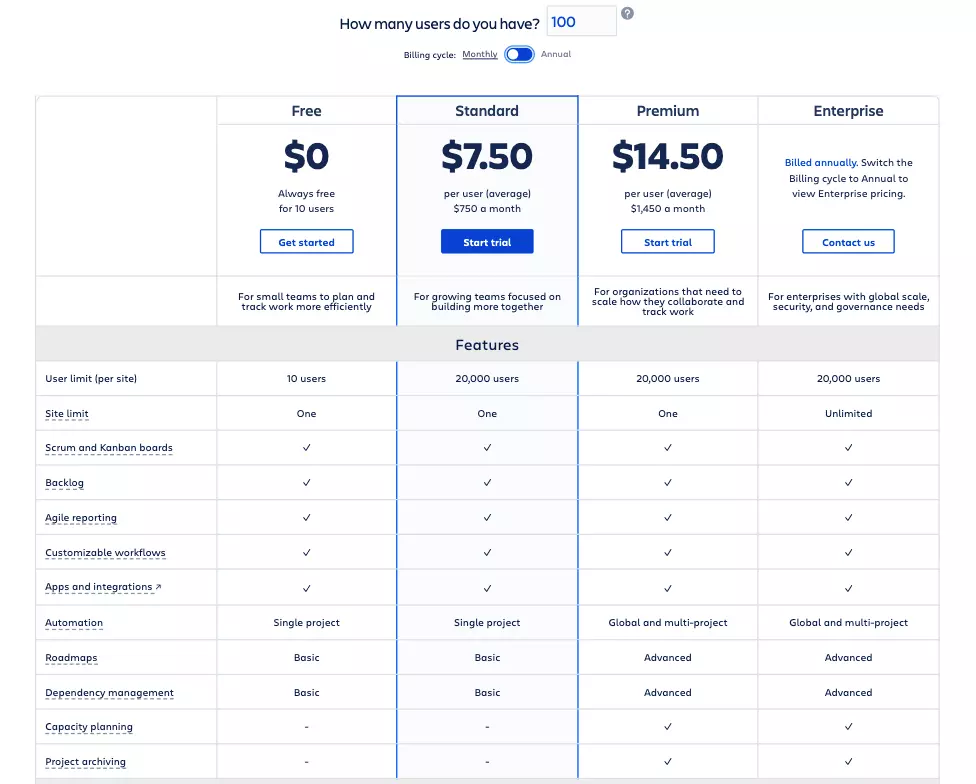 Jira has a four-tier price plan, from a free package for up to 10 users, 1 site, customizable workflows and access to apps and integrations, to paid plans for up to 20,000 users. Pricing is based on basic vs. advanced automation and roadmaps, etc.
Jira Alternative: What Is Trello?
Trello is a web-based Kanban-style list-making app used by teams across multiple industries and vectors. It was created in 2011, bought by Atlassian in 2017, and had 50 million users by October 2019.
The platform can be used for agile methodologies and software development, but also has the flexibility to be used for any project.
Trello: Key Features
Trello Agile Project Management
Trello is a Kanban tool but it does lack dedicated Scrum support. However, using the right Power-Ups, you can make Trello into the agile project management tool you require.
For example, Power-Ups like Corrello allow you to create burn down, burn up, CFD and cycle time charts. Additional free Power-Ups like Agile Tools allow you to add story points and WIP limits to Trello as well. You can also use the Blue Cat Forms Power-Up to collect customer feedback for and other things.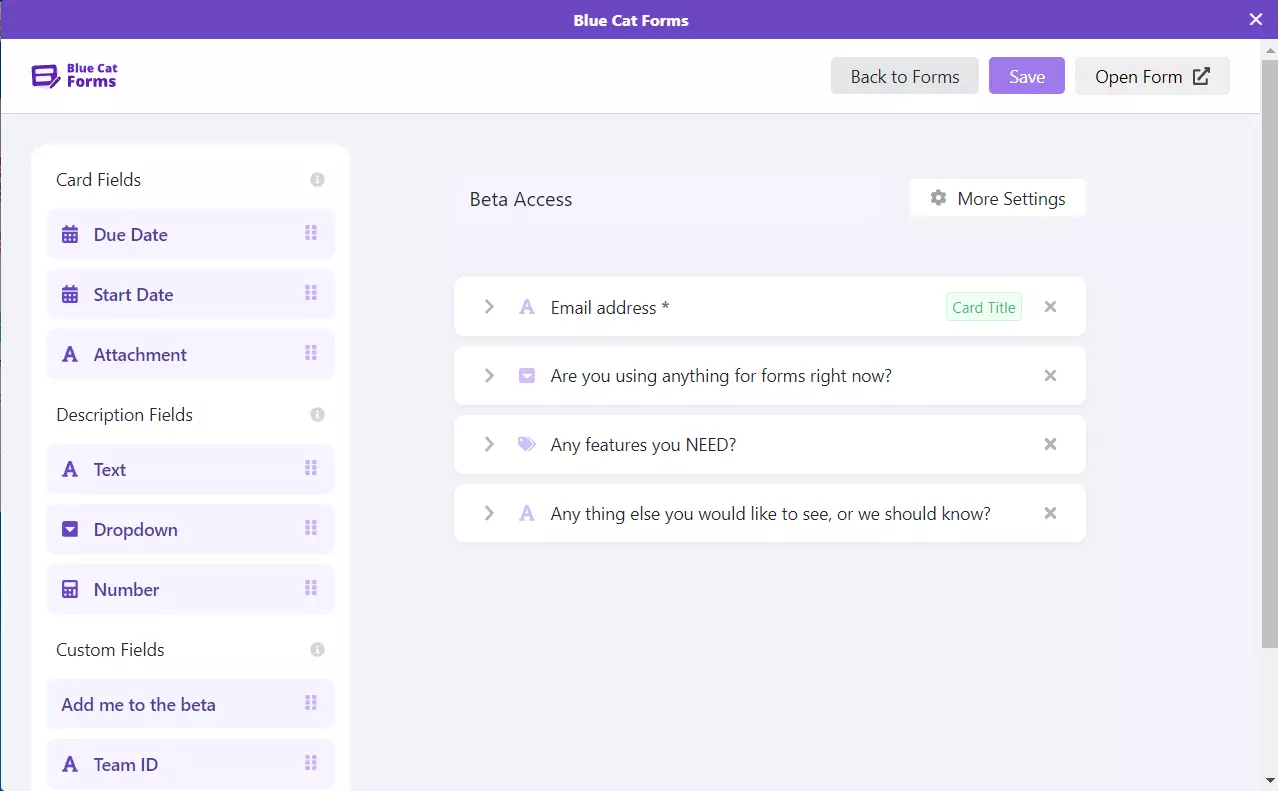 Trello Task Management
Trello is super simple to use for task management. You can copy existing boards or templates or build your own workflow broken down into boards, cards, and checklists. It's quick and easy to create and assign tasks, add due dates, notifications, attach files, and move cards from one column to another on the Kanban-style boards.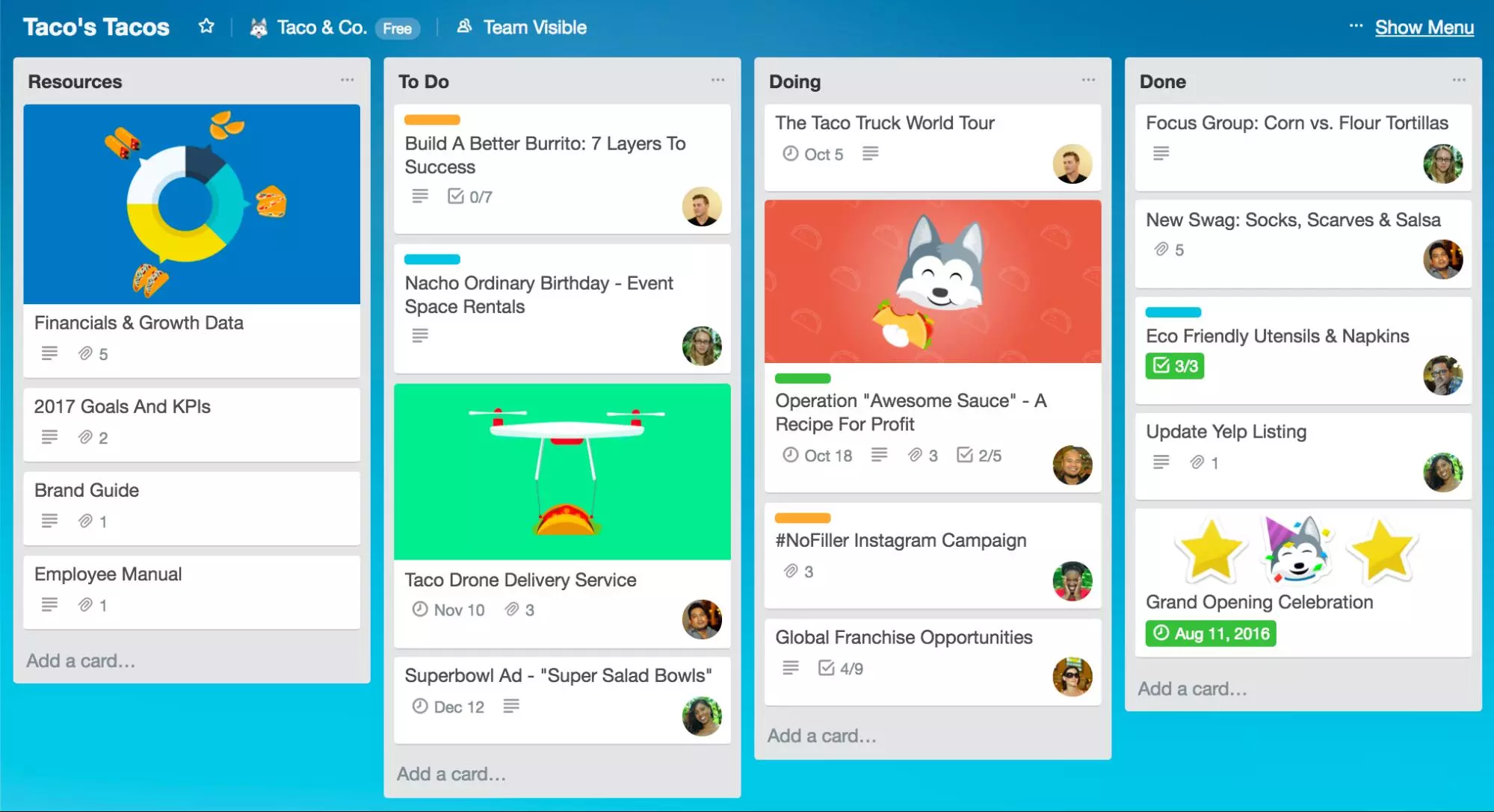 Trello Team Collaboration
Trello is ideal for team collaboration on projects: every price plan includes unlimited users sharing the same board. All team members have the same visibility and can comment directly on cards, share attachments, @mention other teammates, and use emojis. All users assigned to a particular card, list, or board can receive push, SMS, and email notifications with updates.
Power-ups like Blue Cat Reports let you go even further: identifying who is working on which card with our Quick Lists and generating Reports to check how each team member is getting on with their tasks.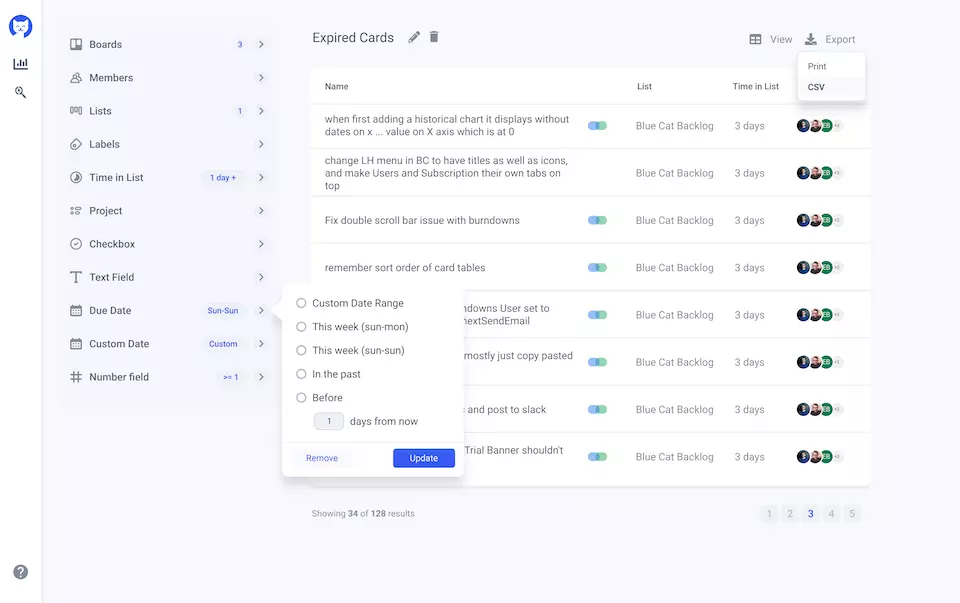 Trello Reports
While the platform doesn't have built-in reports like Jira, you can leverage your Trello data and analyze your team's workflow with Power-Ups. For agile reporting, Corrello charts are an excellent integration. For all your other analytics, Blue Cat Reports is a must-have.
Blue Cat Reports allows you to easily create and edit in-depth custom reports across multiple Trello boards to keep on track of your process with the team and present progress to external stakeholders. Visualize and analyze any Trello data you want with pie, bar, historical, counts, and time to complete charts.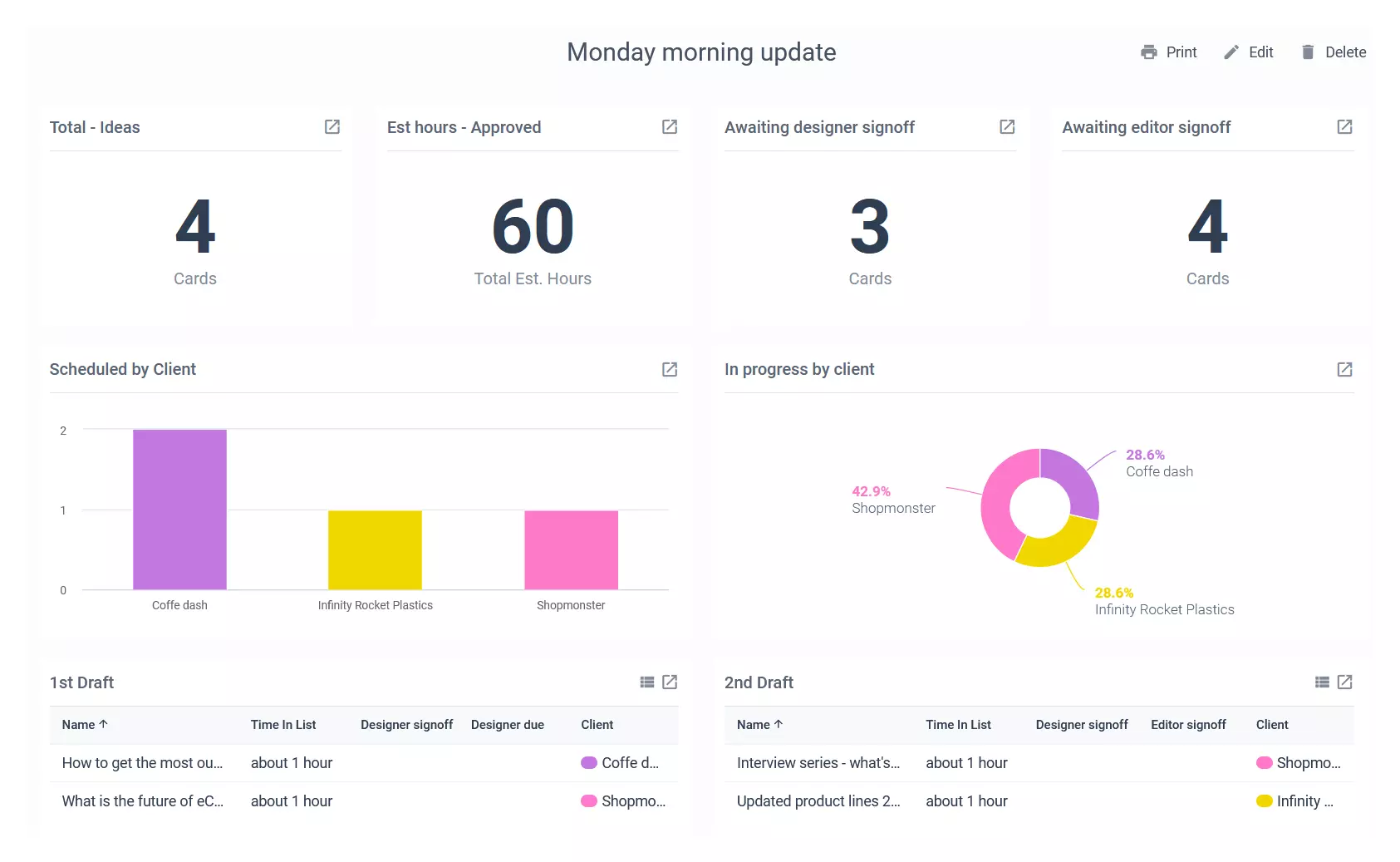 Trello Integrations
Trello offers a total of around 200 Power-Ups, so its library of integrations is undoubtedly smaller than Jira's. However, it includes the same essential third-party apps like Slack and Zendesk that many teams can't live without.
Overall, you can pick and choose from Trello's free and budget-friendly Power-Ups to make it into a custom tool with the same functionality as Jira with a much simpler UI. Plus, like Jira, Trello has a free, public API allowing you to add your own integrations.
Trello Pricing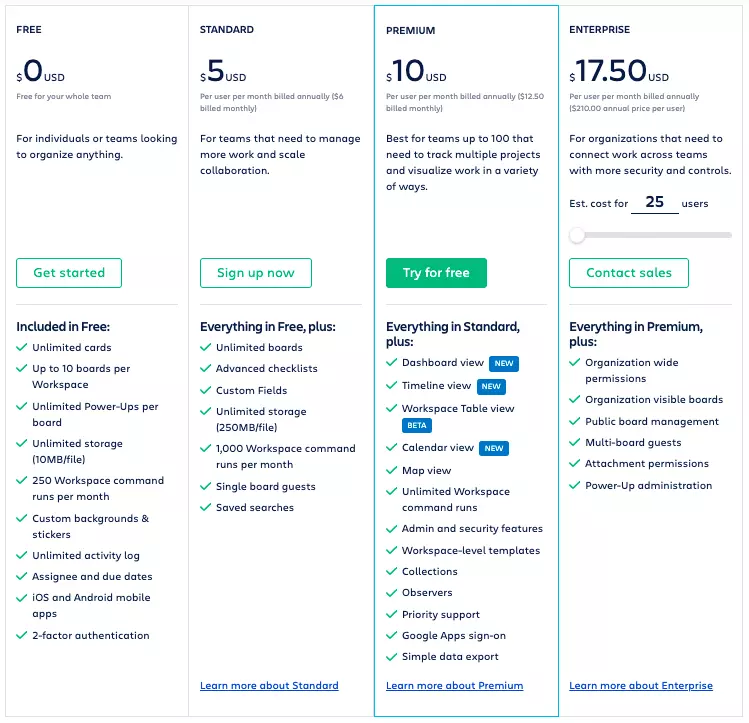 Trello's basic plan is forever free and includes unlimited users, 10 boards per workspace, unlimited Power-Ups, storage, and access to extensive features, making it a practical and accessible choice for individuals and teams working on a few projects.
The three paid plans are charged per user, and pricing is based on increased access to features, unlimited boards, and bigger file sizes.
The Premium Trello plan is the best option for larger teams tracking multiple projects and is cheaper than the Jira alternative at $10 per user per month rather than $14.50.
Trello Or Jira: Which Is The Right Tool For You?
Deciding whether Trello or Jira is the best agile project management tool for your team depends entirely on your requirements.
From our perspective, Trello is the better software for small teams and those working on a budget. With that said, it is also scalable for larger teams. As a customizable and flexible tool, it can be adapted to multiple use cases and, with the right Power-Ups, offers the same functionality as Jira at a lower cost.
On the other hand, Jira is an excellent solution for enterprises and larger businesses with bigger budgets. It is less flexible than Trello, has a much more complex UI, and requires a time investment to set it up and train the team to its nuances. If users aren't onboarded to Jira correctly, you can risk out-of-sync and unproductive teams.
To conclude, if you want an advanced agile development tool or require on-premise software and have the time and money to spend, Jira is the best option for you. For all other projects, we recommend making the most of Trello and its Power-Ups to create a custom project management tool that suits your needs.
Decided to try Trello? Get a free 7 day trial of Blue Cat Reports to track progress on your project and analyze your team's productivity with simple, beautiful reports.