If you're in a position to organize workflow, you are always in search of the best tools to streamline your process. After all, business and work have many moving pieces. Unless you utilize a powerful tool like Blue Cat Reports—you can become inefficient and your work will suffer.
One of the best resources you can have is a project planner. We don't mean a project planner as software but as a person. Project planners use tools such as software that helps them organize workflow.
All these software and tools are generally used for the same purpose. Yet, they all have different features. We will take a deep dive and show you all of the tips and tools you can use to streamline your success.
Project planner explained
A project planner is a person that organizes the flow and keeps track of all of the moving parts in a project. This person generally is the project manager. In today's world, this role has expanded and is now being filled by various positions such as:
Founders
Managers
Team Leaders
These are just a few examples, but the list can entail anyone in charge of the flow of a project.
What does a planner do?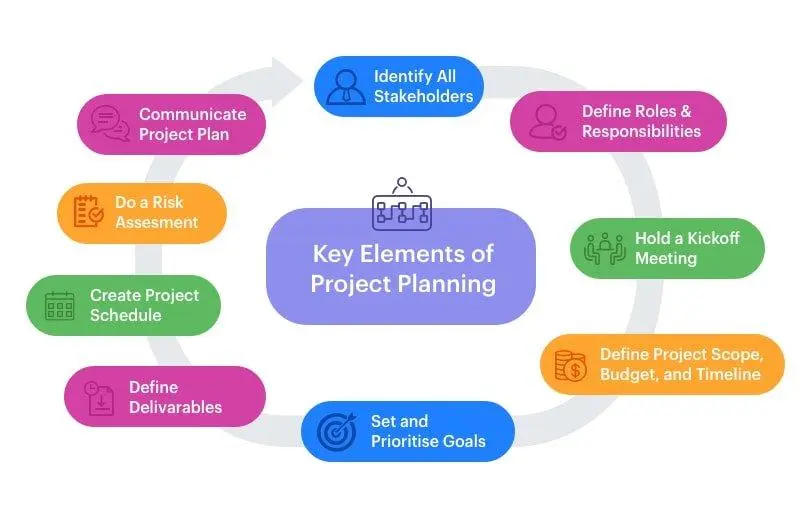 The project planner is in charge of mapping out the project. They make sure that everything gets executed in a timely fashion. They work from start to finish by communicating and delegating.
They are responsible for making sure that things move along by delegating tasks. They also have to communicate with team members about goals, deadlines, and changes.
Some of the duties of project planners include:
Initiating a project.
Planning out the whole project.
Making sure that every part gets executed.
Monitoring and controlling how the flow of work is going.
Closing out the project.
This is just a broad view of the responsibilities of a project planner. There is a lot more to this. Project planners have to be responsible for the smallest things in a project such as:
Resources
Risks
Schedules
Budget
Time
Being a project planner entails being in charge of so many details. That's why project planners need to have a good project planning tool at their disposal.
The best project planning tools
Today you have many tools at your disposal if you are a project planner. These tools range from project planner notebooks to sophisticated online software.
There are many choices to choose from, but today we have compiled a list of the best tools. We will go over what you need to know about these tools so that you can streamline your next project.
Working with Kanban Boards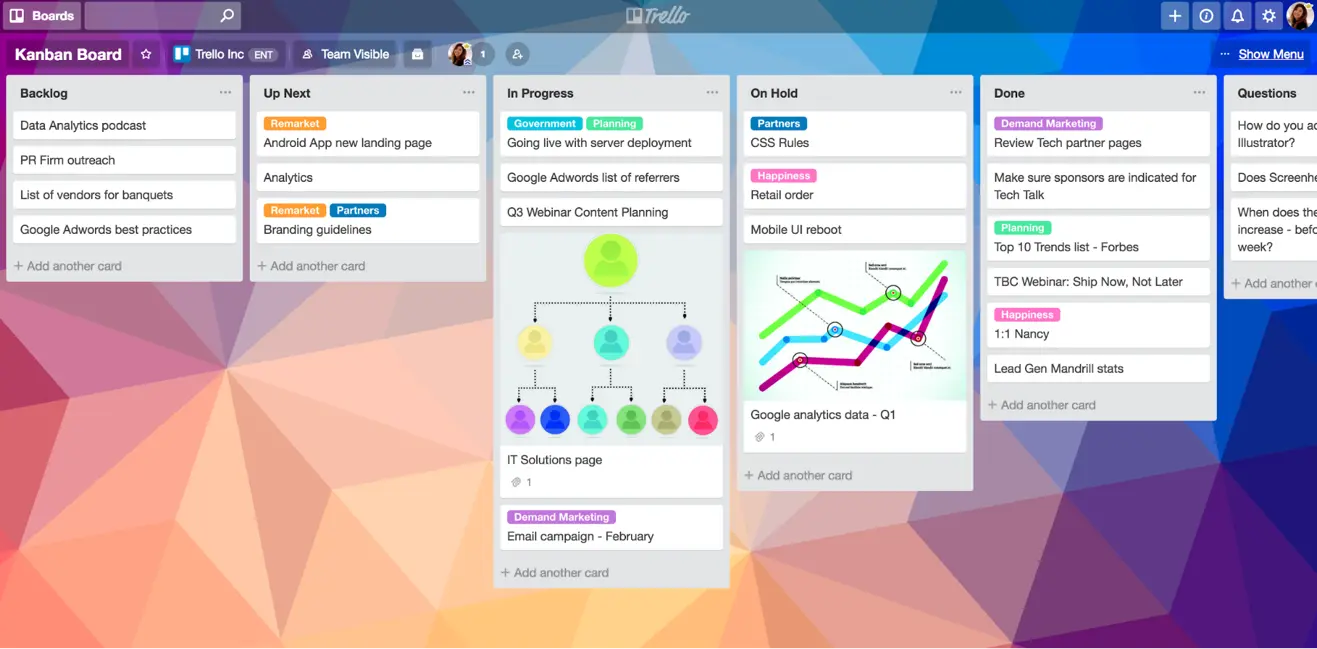 If you are looking for total control of your project, Kanban boards are the go-to tool for you. This is because Kanban boards give you a visual workflow of whatever project you are working on.
It allows you to be organized with your projects. Also, It allows you to organize your projects by columns and cards, which store all of the project information. You can organize the columns to match your workflow stages like "doing" or "done".
The cards represent the tasks that you are working on. Powerful software allows you to input all of the information you need to know about the tasks in the cards.
Here is our recommended software that offers you the Kanban board function:
Overview: Trello gives you massive amounts of control over any project. This project planning software works especially well for team managers. It gives the team leader control by giving you the whole view of the project all in one place.
The main feature of Trello is "boards and cards". This gives you an organized timeline view that allows you to organize and delegate each task. Within this board, you can organize tasks using cards.
The good part about having these cards is that you can move them around to prioritize your list. These cards hold all the valuable information needed to run a specific part of a project such as:
Automation
File attachments
Comments
Descriptions
Another huge benefit of Trello is that other softwares are made to work in sync with it such as Blue Cat Reports. These software programs are known as Trello power-ups. They allow you to unlock extra features so that you can use Trello to its maximum potential.
That way you can get as much out of the platform as possible. Although this software is complex, it is very user-friendly.
Pricing: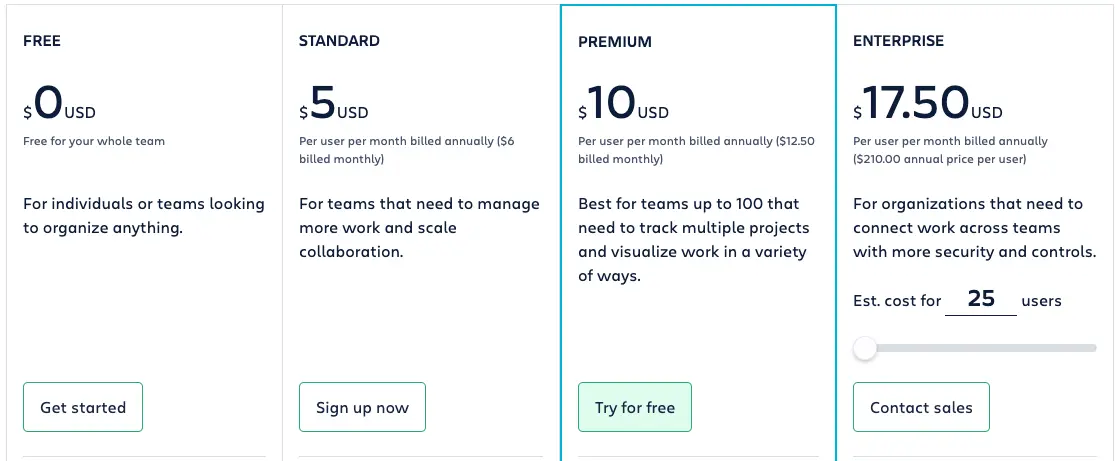 Trello has 4 pricing tiers (This is the price if billed annually):
Free: For individuals or the whole team
Standard: $5 per user per month
Premium: $10 per user per month
Enterprise: $17.50 per user per month
Make sure to check each package to see what is included.
Using reporting tools: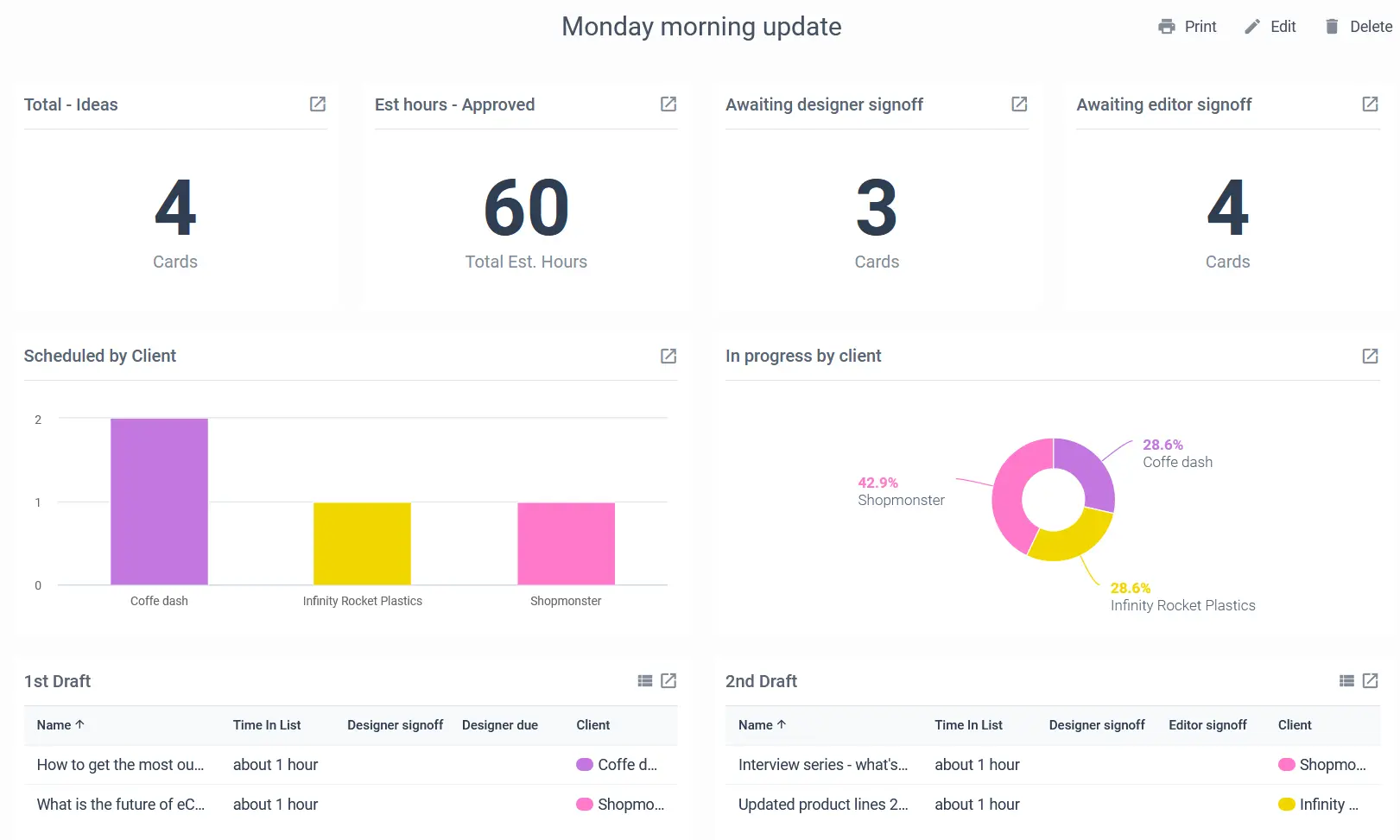 Using planning software to streamline your project can make things go smoother. However, there is a way to take your experience to the next level and make your project run more efficiently.
You can use a reporting tool to see how everything is moving in your project. You can also find out what is inefficient so that you can take action and see what you have to change.
Since we already talked about Trello as a powerful go-to software planning solution. We will talk about an add-on solution that can make your experience with Trello that much better.
Overview: Trello allows you to visualize your workflow. BCR allows you to visualize your data. This allows you to analyze everything that is going on in your project plan. That way you can find ways to become more efficient.
In a nutshell, this "power-up" allows you to track your team's output and productivity.
Some of the powerful features you will get with this Trello add-on are:
Being able to create beautiful visual reports for all of your Trello Boards.
Easy to set up and get going.
Helps you stay on top of capacity, productivity, and output.
Schedule reports to be emailed to you whenever you need them.
Easy to share and explain data with the team.
Pricing: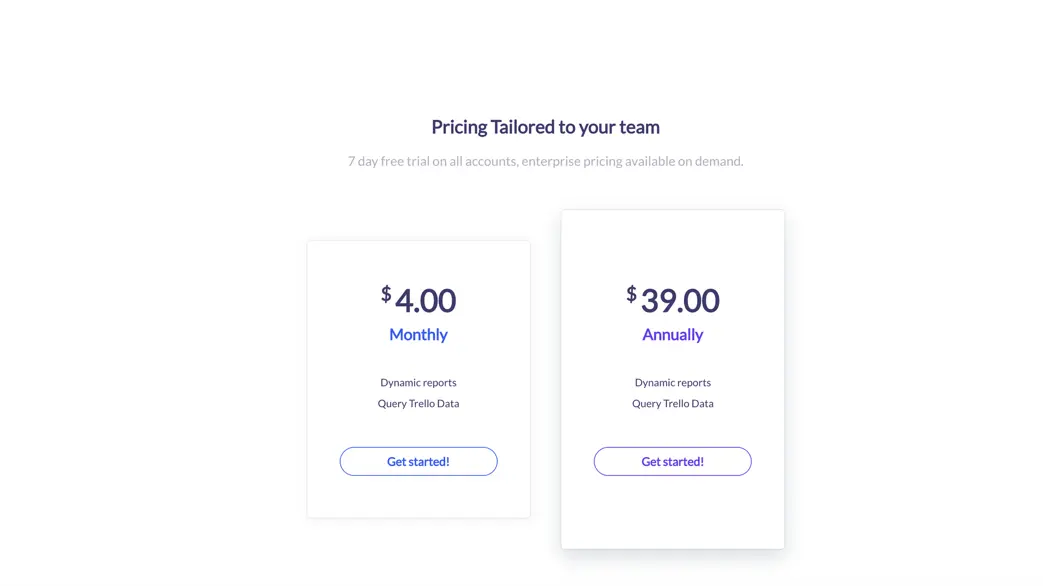 Monthly: $4.00
Annually: $39.00
There is a discount for larger teams and there are enterprise pricing options. Make sure to check that out.
Project planning with calendars
Calendars help us keep track of important dates and deadlines. This is especially true for project planning. Sure, you can use a normal calendar for tracking your project, but it's going to make you miserable. On top of this, it's going to be extremely difficult to include all the information you need.
Trello has a project planning calendar already integrated with its software and can be used alongside other calendar apps like Google Calendar. This calendar has a robust timeline, which helps you keep track of everything and allows you to share all the information with your team. Otherwise, you can always download Trello's Calendar Power-Up.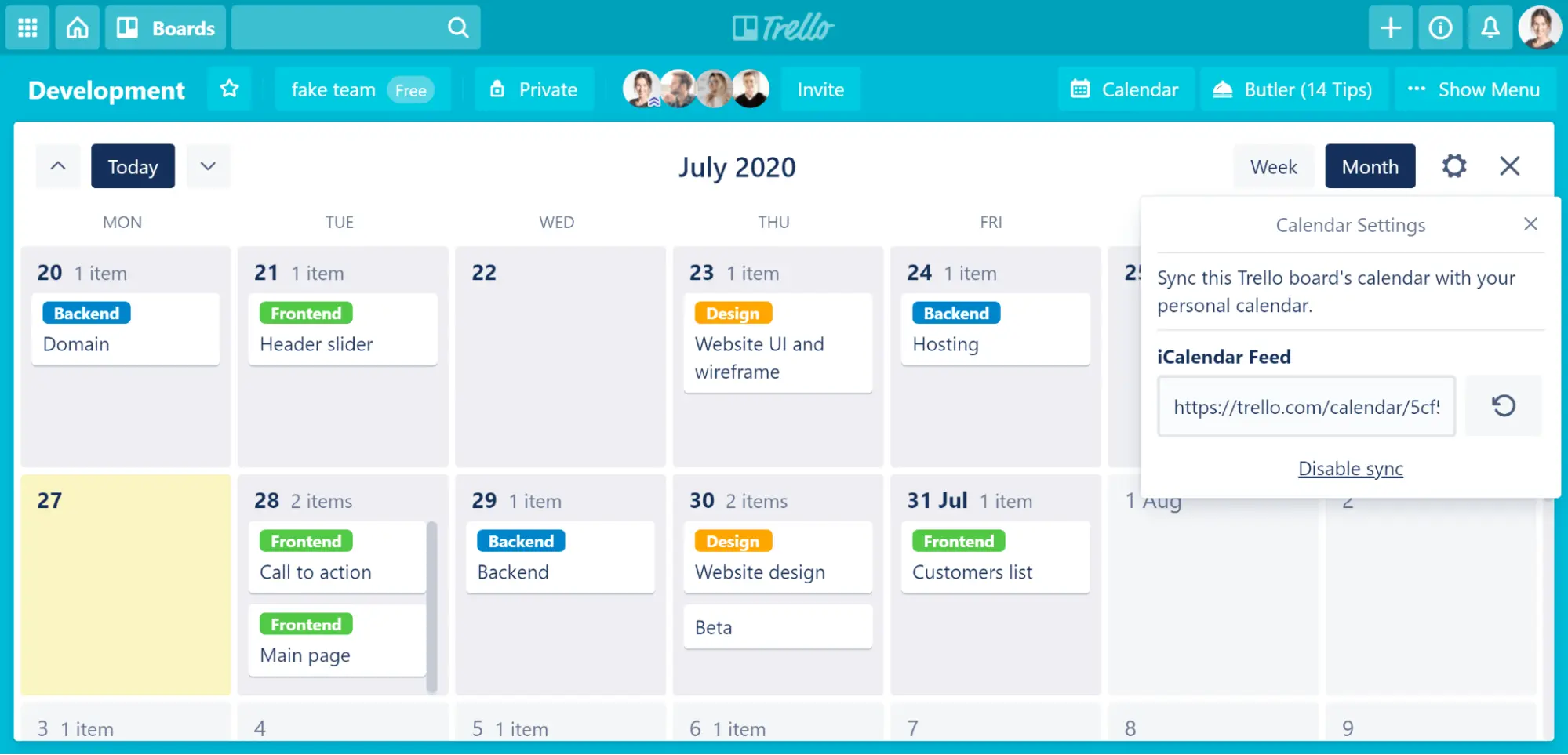 Work with task lists
When we think of a task list, we all go back to the good old "to-do-list". Sure, this can be something that you keep in a notebook. Yet, when it comes to project planning this style of task list won't cut it.
For this purpose, there are many robust online task lists that we can go to. These lists allow us to keep track of every single thing that we need to accomplish. It allows us to stay organized with our lists. By allowing us to categorize our lists by dates and priority. It even lets us edit any important piece of information.
The best part of having an online task list is having the ability to share our list. Working on a project with multiple moving pieces can add many tasks to these lists. It can make it very difficult or overwhelming to deal with lists like these. That's why it is important to have the ability to sort and filter these lists.
In addition to Trello, here are two other programs that we recommend that have excellent task list management functionalities:
Price: Free to start. Does have a pro and business plan for heavier users and bigger teams.
This is comprehensive to-do list software. It's more geared towards task management than project planning.
Price: Free
This is more of a note-taking app than a project planning software. The upside is that it's online and it can work in sync with other programs.
Physical project planner notebooks
Last but not least, this tool might seem old-fashioned and inefficient. Yet, this is a method that has worked over and over again. Notebooks run from being simple with nothing but a blank page. Notebooks can also be complex and made specially for project planning.
A project planner notebook gives you the flexibility to design whatever you want. It's your white canvas for planning a comprehensive project. However, it's mostly recommended for smaller projects.
It's also hard to share your ideas with the whole team when using a project planner notebook. This is ideal for you to keep track of your ideas and your parts of the project.
If you're looking for recommendations on the best project planner notebooks here are two:
Price: $38
This is one of the most comprehensive project planning notebooks. It has organized pages with bold letters that will help you map out your project and stay on top of your deadlines.
Ink + Volt Hardcover Notebook:
Price: $25
This notebook provides you with a blank canvas for creative planners. This notebook also has a dotted line grid for assisting in drawing boards or charts.
The takeaway
Many solutions are at your disposal which can help with planning your next project. You should choose one solution that offers all these features. That way, you can facilitate and streamline your project planning process. Using Trello in conjunction with Blue Cat Reports will give you all these features and more.
Both of these programs are free to try out. Trello has a free version and Blue Cat Reports has a 7-day free trial. So, make sure to download and try out these solutions.