Trello is a fantastic tool for task management due to its intuitive interface, visually engaging environment, and advanced possibilities. Whether you want to ace Trello for personal use or as a collaborative workspace for your team, it's bound to satisfy even the most demanding users.
Tasks are constantly overflowing. You might find it hard to stay true to deadlines or reach desired outcomes because of poor task management. Especially when managing larger projects, there's no time to be lost or compromise to be made. A convenient tool that responds to your needs is key to successful outcomes.
Surprisingly, companies that observe a 67% outright failure to their projects are the same who fail to incorporate task management tools in their strategy. Only 22% of organizations invest in task management software like Trello to map their processes. Not only does the right tool aid in keeping track of your progress, but it also allows room for reporting.
Trello offers various power-Ups like Blue Cat Reports, which helps you take advantage of your Trello data by creating beautiful reports for your organization. This way, you're able to foresee time frameworks, resources, staff, and roles for your next project.
Trello for Personal Use
Using Trello for personal task management can help you organize your production workflow and have a bird's-eye-view of everything running. By now, you're probably familiar with the Kanban-based system of Trello with its boards, lists, and cards. Boards are the topics, lists are the subtopics, and cards are the different tasks within each list.
There are unlimited options when choosing the layout of your Trello board, and not one size fits all. You can name your board based on your project and use one of the following list patterns to experiment:
Backlog, To-Do, Doing, Done
Backlog, Today, This Week, This Month, Ongoing
Brain Dump, Admin Work, Client Work, Ready-to-Publish
Brain Dump, Important, Urgent, Ongoing, Outsourced

As you can see, we always incorporate a "Backlog" or "Brain Dump" list in your Trello personal task management so that you can keep all your ideas or future tasks in one place. Under each list, you can fill in your tasks. Then, add their titles, descriptions, checklists, labels, attachments, and due dates.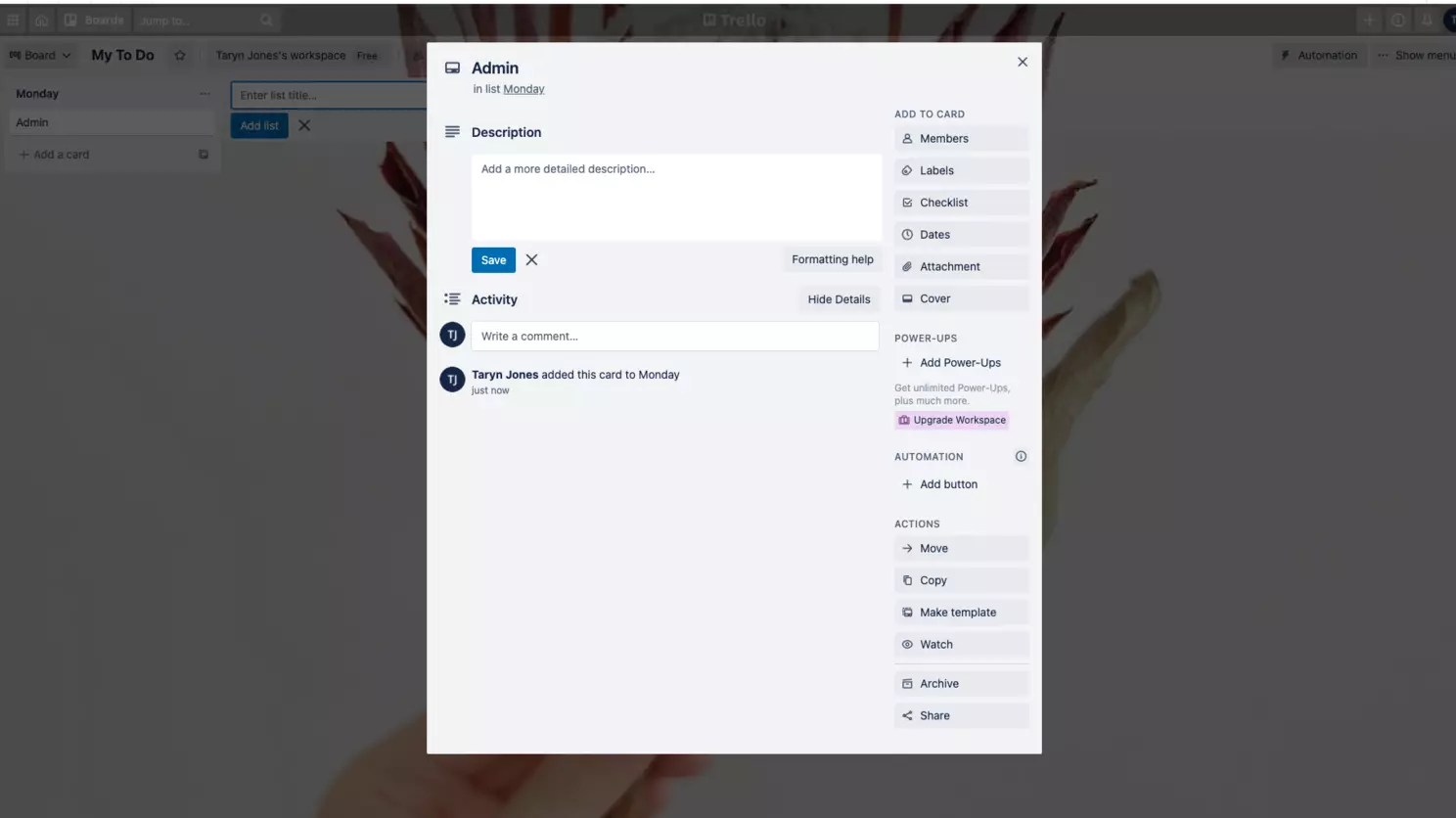 Source: hubstaff
To make the most out of your task management, we gathered a list of top tips, power-ups, and features on how to use Trello effectively:
Manage Recurring Tasks
You might notice that specific mundane tasks that are executed regularly take time and effort to recreate. Here's where Trello does its magic by automating recurring tasks in 3 ways:
Using card templates. If you want to avoid recreating cards for the same tasks, you can make a template out of your card and reuse it with a button click whenever a task needs to be relisted.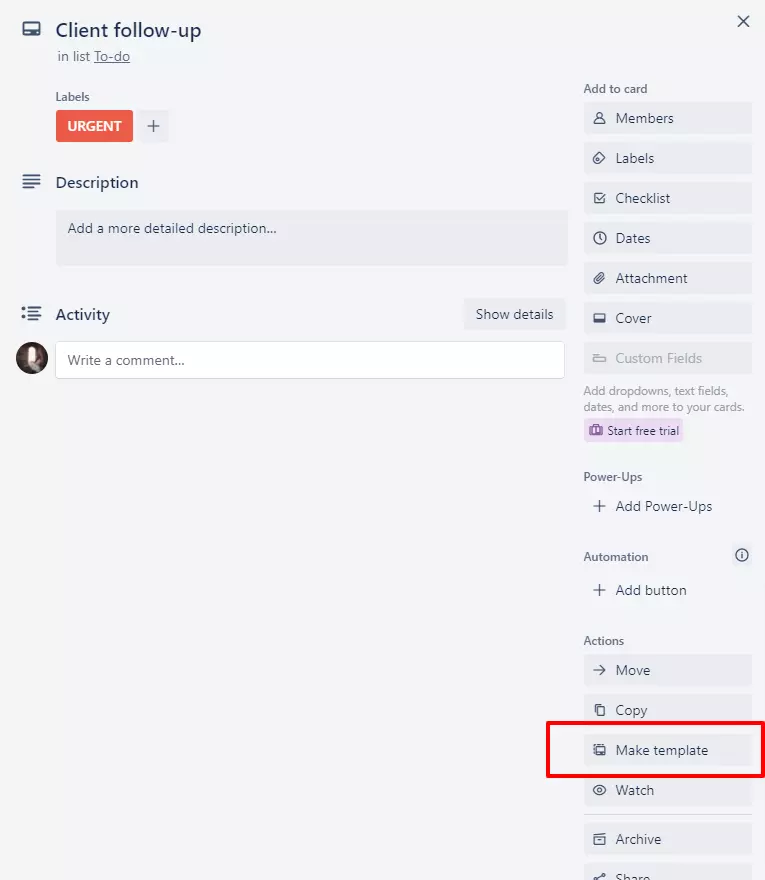 Using automation. You can use Trello's automation feature to set triggers for when you want your recurring tasks to be created and then set the action of what would happen when that date arrives.
Using the Card Repeater power-up. As a third option, you can use the Card Repeater power-up, which automates the creation of cards for repeated tasks. You simply schedule a card, and it automatically creates a copy of that card for the scheduled day, which gives you an excellent perspective of your tasks in your calendar.
Use automation
Trello's powerful automation feature allows you to simultaneously run an infinite (well…almost) amount of tasks. It's based on triggers and rules you can set based on what you want to accomplish. For optimal task management, we recommend you try the following commands:
Automatically send a confirmation email once a card is moved to the "Done" list.
Automatically place on top of a list a task that's due soon and mark the card with a red label for urgency.
Automatically add a checklist to a card that's just been removed to the "Doing" list so that you know which steps are required for the task to be completed.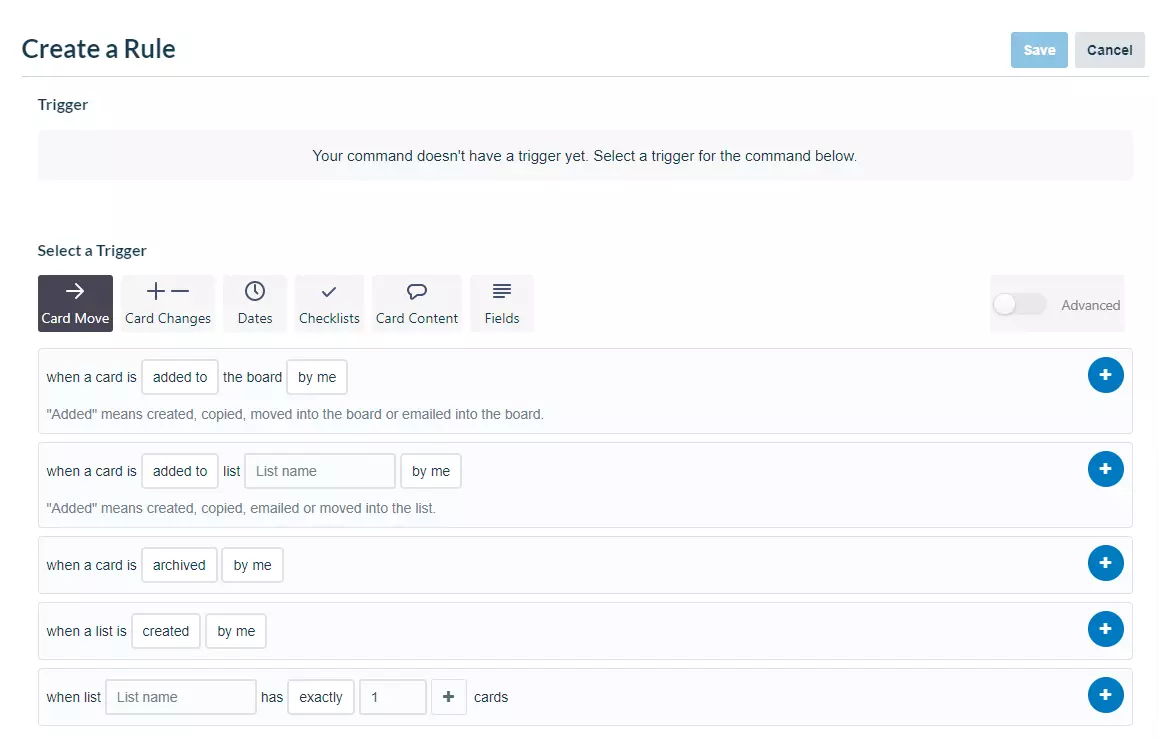 Prioritize tasks
When urgent tasks need to be completed before anything else, you can prioritize them by making them visible on top of your lists. This way, you'll know your top priorities and where to start. There are different ways to achieve task prioritization:
Labels. Fun ways to personalize your boards with color-coordinated tags. Different colors can represent the days of the week or the urgency of tasks.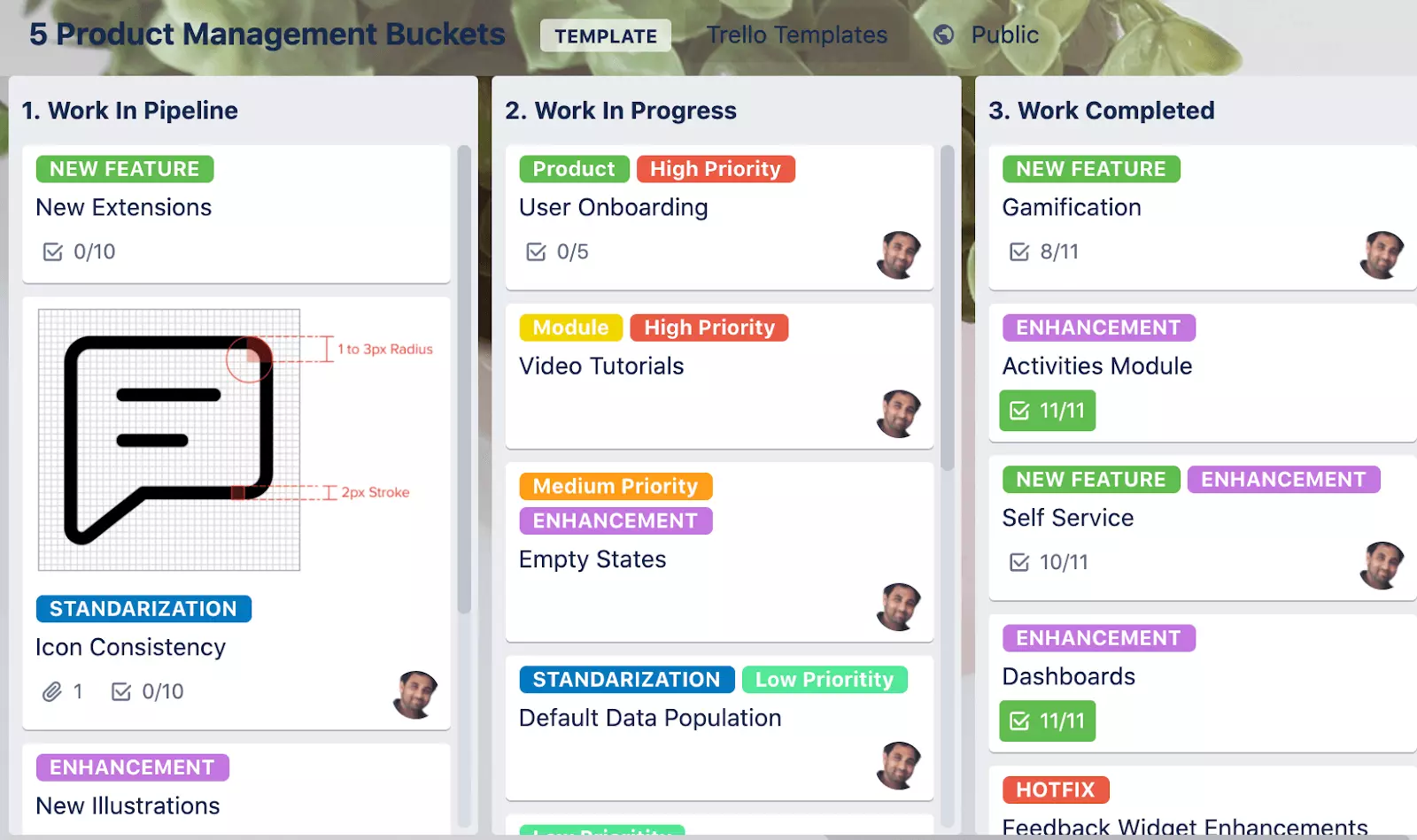 Advanced checklists. A great visual feature that breaks down the different steps to complete a task. You can set due dates for every checklist item, which will help you prioritize your tasks.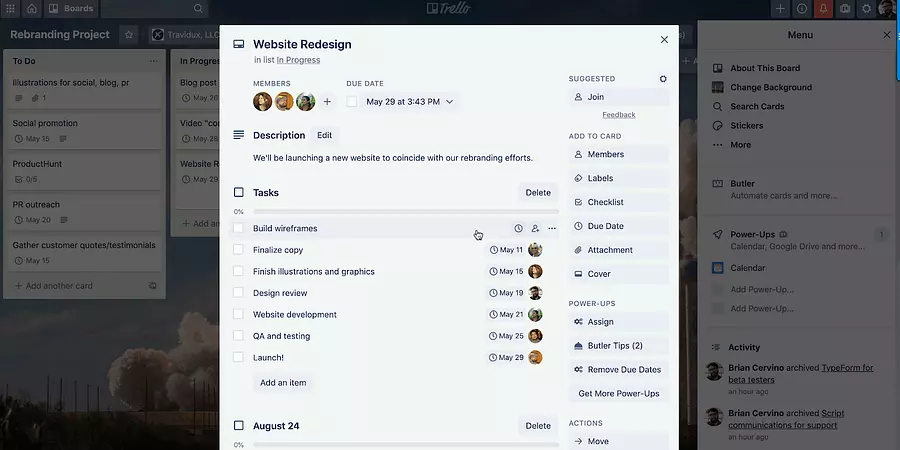 Source: Trello
Time In List power-up. A valuable power-up that lets you in on how long individual tasks have remained in a specific state, which cards are completed slower than others, and what needs to be prioritized for better performance.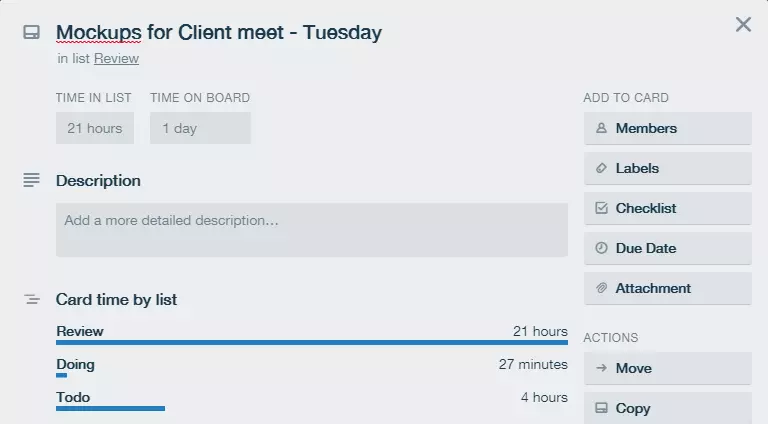 Connect with Google Drive
Make your cards a great pool of knowledge and your go-to place for finding files without leaving Trello. Use the Google Drive power-up to bring your folders into the Trello cards, attach relevant files and see real-time previews.
Trello for Projects
Trello stands out for its simplicity and ease of use in project management. You can collaborate with your team in a straightforward system and monitor your prospects at a glance. Let's take a look at how you can tier the benefits of Trello as a project management tool:
Assign tasks to members
Project management at its core revolves around assigning tasks to different team members and holding them accountable upon their completion. Trello allows you to:
Assign members to different cards. From the right side menu within a card, choose "Members" and search your teammate's name to invite them.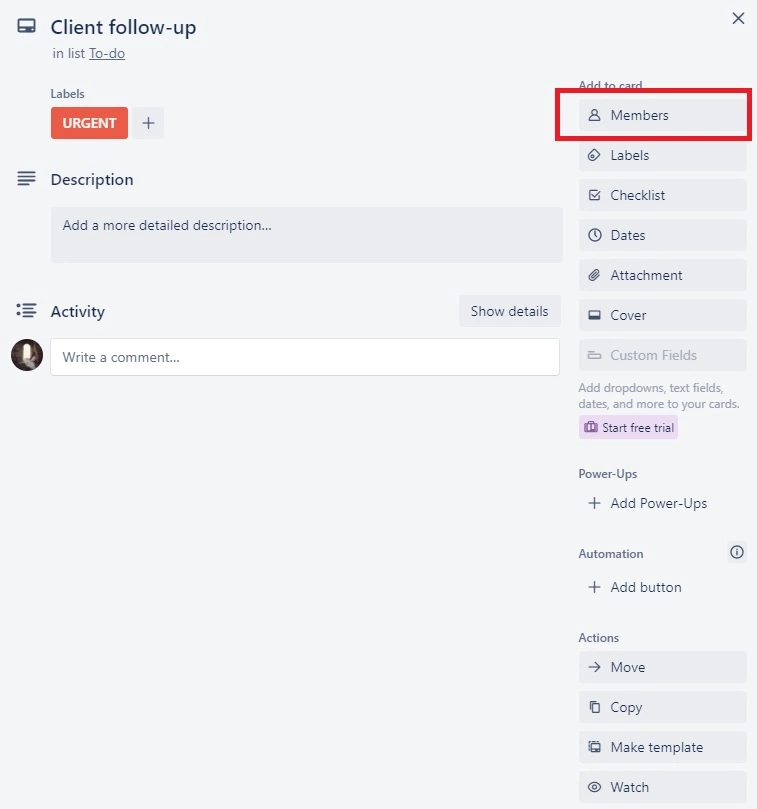 Assign members to different parts of a checklist. Create a checklist within a card and type @ and your teammate's name to assign them.
Enter the Timeline view
Trello's recent update allows you to view your boards as a timeline if you're a paid user. You can click on "Board" from the top left menu and select "Timeline". This will give you a 360 view of your current projects, to whom they are assigned, their due dates, and how long things will take to complete.
You can apply additional filters to view the timeline by user, label, or time frame. For example, when you want to view which employee gets more work done and to whom you can add extra tasks based on their workflow, the timeline filtered view will be your trusted guide.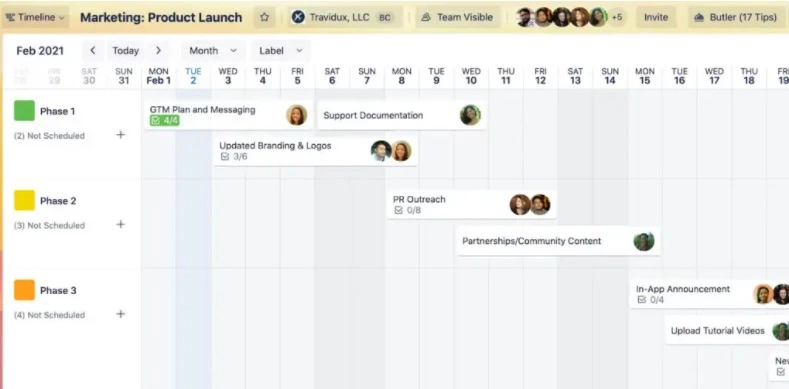 Use calendars
Although Trello doesn't offer a default Calendar, you can use the Calendar power-up, a free must-have tool, to gain perspective on due dates and easily rearrange cards by dragging and dropping them on the go. This will automatically update their deadlines and let you manage them more efficiently.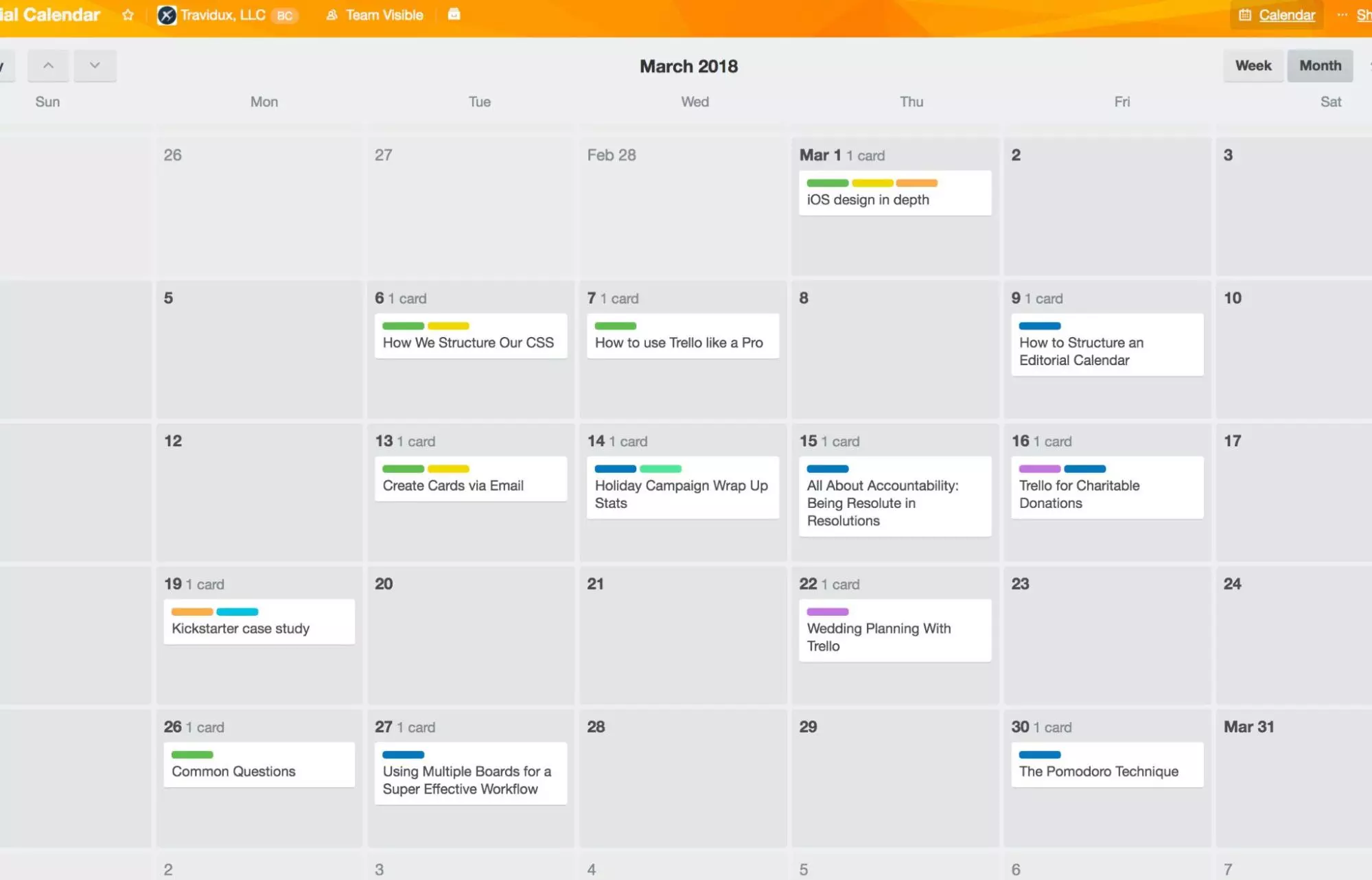 Source: Trello
Enable Jira or Slack for cross-collaboration
One of the reasons why Trello is one of our top project management examples is because it avoids the chaos of jumping between different apps to manage a project. In fact, it encourages cross-collaboration with other applications to keep things fast and efficient.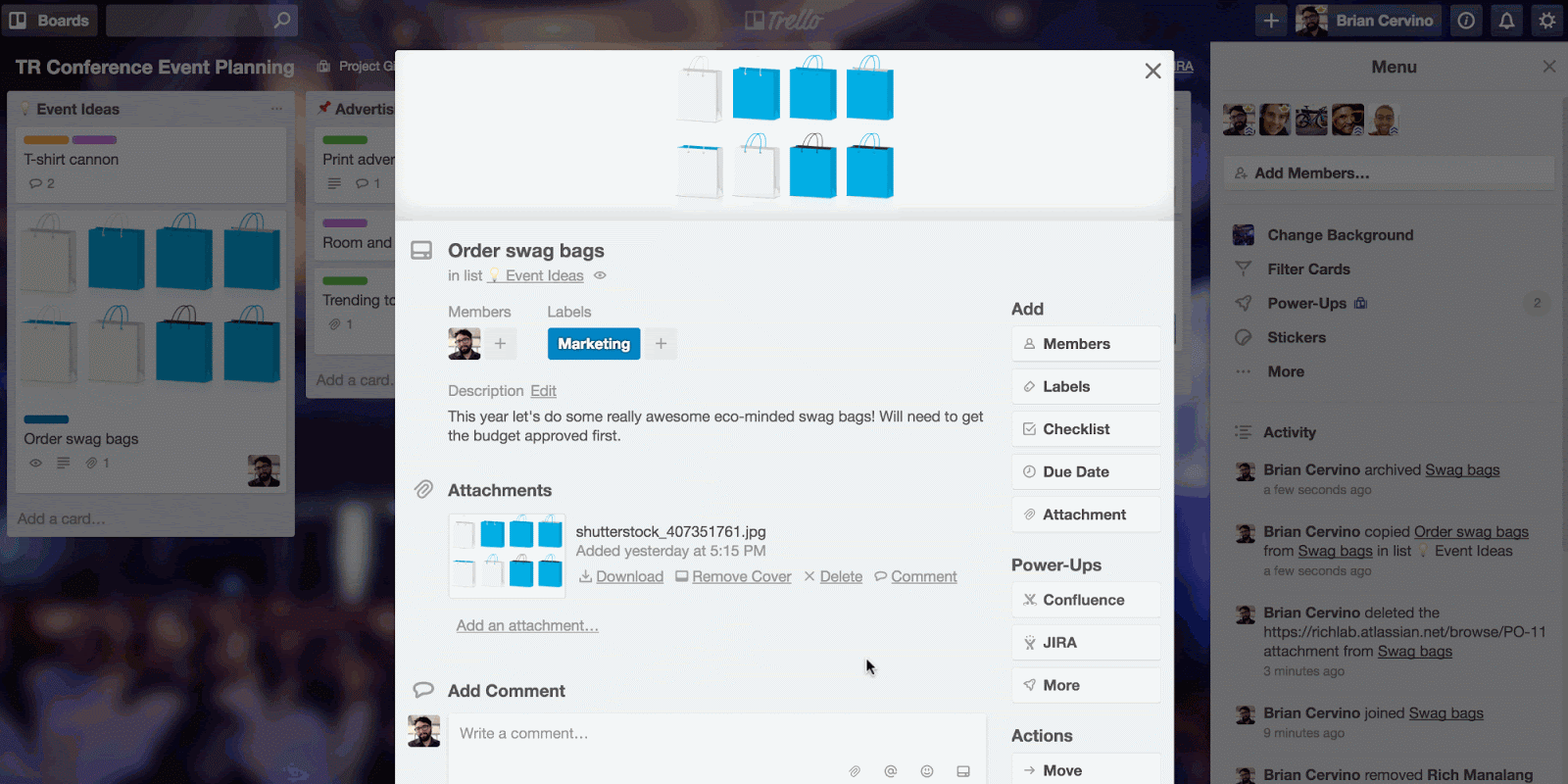 For example, if the IT department of a company uses Jira and the marketing department uses Trello, no one has to leave their app to collaborate. By enabling the Jira power-up within Trello, communication can be achieved without leaving the platform. Similarly, the Slack power-up makes it simple to work in between platforms.
Use the Gmail & Outlook Add-on
Suppose you want to connect your business email to your boards and automatically turn your most important emails into actionable Trello cards. In that case, you can use the Gmail or Outlook Add-on. With a quick automation set-up within Butler, you can save yourself lots of time by letting Trello do the work for you in the automation of emails.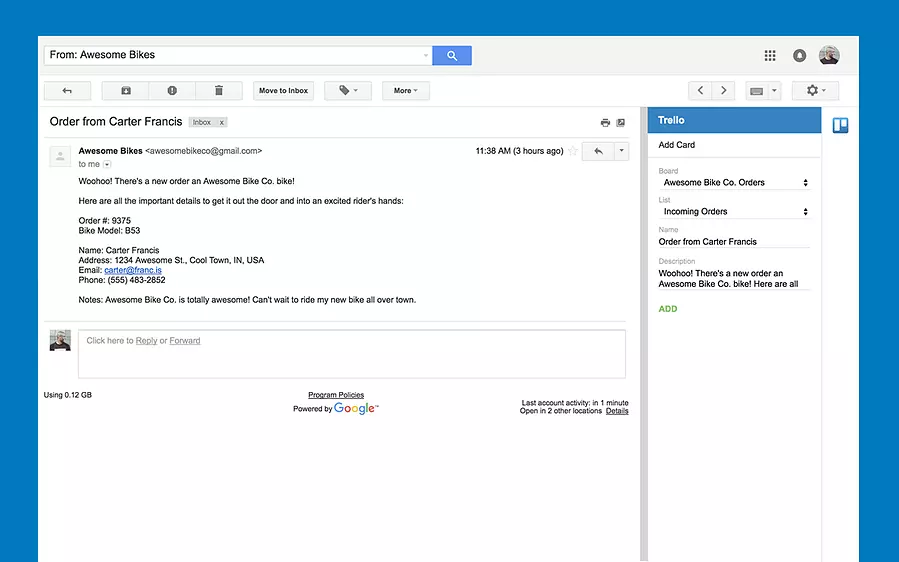 Report productivity metrics
Finally, Trello offers the possibility of reporting some of your basic productivity metrics and sharing them with your team via email. You can do that either by the Email configurator or the Automation directory. However, you'll find the process rather challenging and the results limited.
To get the most out of your Trello data and always stay on track of your project management progress, use the Blue Cat Reports power-up to access fully customizable reports beautifully designed and easily generated. The proper reporting will give you a clear image of:
How much work your team undertakes
Which tasks are repeated most often
How long does project completion take
Who's doing the most work
And more!
Wrap Up
You don't need to be a master to do efficient project management in a tool like Trello. Whether it's meant for your personal to-do list or more advanced projects, it will help you handle tasks like a pro and simplify even the hardest of processes. Copy this Trello template to get started.
Most importantly, Trello is flexible and encourages automation, communication, and connection. Combined with the proper reporting power-up like Blue Cat Reports, it guarantees to take your project management to the next level.