Behind every successful marketing strategy, there is a project management tool that helps establish a productive workflow. Trello marketing boards are an excellent example of keeping a team organized and aligned on the same frameworks. But how can you use Trello for your marketing goals?
Trello is a straightforward tool based on Kanban boards with simple drag and drop features. You can also extend Trello with 'power-ups' including a lot of free power-ups which can really customise the tool and make it even more useful for marketing teams. With the rise of remote working in 2020, 44% of marketers switched to Kanban boards instead of physical boards to launch new products and map their strategies.
With this approach in mind, we gathered the best resources for marketers looking to collaborate remotely on Trello. We will also be introducing Blue Cat Reports, an excellent reporting Power-Up for data-driven productivity and performance results.
Let's dive in!
Trello for Content Marketing
As you might well know, Trello uses boards, lists, and cards. Boards work as the general topic, lists as the subtopics, and cards as the content within the subtopics. As with any software, you want to keep in mind that the tool is not your strategy; this means that you can't jump on Trello and start creating random lists and cards without having a proper strategy in mind.
When deciding on your content marketing strategy, the first thing you want to do is create a spreadsheet or keep an editorial calendar with planned content for a prolonged period of time, even if it's just for one month. You want to be as analytical as possible, describing every piece of content you'll be creating, who will take the task, what keywords will be used, and even the destination URL for each piece of content.
Once the spreadsheet is ready, it's time to follow a basic Trello workflow process:
1. Create a new board. You can easily do that by hitting the "Create new board" button and giving your board a name, for example, "Content Marketing Strategy". If you have extensive content production and want to narrow things down, you can create multiple Trello boards for the different content forms you produce. For example, one board for video production, one for blog posts, one for infographics. Alternatively, you can mark the different content forms with colored-themed labels.

2. Add Lists based on different content production stages. In most written content pieces like blog posts, there's a specific funnel of different phases a blog post goes through until it's ready to be published. Some examples of what lists might include are:
Resources
Content Outline
Drafts
Review of the drafts by the content team
Approval/Revision of the drafts
Scheduling of the drafts
Publication of the blog posts
Each stage involves assigning different tasks to content marketers and keeping track of every phase of the production journey. This way, everyone is aligned on what pieces of content are being produced and who is accountable for each step of the process. To create a new list, hit the "Add another list" button and give your list a name.

After you've created your lists, you can enhance them with color-coded labels to mark the type of content being produced, the phase of the customer journey it serves, or even how urgent a task is.

Add a preliminary list with instructions to everyone working within a board for a bonus. Include information on keeping the board tidy and organized, what each label means, how content pieces are assigned and processed, and the different guidelines for different content forms. This will keep everyone on track and give employees confidence in finding their way around the board.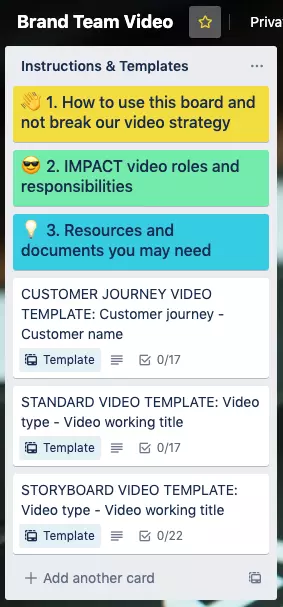 3. Create Trello cards for your content. Finally, it's time to add your different pieces of content as cards inside your lists. But before that, make sure you've created template cards with basic guidelines that might apply to multiple pieces of content. For example, you want to include resources, checklists, outlines, due dates, or tutorials in the same template card.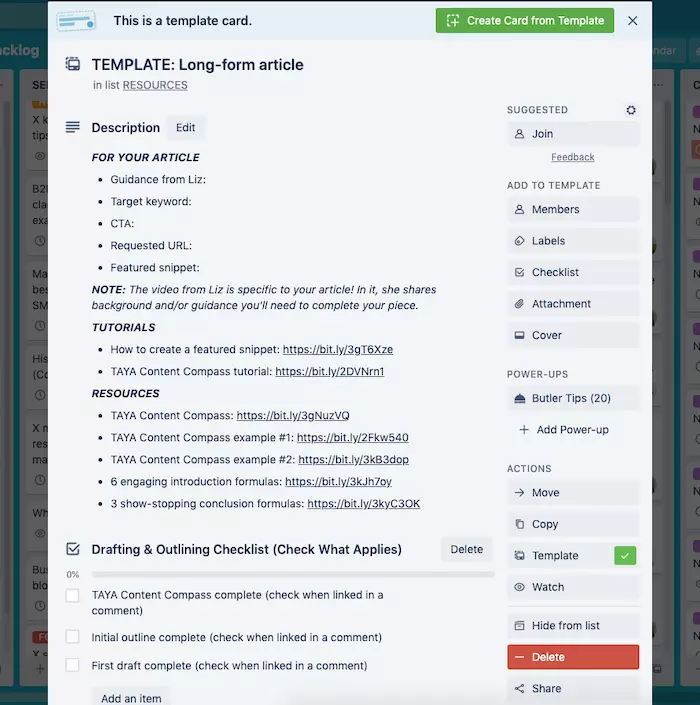 Next, you want to generate your cards based on the saved templates you've already created. Customize them based on topic and client preferences, assign them to team members, set your due dates, and you're ready to go!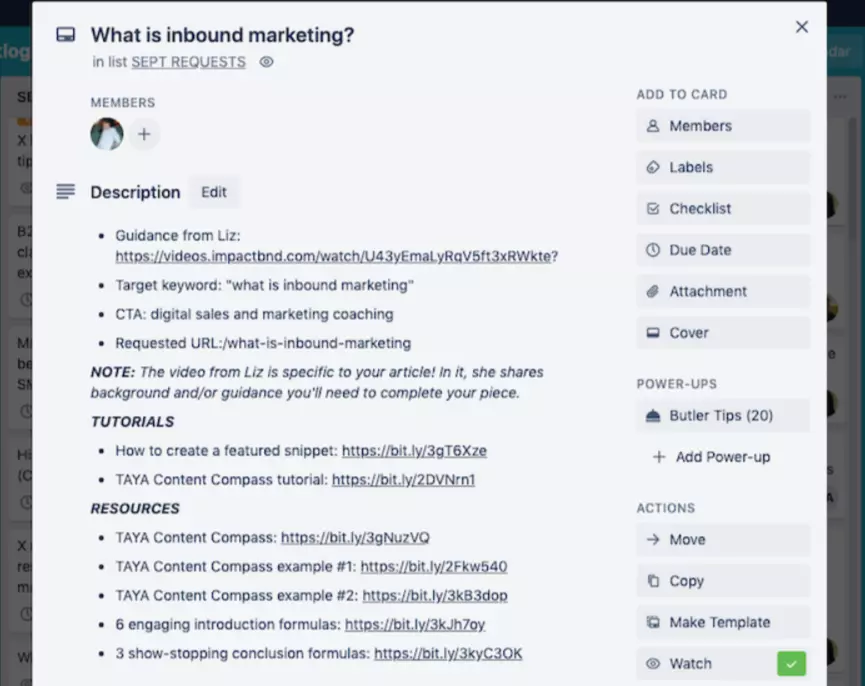 Trello supports a variety of Power-Ups that allow you to take your marketing boards to the next level. For example, with Blue Cat Reports, you can quickly generate beautiful reports for your marketing workflow that showcase in real-time which cards are of high priority, which are in progress, and which haven't started yet, along with the size of each card. The possibilities are endless!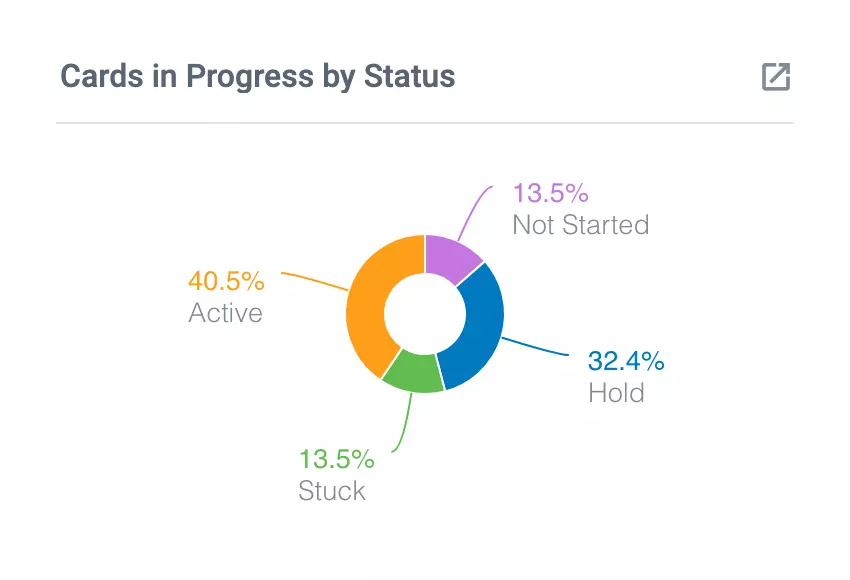 Trello for Social Media
Similar to the previous process, Trello can be used as a social media management tool to gather your resources, ideas, plans, and calendar in one place. A common problem for social media managers is the overflowing email inbox and the endless back and forth with clients.
Trello functions as a hub where social media managers and clients can meet, work together and keep track of everything without constant check-ins. Once the process is established, professionals can create Trello recurring tasks to automate procedures and seamlessly create a productive workflow.
Here's how you can use Trello as your social media management tool:
1. Create your board. We suggest adding a new board for every client to avoid confusion and wrong deliverables! Name your board "Social Media Management for Client X" and populate it with lists.
2. Add your lists. As we mentioned earlier, your first list should be devoted to a "How to" guide, to help users get their way around the board without making a mess. Then, you want to proceed with the rest of the lists, which could be:
Resources
Ideas
To do
Doing
Done
Performance
You can additionally add lists for content review by your client. For example, suppose the client wants to be reviewing all social media posts before they go live. In that case, you can create an additional "Review" list, where you'll be writing the post's copy, attaching the image or graphic, and placing the relevant hashtags, tags, or geolocations.
Another option is to create lists for every social media platform. For example, one list for Facebook, one for Instagram, one for TikTok, and so on. Under each list, there will be cards for specific tasks concerning each platform for a clear and transparent workflow.
To feel like a social media superhero, make sure to add the Calendar Power-Up to your social media Trello board, which will give you a panoramic view of all your running tasks and which ones should be prioritized.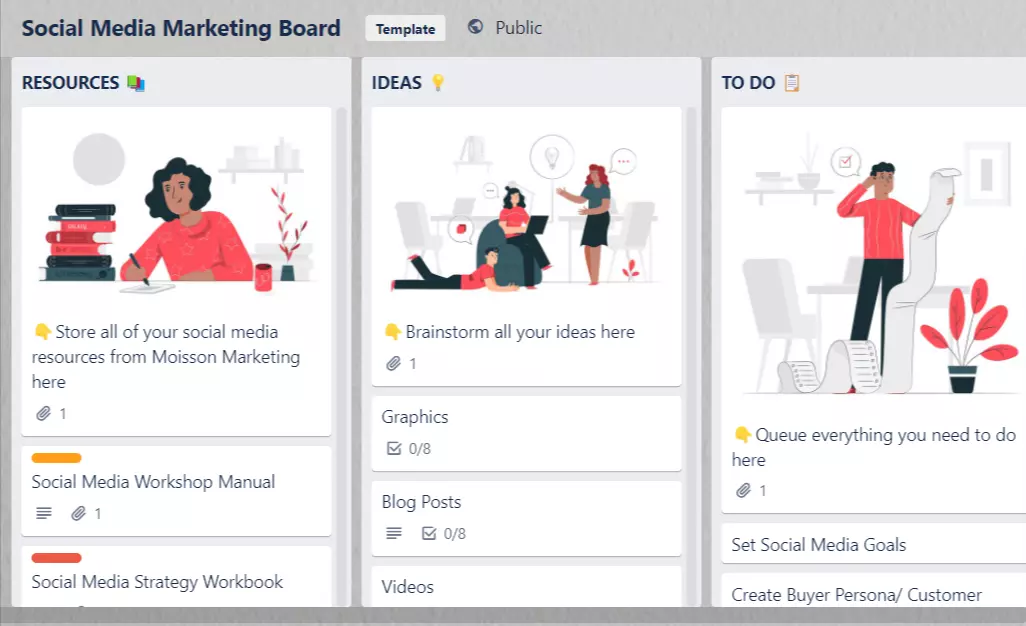 3. Finally, you'll create your Trello cards. Each card represents a different idea, task, post, or resource, depending on your lists. For example, under the "Ideas" list, you and your client could brainstorm different things you would like to try for your social media accounts. Under the "Resources" list, you can collect and store all your social media resources, links, workbooks, strategies, checklists, and support.
Lastly, under the "Performance" list, you want to track your social media progress by including statistics, screenshots, and charts. Blue Cat Reports advanced marketing charts allow you to personalize your reports by bringing all your data in one place and having them easily accessible.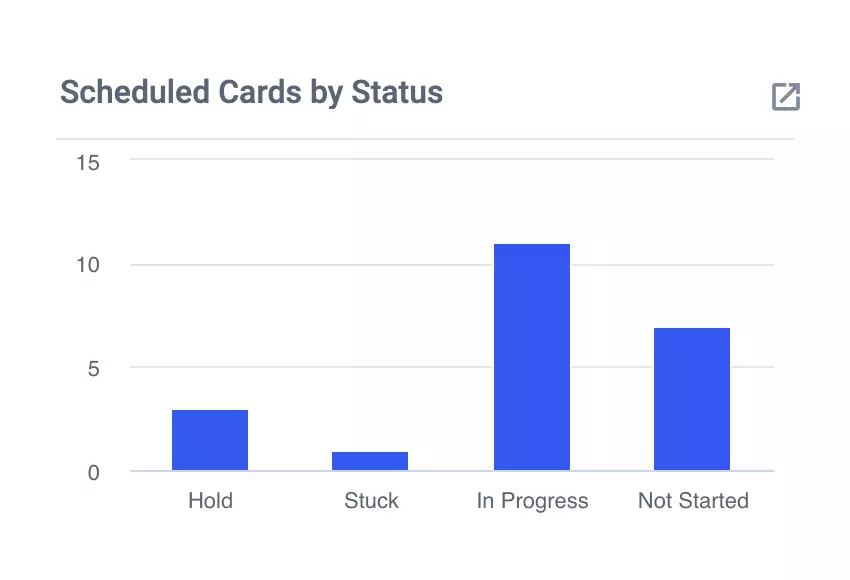 Trello for SEO
Another marketing department that gets its own Trello marketing board is SEO. Similar to social media, you will be creating:
1. A board for every website that goes through an SEO audit. For example, if one client's website is called "Vegan Mums," sharing recipes for vegan meals, you'll be creating a Trello board also named "Vegan Mums SEO Checklist".
2. Different boards and lists for every SEO strategy. SEO has many different aspects such as:
SEO blog posts, landing pages, and other copywriting assets
User experience
Performance
Content
Technical SEO
On-page SEO
Off-page SEO
Local SEO
Each list will represent one SEO strategy. All strategies are equally important and shouldn't be skipped.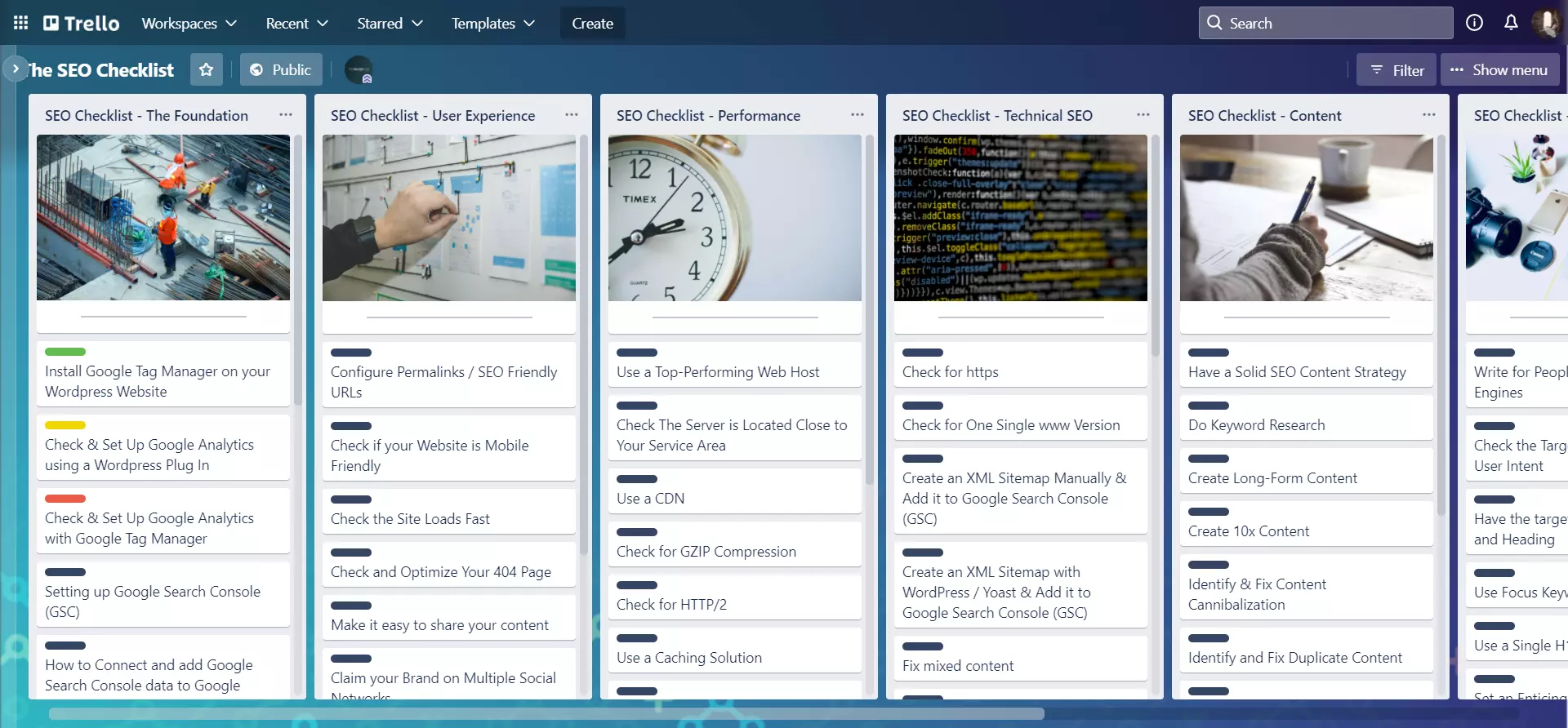 3. Cards for every task of each list. Finally, you'll create your cards based on the lists you opted for. For example, under "User Experience," we want to be adding tasks like "Mobile Friendly", "SEO-optimized URLs", "Site Load", "404 Page," and more. Or under "Off-Page SEO," we want to be adding tasks such as "Link-building Strategy", "Competitive Analysis," and "Guest-posting".
Final Thoughts
Overall, Trello is an exceptional project management tool that allows the visualization of your marketing efforts and points you and your clients in the right direction. The platform's ease of use, intuitive interface, and straightforward features are significant advantages. From beginners to advanced users in need of a Kanban-based environment to map their strategies, Trello is the tool to go.
Additionally, Trello offers a wide variety of marketing board templates to choose from as the perfect foundation of an efficient setup to bear the fruits of visualized workflow. As you establish your steps and begin to understand what works best, you'll be making customizations according to your team's needs.
Report your Trello marketing boards with Blue Cat Reports
No matter how efficient your Trello strategy is, it'll mean nothing without the proper reporting to understand and improve your workflow progress. Blue Cat Reports enables you to create fully customizable reports to visualize the status of every card on every board with the help of charts. Try it now!