Trello is a top productivity app, but some of its best features are hidden gems. No longer! To help you power up your workflow, we'll go through one of Trello's little-known features: the Trello Card Repeater.
If you use Trello for weekly or monthly tasks, you don't have to manually copy Trello cards every time you want to repeat them. Instead, you can take advantage of the Card Repeater Power-Up to seamlessly set up recurring tasks in Trello.
Ready to supercharge your Trello set-up? At Blue Cat Reports, we'll go through step-by-step how to use the Trello Card Repeater Power-Up for real productivity results.
What are Trello Recurring Tasks?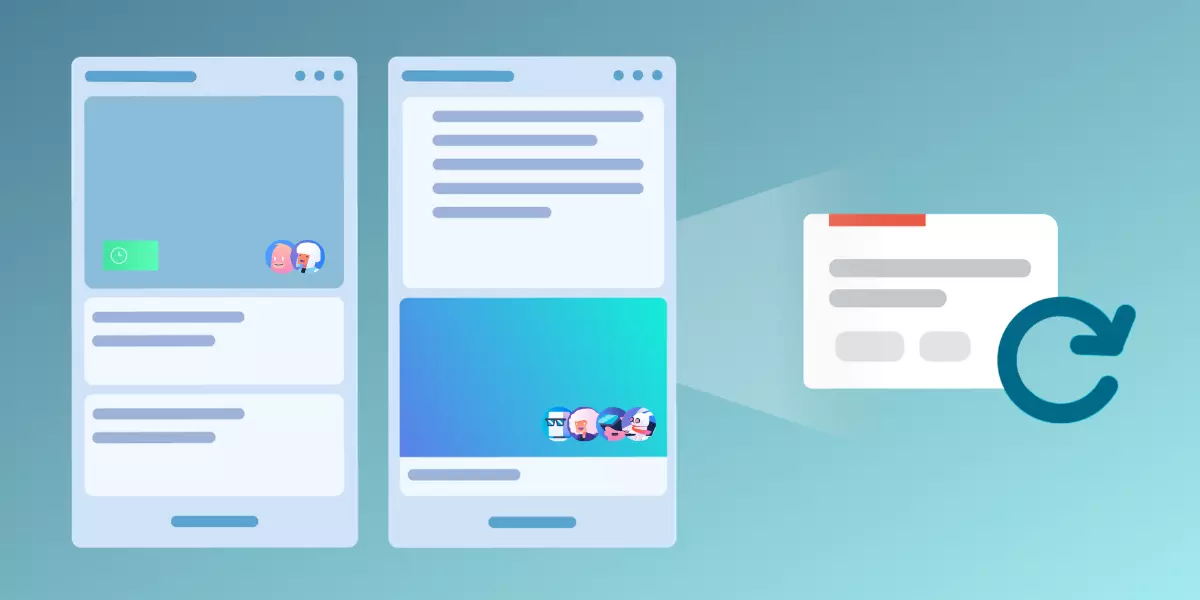 The Trello Card Repeater Power-Up lets you create recurring tasks. Once you've activated this key feature, you can enter the Trello card settings and schedule it to automatically copy the Trello card at a specified date/time.
This can be done on a daily, weekly, monthly or yearly basis. Plus, the Trello card copies directly onto your list, so you don't have to do any manual work. Setting up recurring tasks in Trello is ideal for your weekly to-dos, regular meetings, retrospectives, end-of-month closings or anything else that you do on a regular basis.
Why are Trello Recurring Tasks important?
Trello repeating tasks ensure that you're not wasting time copying Trello cards that could be automatically set-up. This saves you lots of manual work. As you set up an automated workflow, you'll also be able to focus on your daily tasks at hand instead of the grunt work.
Use cases for Trello Recurring Tasks
Recurring tasks in Trello can be used for anything that you do on a regular basis. There are plenty of ways to take advantage of the Trello Card Repeater Power-Up for repetitive tasks and business goals, including:
Editorial calendars: If you run a content calendar, you're used to coordinating certain types of content on a daily or weekly basis. You can set up this calendar as Trello repeating cards and simply follow this workflow to get results.
Meeting schedules: Whether you have a daily stand-up or a monthly check-in, you can use Trello to create a recurring meeting. Add your meeting link, agenda, to-dos and more directly onto the Trello card.
Periodic reports: Reports are usually sent on a schedule. By repeating your Trello card, you can visualize your reporting needs for the week or month, without the hassle.
Training courses: If you're taking an educational course, you may have certain repetitive tasks to complete. You can set up your classes or assignments as Trello repeating cards so you never miss one.
Personal planning: Beyond work, you can use Trello for your own personal needs, such as meal planning or fitness goals. This can help you stay on top of your own personal to-dos!
These are some ways to make the most of recurring tasks in Trello, but it's certainly not an exhaustive list. Whatever recurring or project management needs you have, the Card Repeater Power-Up can bring you automated workflows.
How to use Trello Recurring Tasks
Step 1: Enable the Power-Up.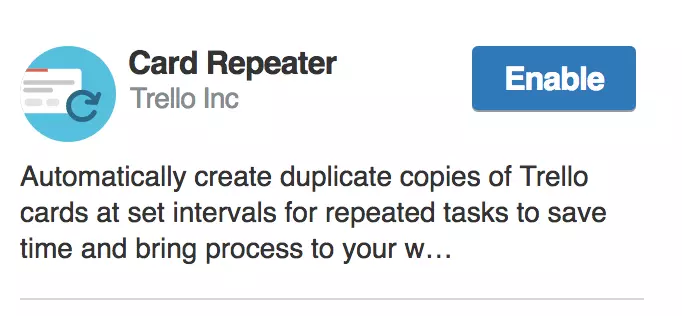 First things first: enable the Trello Card Repeater. Simply go to the Trello board menu, click the Power-Ups option, find the Card Repeater Power-Up and click "enable". Now you're ready to make use of this power-up within all your Trello cards!
Step 2: Go to the Trello card you want to set as recurring.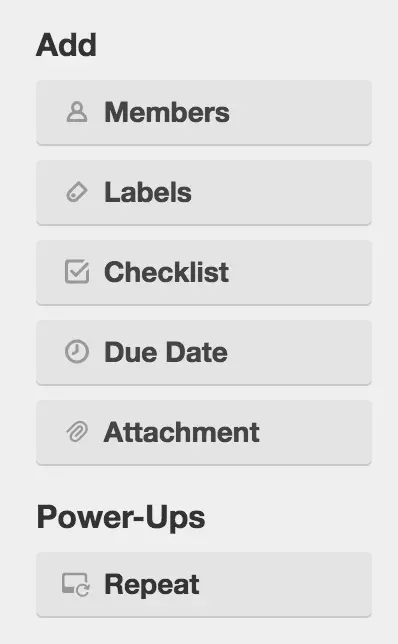 To set up recurring tasks in Trello, go straight to the Trello card you want to repeat. Within the Trello card menu, you'll see your enabled Power-Ups listed at the bottom.
Step 3: Click on "Repeat" and select the details.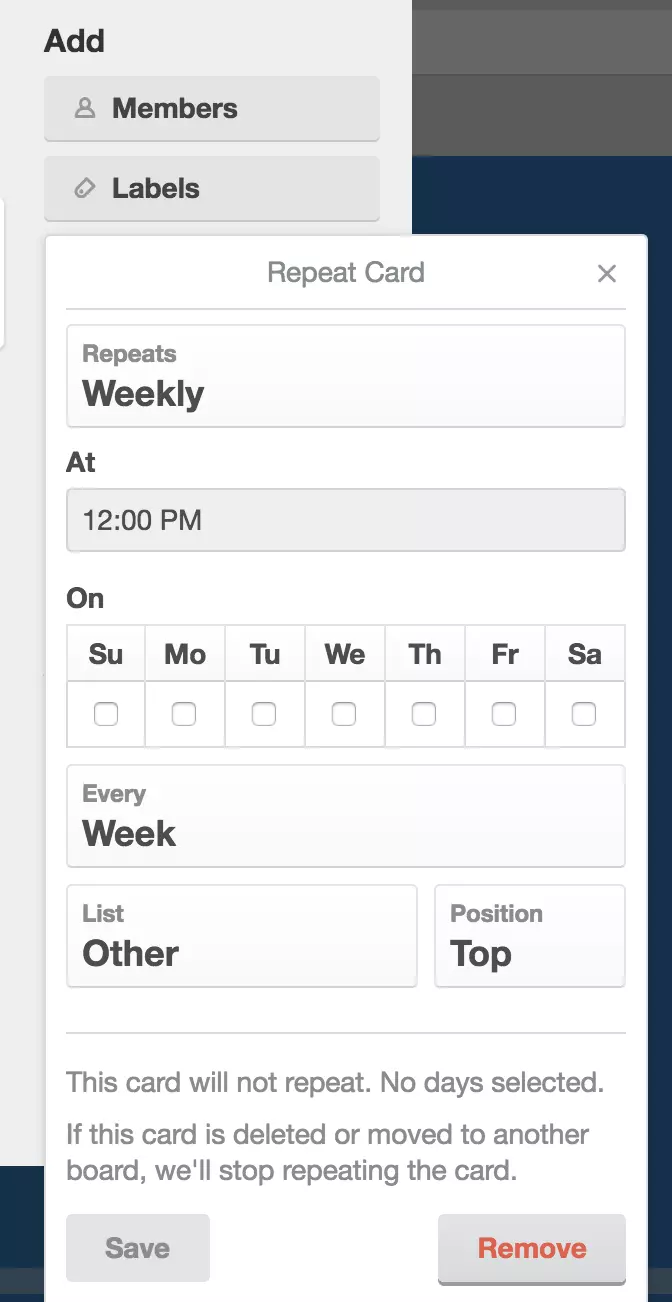 In the Card Repeater pop-up, simply click on "Repeat" and set up the Trello card info as you wish. Choose the schedule for repeating, including daily/weekly/monthly, as well as the time and day of the week. This will ensure your Trello card repeats on the schedule of your choice.
Step 4: Check your Trello card to confirm the set-up.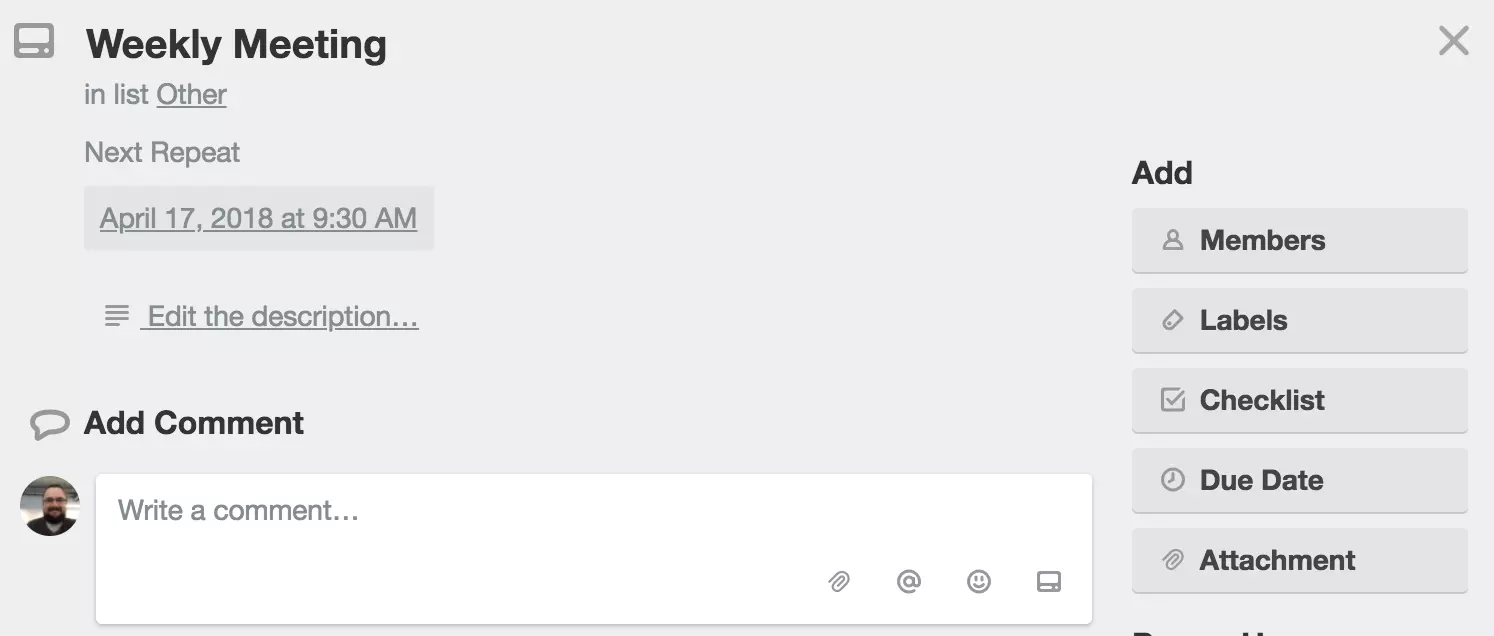 Now that you have all the details saved, you can go into your Trello card to check that it looks the way you want it to. Under the title, you'll see information about the "Next Repeat." Check it out and make sure everything looks good.
Best practices for the Trello Card Repeater
You've now set up a recurring task in Trello – hooray! As you continue to create a future-proof workflow in Trello, you can boost your productivity by understanding all the ins and outs of the Trello Card Repeater. To become a pro in creating recurring tasks in Trello, here are some more key features for success.
Automate due dates

Trello gives you access to a built-in series of actions to help you automate different areas of your workflow. Called automation rules, these let you change settings in your Trello repeating cards and boards to cut out manual work.
One automation rule you could absolutely benefit from: automating due dates. Go to the Trello card you want and find the "Automation" menu. Here under "Add Card Button," you can set up new automation rules for due dates.
You can set up a automation rule that automatically creates a due date for your Trello card on a repeated schedule. Basically, you'll want to define the trigger and the action for your rule. For example, you could say "when a card is copied to List X by me" then "move the due date to the same day next week."
Other amazing automation rules
Automating due dates is just one amazing automation rule you can set up. You can also use a wide range of others to automate aspects of your Trello board, such as archiving cards, automating your calendar, sharing automations with team members and more. Get great ideas for automation on Trello's sample list here.
Stop repeating on your Trello card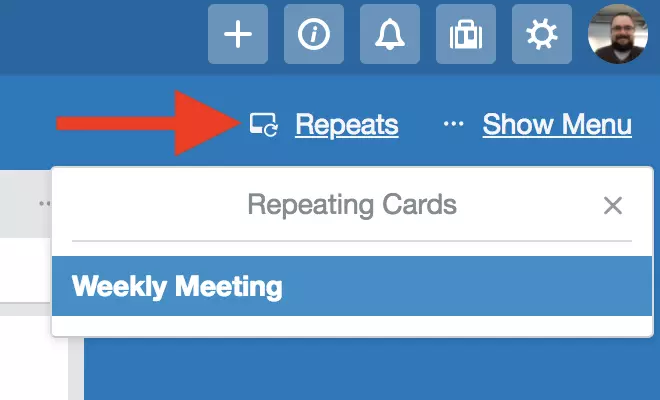 Remember that you can stop repeating Trello tasks whenever you like. You can delete the card, move it to another Trello board or cancel the repeat. To cancel, simply click on "Repeats" on your Trello board and you'll get access to the menu where you can change settings for your recurring tasks in Trello.
Boost through integrations
Your Trello recurring tasks are most useful when combined with powerful integrations. You can connect your tasks with Slack, Google Drive, Google Calendar, Adobe or Jira, as well as other super-helpful power-ups. Add these integrations to streamline your project workflow 100%.
Inspire your Trello board set-up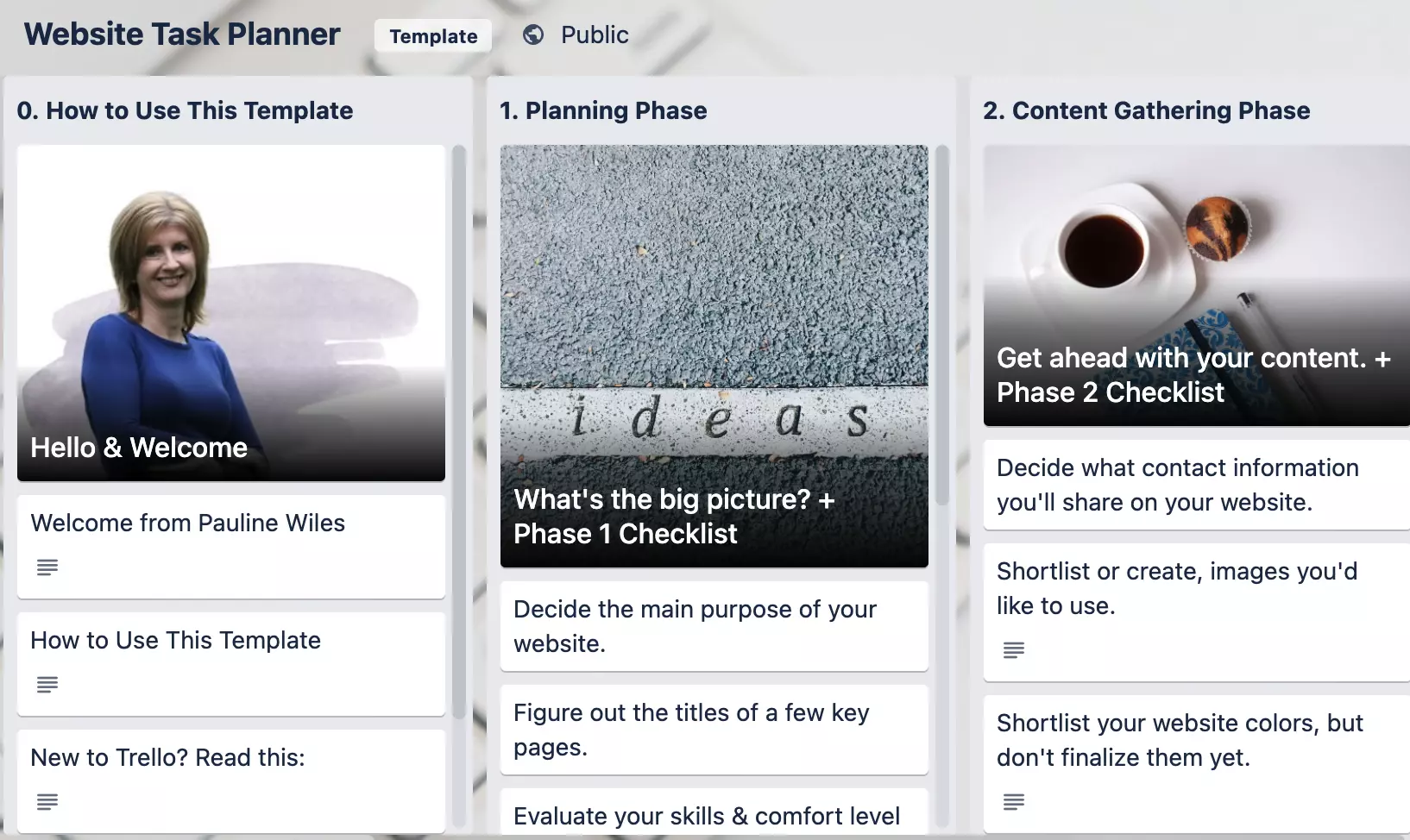 It's worth taking a look at some of the best Trello board examples so you can get ideas for how to set yours up, whether it's a daily management pipeline, annual goal planning or inspiration brainstorming for remote team building. Check out some awesome Trello board examples here so you can get creative about your set-up.
Make use of other power-ups
Trello has a suite of other power-ups that can strengthen your processes even further. Some of our favorites include:
Time in List: Shows how long each Trello card has been in the current list, so you can measure progress and spot slow-moving tasks.
Approvals: Get the green light from your manager or team members right from the card.
Card Snooze: Snooze a Trello card until a specified later time. At that moment, it will reappear on your Trello board.
Email for Trello: An amazing Power-Up which lets you manage (and automate!) your email conversations with customers right on the back of your Trello cards.
… and more!
Get personalized Trello reporting with Blue Cat Reports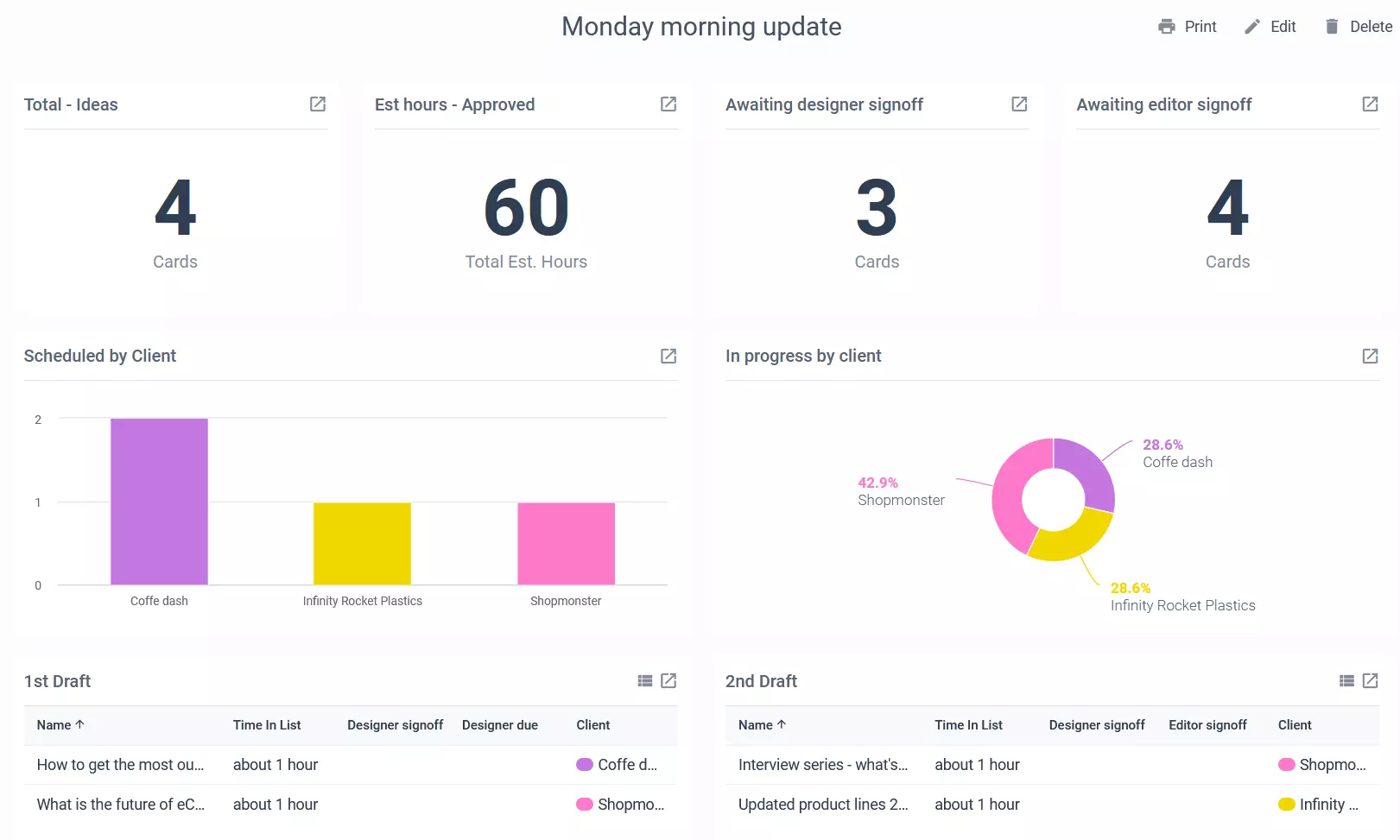 In addition to these excellent power-ups, you can transform your Trello analytics with the Blue Cat Reports power-up. With it, you can create an analytics dashboard and custom reports that give you daily insight into your workflow.
The Reports by Blue Cat power-up pulls in data from your Trello cards and boards, so you can see completed tasks, time of completion, tasks awaiting approval, etc. Personalize your reports dashboard so it brings together everything you need to see at a glance.
Power up your Trello
Ultimately, your Trello board can transform your workflow, especially if you make use of the numerous additional features, including power-ups, integrations and automation rules. By arming your Trello board with these tools, you'll get better processes for top results.
In addition to the Trello Card Repeater, don't forget about the power of analytics. As you boost your Trello board, get the Blue Cat Reports power-up so you can take your productivity to the next level.