When we do demos to new Trello users one of the things we always encourage them to check out is Trello's custom fields. Not just because they work great with all our tools, but because adding custom fields is when I see people really get Trello. Welcome to our ultimate guide to custom fields in Trello. We will cover the how the why and give you some examples of how we've seen other teams using Custom fields.
Contents
Custom field examples
Let's start with a few examples of how you could use Trello's custom fields on your boards
Sales teams can add fields like deal value, deal source, expected close date, email address, etc.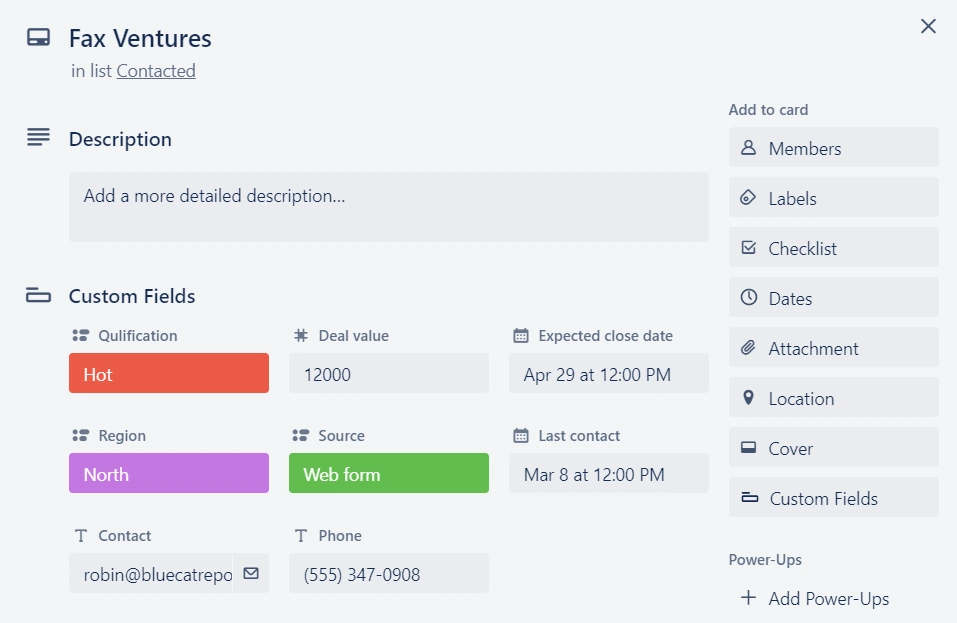 Here we see the front of the card showing all these fields. You can select which custom fields you want to show on the front of the cards if you don't want to show them all.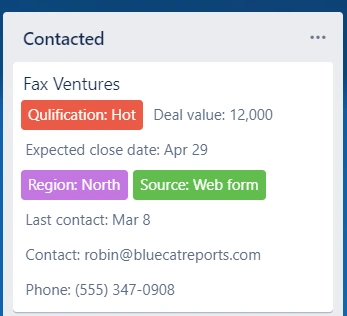 HR Teams using Trello for a recruitment pipeline can add expected salary, location, hiring department, etc.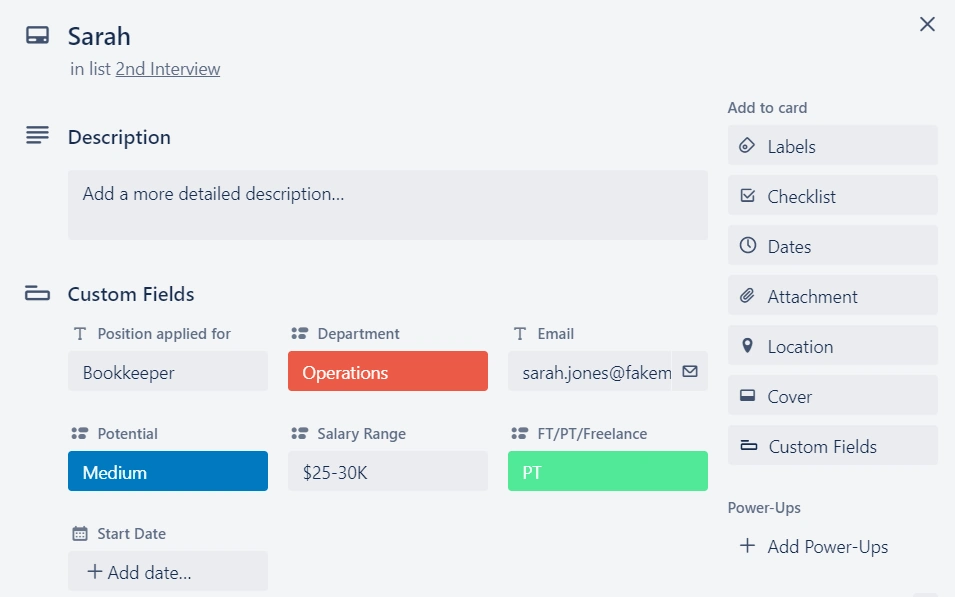 Content marketing teams can add fields for content type, designer signoff checkbox, estimated hours, etc.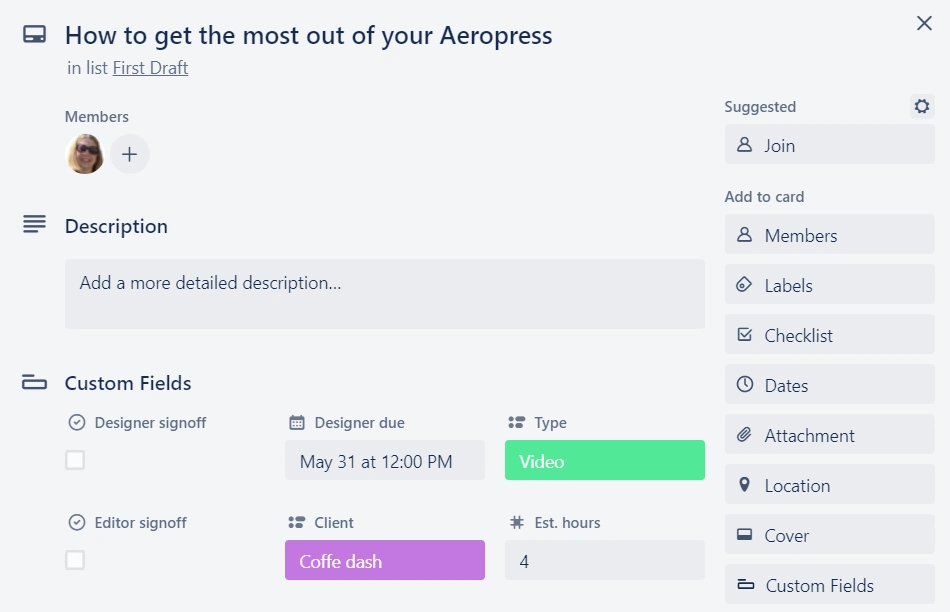 None of these examples is probably perfect for you, but that is the point of Custom fields. It is your data, create the fields you want for your cards.
How to add custom fields in Trello?
To add a new custom field from the back of any card in Trello:
Find the Custom Fields button in the menu on the right of the card back

Click that button to bring up the Custom Fields menu

Click on the + New field to add a new custom field and you will see this message

Give your custom field a name in the Title box

Select which type of custom field you want
You can add any of these custom field types to your cards
Numbers
Dropdown lists
Text
Dates
Checkboxes
Most field types are pretty self-explanatory, but the dropdowns require a little more explanation. What most people miss the first time they use them is that they can set a colour for each of the options by clicking on the little grey box next to each option.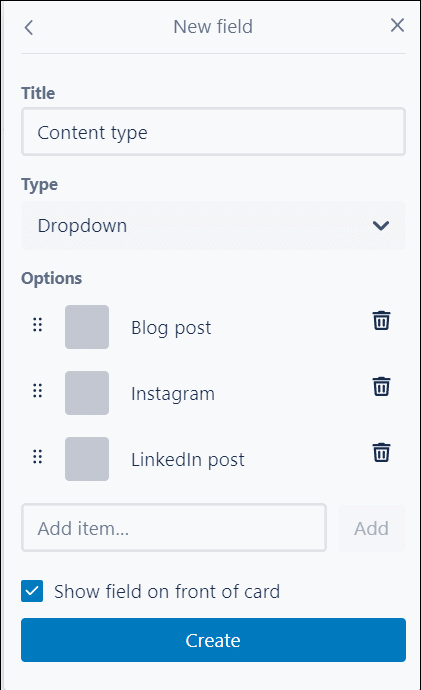 This is worth doing as that colour can then get pulled through elsewhere in Trello and helps your custom dropdowns fully replace labels if you have been using those.
That is all you need to do to add your first custom field. Now repeat the above steps until you have all the custom fields set up for your cards. These fields will appear on all your cards on the same board and will move with that card if you send it to another board.
How to export Trello custom fields?
Data stored in custom fields can easily be exported from Trello. Check out our guide to exporting data from Trello for more details.
How to import data into custom fields?
You can import data directly into custom fields using our Imports power-up or even create forms people can fill out to populate cards on your boards including all your custom fields. For that, check out our Forms power-up
How to copy custom fields to another board?
The easiest way to copy your custom fields to another board is to send a card from the first board to the second board. That will copy all the fields on that card to the second board 😺
How to change the order of custom fields?
Custom fields can be reordered from the menu on the back of the cards (the same place you add new custom fields) by clicking and dragging on the '6 dots' button on the left of each custom field. The order will then be reflected on the front and the back of cards on your board.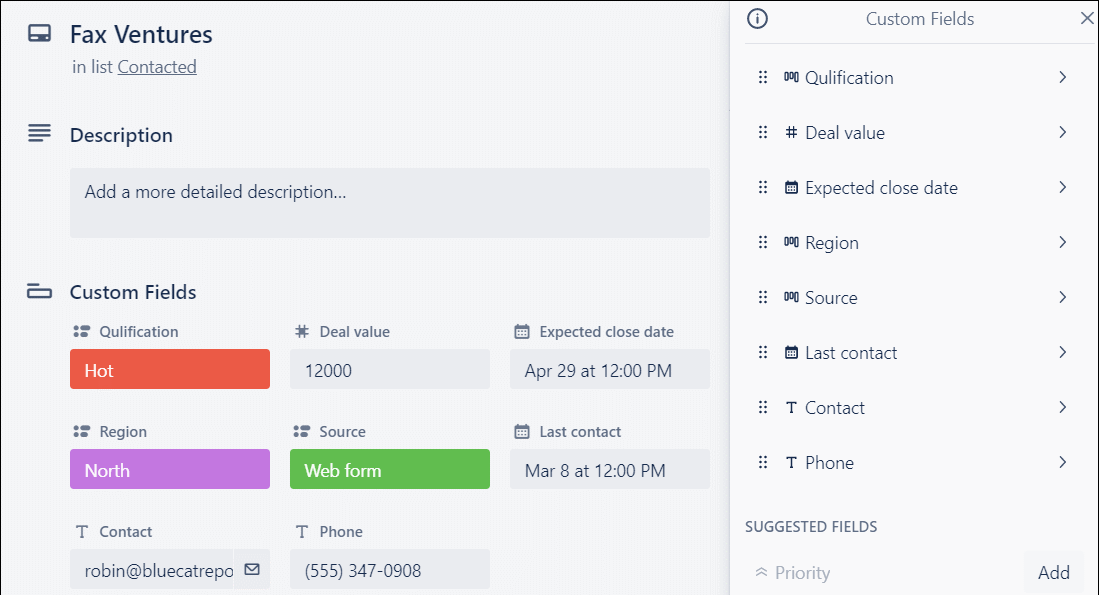 The same can be done to reorder the options in the custom drop-down fields.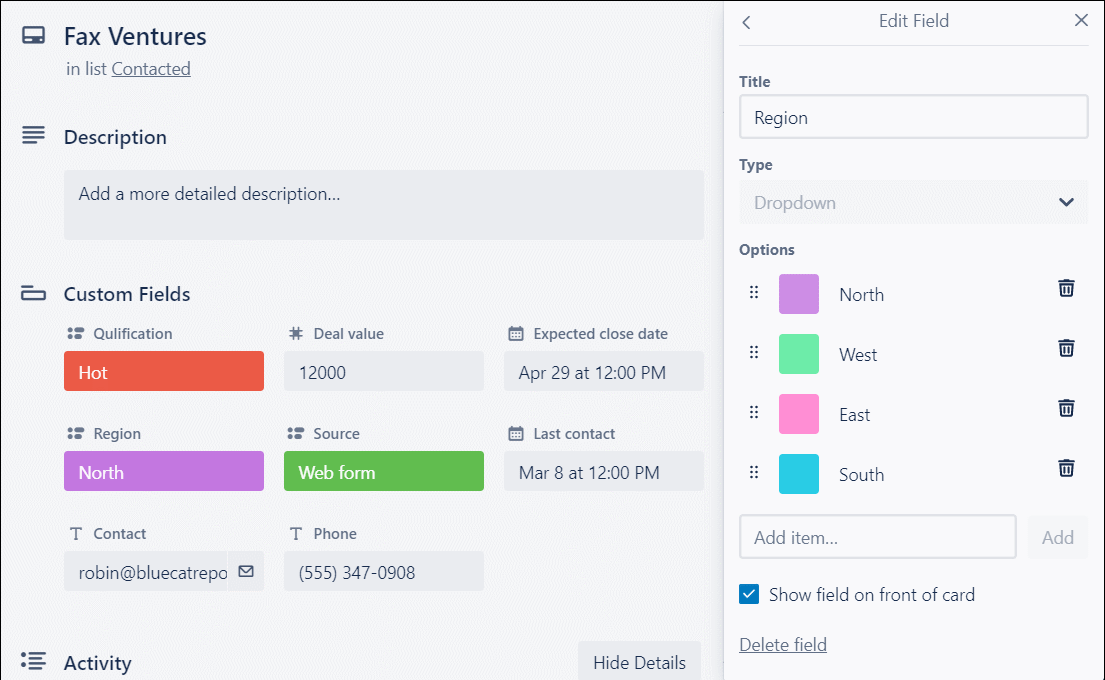 How to filter custom fields?
Filtering on custom fields in Trello isn't as good as it can be. You can use the usual filtering in Trello, accessed by pressing the f key on your board. This filters cards based on their titles as well as the content of any custom fields. Here we filter on 'web form' to find any sales leads with the Source custom field set to web form

For smarter filtering, you will need to look to third-party tools like Blue Cat Reports which allows filtering on all custom fields. So you can report on cards with custom dates in a specific range or group by custom text fields, etc.
Can you report on custom fields?
Blue Cat Reports has everything you need to create reports on custom fields. Simply...
Add the power-up here
Start your free trial
Create a report or quick list
Create the charts you want, filetering and displaying the custom fields you want to show
Why are my custom fields greyed out, disabled, not available or not working?
In 2021 Trello made custom fields a part of their paid offerings. You can no longer add the custom fields power-up to your boards and instead need to be part of a paid team to access custom fields. There are additional details here https://help.trello.com/article/1327-trellos-plans-update-and-faq.
Can you import data into custom fields?
Our Import and Forms Power-Ups both allow data to be added to custom fields in Trello.
Sorting lists by custom fields
Did you know you can sort the cards in any list based on any custom number or date field. Super handy!