If you're still stuck on spreadsheets and documents to map out your CRM sales pipeline, you're probably pulling out your hair every day. Trello is the best customer relationship management (CRM) alternative you can opt for without breaking the bank for small or medium-sized businesses.
Having an advanced CRM management system can be complicated. However, you can go for more straightforward tools that still gather your contacts in one place and allow room for customization. Combining Trello with the Forms by Blue Cat Reports gives you complete control over syncing your data with Trello Cards and adding attachments or custom fields.
In this article, you're going to learn the 5 steps of using Trello as a CRM along with its benefits. Let's get started!
What Are the Benefits of Using Trello as a CRM?
Trello is so much more than a project management tool. Using it as a CRM is an effective way to combine affordability with efficiency for customer relationship management. Its benefits include:
Easy-to-use interface with drag and drop features
Inexpensive subscription packed with features
Powerful integrations & Power-Ups for automation & advanced reports
Clean and transparent way to gather contacts
Accurate automation of cards with the forms by Blue Cat Reports
So, if your business is relatively small and doesn't require advanced sales management and analytics features, Trello is your best option. But what are the steps of using Trello as a CRM? Let's find out!
1. Determine your sales funnel
Before getting started with any CRM, it's crucial to determine your sales pipeline to help you organize your layout. Write down all the critical milestones or touchpoints with customers and group relevant steps together. Depending on your business and industry, you might have a minor or more extensive sales funnel to turn a user into a paying customer. Here are some examples of different sale stages:
Lead generation. Capturing a potential client's interest from online advertisements, email campaigns, blogs, social media, and more.
Product demonstration. Arranging a meeting with a prospective client to demonstrate how the product works and customize it to their needs.
Negotiation or business quote. Creating a customized offer or negotiating the price after the potential client showed further interest.
Follow-up. Follow-up with the prospect and remind them of their intentions and how the product suits their needs.
Deal closed. The prospect agrees to move on with purchasing the product or signing in to a subscription service.
Cross-sell or upsell. Sell additional products or services with relevant suggestions to a client that has already converted.
Client onboarding. Deliver the product and ensure clients have everything they need to get started.
Follow-up on lost prospects. Following up on users that never converted to unlock non-monetized potential.
2. Design your Trello boards & lists
Now that you've determined your stages for a sale, it's time to create your Trello boards and lists. Hit the "Create new board" button to add your new Trello board and name it based on your product or service, for example, "Traveling Insurance Sales Pipeline". Keep in mind that you'll need to create multiple boards if you have different products or services.

Next, you want to create lists based on the stages of your sales funnel. So, for example, one list for lead generation, one for product demonstration, and so on. When you're ready, hit the "Add another list" button and make sure that all lists are created in chronological order.

3. Create forms for your board's cards
Moving on, it's time to add your cards. Here's where the Forms by Blue Cat Reports come at hand by allowing you to turn forms into Trello cards! Say you want to gather leads for your upcoming product launch.
You can easily set up a form, add custom fields, select the list where you want the cards to be populated, and you're ready to go. You can even get an email notification every time a form is submitted. You can create forms directly through Trello.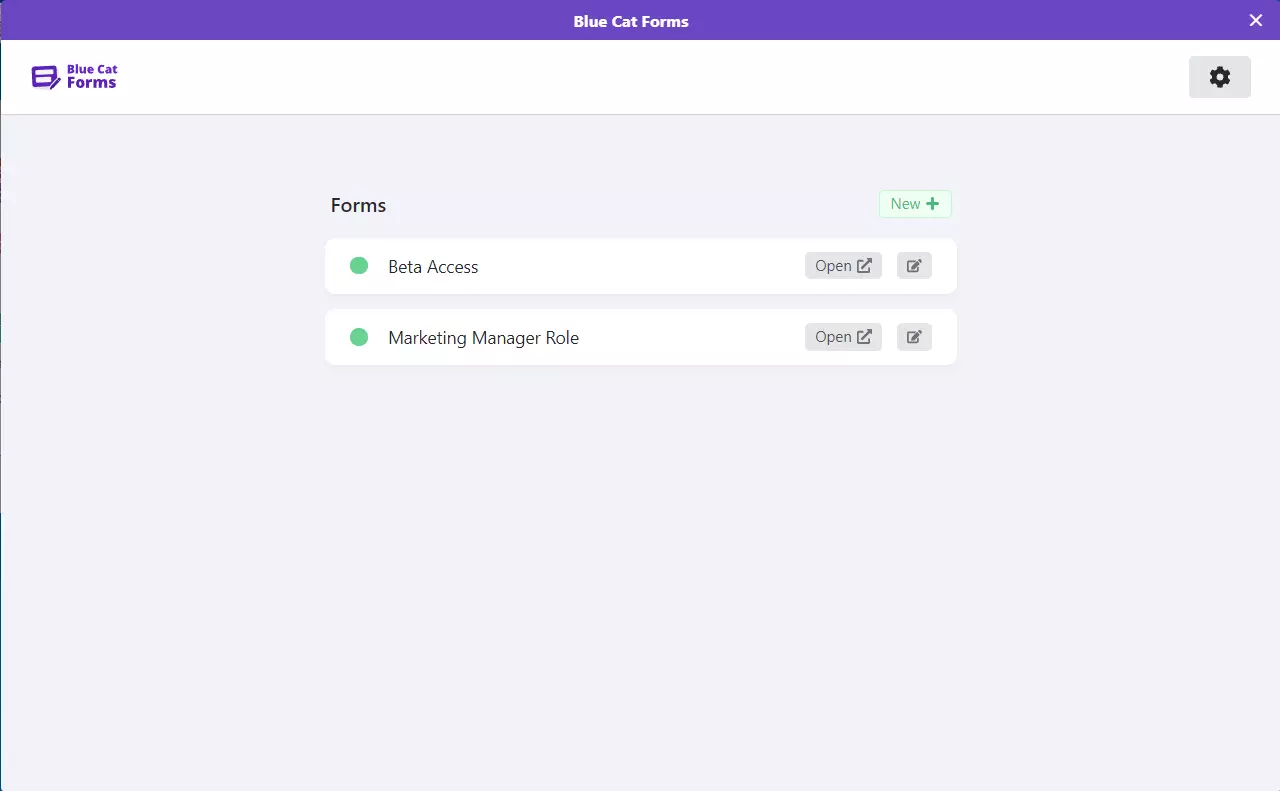 The process to create forms is quite simple:
First, select the board for which you want to create the form

Add the Forms by Blue Cat Reports to that board

Then choose the fields from your cards and drag & drop them into the form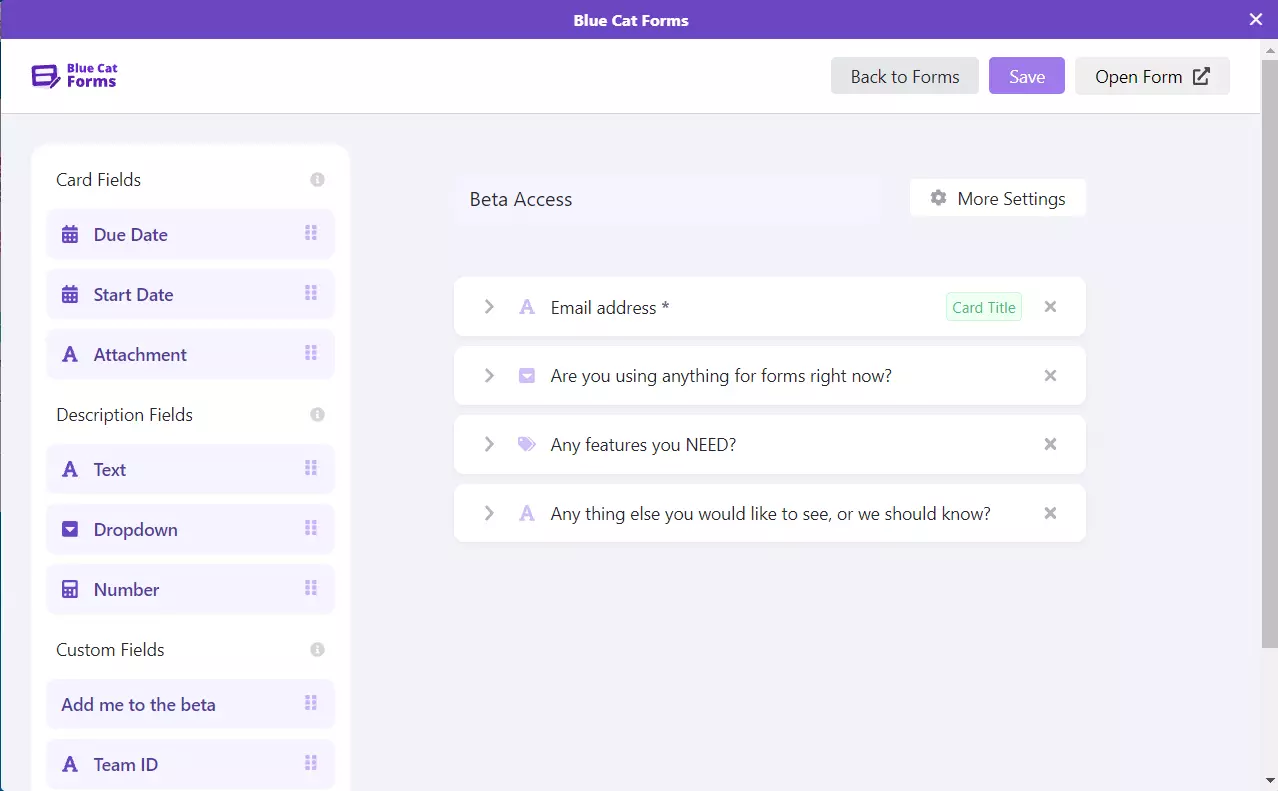 You can also add custom form fields that will be included in your card's description

Optionally, you can create your welcome and thank you messages

Publish your form

Watch your form turn into Trello cards!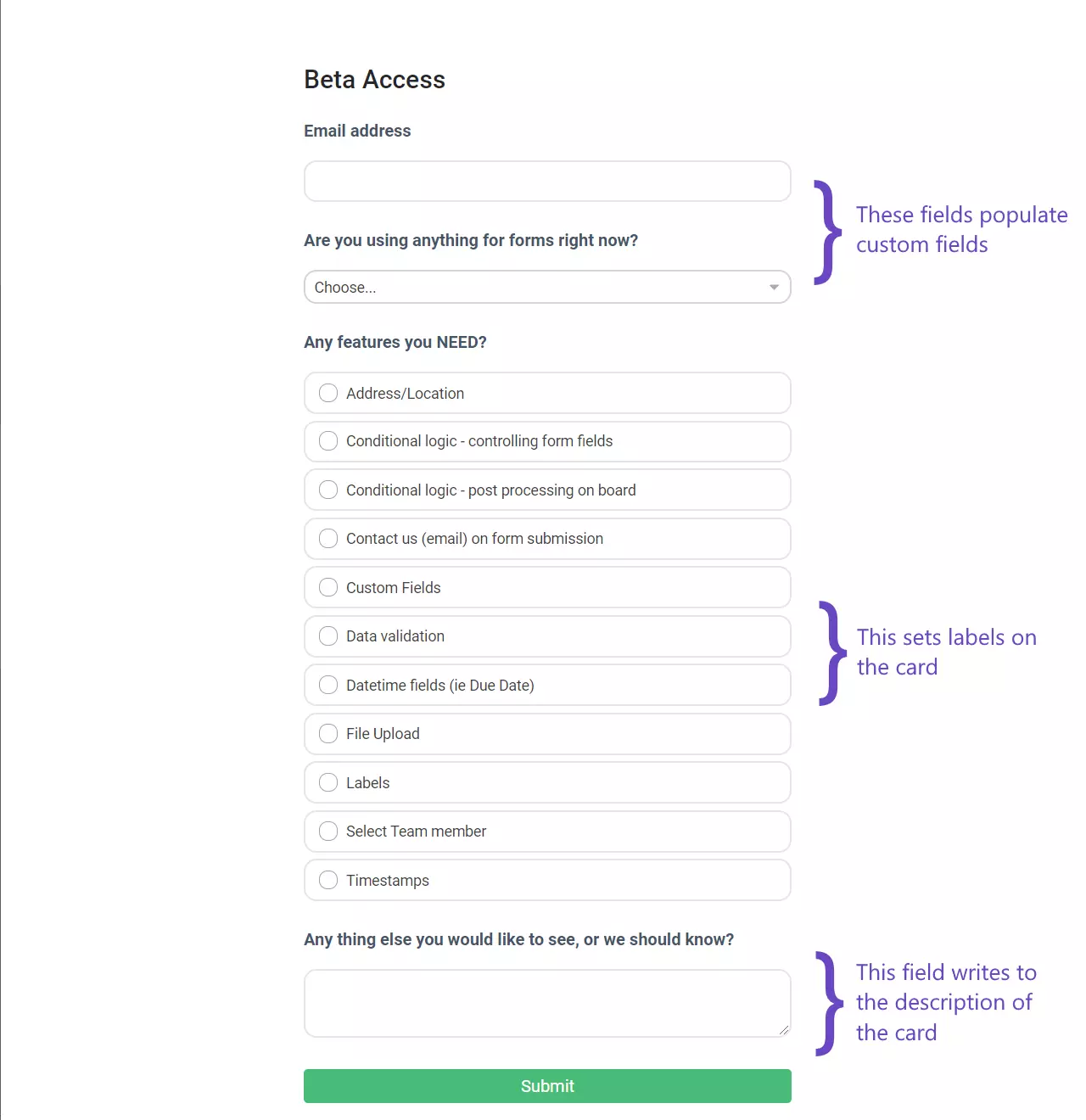 Forms by Blue Cat Reports is an excellent alternative to manual data entry prone to human errors. It offers a free plan with up to 25 form submissions monthly as well as 3 paid plans - bronze, silver, and gold - with prices starting from $19. It's the perfect feature to automate processes, narrow down response rates, and analyze a company as a whole. Other Trello CRM examples where you can use forms by Blue Cat Reports is for:
Job applications. Are you hiring a new employee? Use a form to gather the candidates' CVs, cover letters, photos, and portfolios in one place. Your HR department will be thanking you for months!
Customer satisfaction surveys. Trello contact management allows you to easily send surveys to your clients and get their feedback on your products, services, and overall customer support.
Collecting beta users. Are you launching a new beta version of your software, and you're keen on collecting users to try it out? Use forms and easily file your beta users in your Trello CRM template.
Collect feedback from employees or customers. Feedback is key to growth. Send out custom forms to your employees or customers and get their opinion on your products, services, and operations.
Manage orders. Customers can fill out forms to proceed with orders. Then your team can manage the process within the Trello sales pipeline.
Schedule meetings with prospects. Do you have multiple prospects requesting demos, meetings, and negotiations? No problem! Encourage them to fill in the form you've prepared and enjoy the benefits of Trello client management.
4. Nurture your contacts
Now that you have everything in place with your Trello CRM, it's time to start nurturing your contacts. You want to take time to talk to prospects, document every step of their conversion process, and remember to follow up on their journey. Here are some tips to help you take care of your contacts:
Checklists
Checklists are excellent visual indicators of the steps you have to take when following up on leads. For example, when you've crossed out all the tasks, your Checklist will turn green, which means you've completed all the follow-up steps on that client.

If you follow the same process every time, you can create a Checklist template that you can keep using on every card. To do that, simply open your preferred card, click on "Checklist", then "Copy items from", choose the checklist you want to copy, and hit "Add". All your settings will be imported into your current card.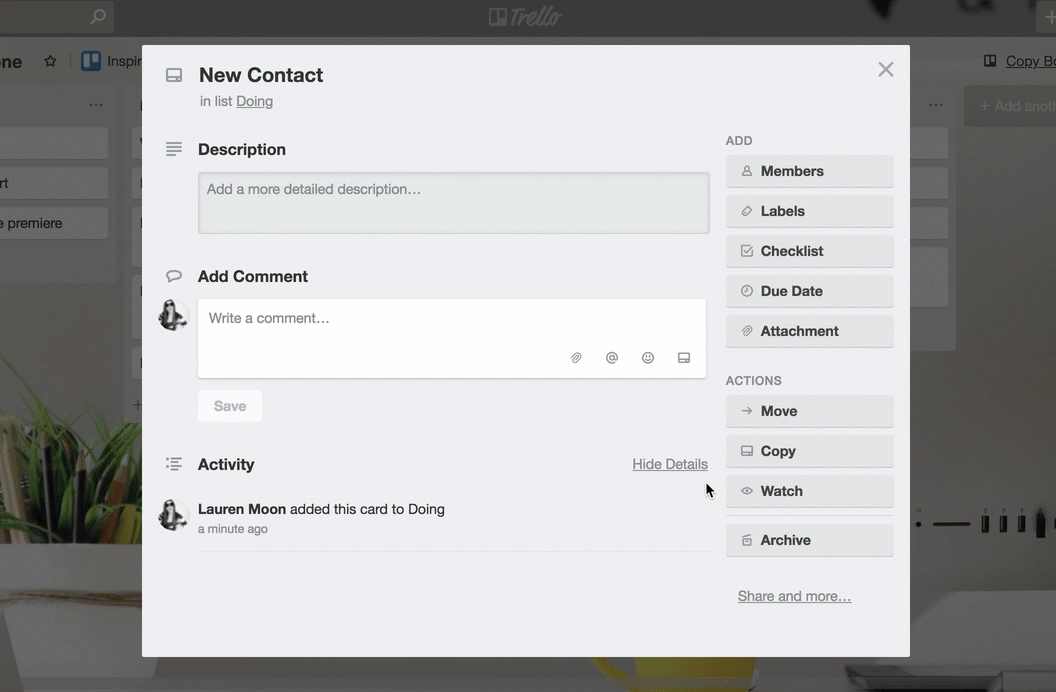 Comments
Do you want to add additional information on a prospect's card? Use the description or comment section to add timestamps for ongoing information or client-specific preferences.
For example, if you just had a call with a prospect and said they'll bring you another lead, you might want to create an additional card for them, so make sure to include it in the comment section.

Attachments
Forms by Blue Cat Reports automatically allow you to add attachments to your populated cards to keep everything in one place. However, if you have additional information you want to include, simply use the attachments feature to add contracts, charts, statistics, terms & conditions, invoices, or anything else.
Enable the Google Drive or Dropbox Power-Ups to embed folders and file previews for a complete setup.
Due Dates
The most important thing in your sales pipeline is keeping track of time. You want to keep your leads warm and turn them into paying customers as soon as possible. That's why you need a proper due date system to remind you of approaching deadlines.
For example, you might have gained a lead today and want to follow up on them tomorrow. Unless you count on your memory, you can use Trello's due date feature, which will remind you to take action and check something off your checklist.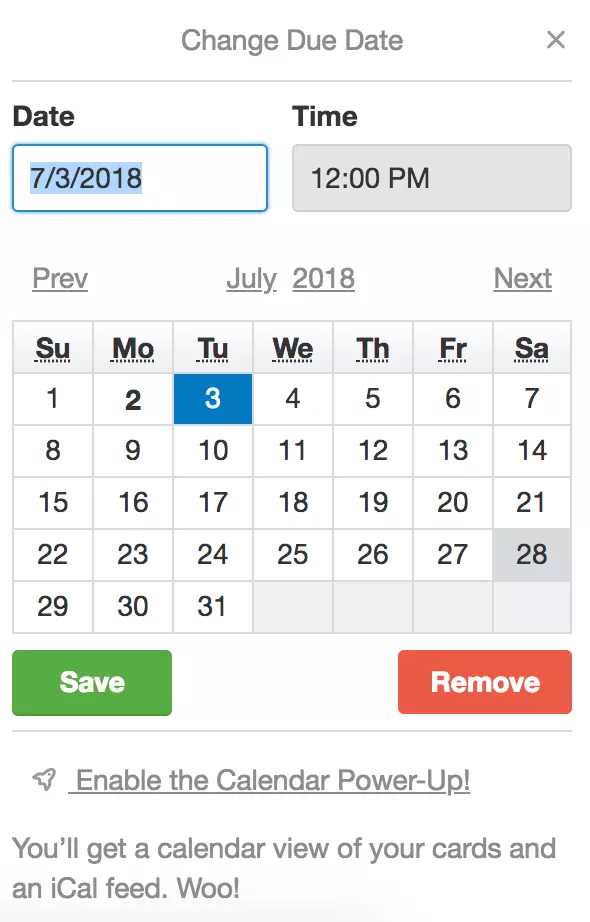 Additionally, you can enable the Calendar Power-Up to organize your workflow and prioritize pending tasks on a weekly or monthly basis, or the Time in List Power-Up to measure how long your cards have been in your lists and identify low performance.
Finally, in cases where you receive notifications to follow-up on leads, but you're still waiting on other deliverables, you can use the Card Snooze Power-Up, which will archive your card until the time you specify and remind you later to follow up.
5. Report your Trello CRM
Last but not least, a CRM without reports is like a cauldron without a lid. You might be making all the right moves to keep track and nurture your contacts, but this will mean nothing if you can't monitor your effectiveness and performance.
Blue Cat Reports is a simple yet powerful reporting tool that helps you generate beautiful reports and analyze everything on your Trello boards. You can visualize your boards, lists, checklists, and cards with various charts and email them to your team. It's easy to set up and even easier to use for optimal performance tracking.
Time to try it yourself!
There are hundreds of CRM tools out there, but it all comes down to your needs and budget. There's no point in breaking the bank with overcomplicated tools just to keep track of your small or medium-sized company's clients.
Using Trello effectively as a CRM tool with the help of the Forms by Blue Cat Reports is an inexpensive solution that helps you map your sales pipeline with automated data entry. Start a free trial today and see for yourself!