If you are feeling overwhelmed by your current workload and existing processes, it may be time to organise your tasks and projects into one place. Whether it's for your job, your home life, or even school projects, a project list can help you stay organised and on task.
There are various ways you can create and manage project lists, but in 2022 and beyond, your old-fashioned sticky notes probably aren't going to cut it.
In this article, we will share some great tips on how to make effective project lists with Trello, and Blue Cat Reports that you can use right away.
What is a Project List
A project list is a collection of outstanding projects and their corresponding tasks. While there are various ways to create and manage project lists, our favourite tool for doing this is Trello. With this project management tool, you can create new lists and boards to help you stay organised.
In layman's terms, a project list is a more sophisticated and robust to-do list. A project list should allow you to see the projects that are outstanding or in progress and efficiently manage their corresponding tasks. Bonus points if you can assign tasks and communicate with your team within the list. Keep reading to see how you can create a supercharged project list that will make managing projects and your team much more manageable and effective. Here's an example of one using Trello, where you can visualise projects in different ways: a collection of boards, a calendar, a timeline, and, of course, a project list: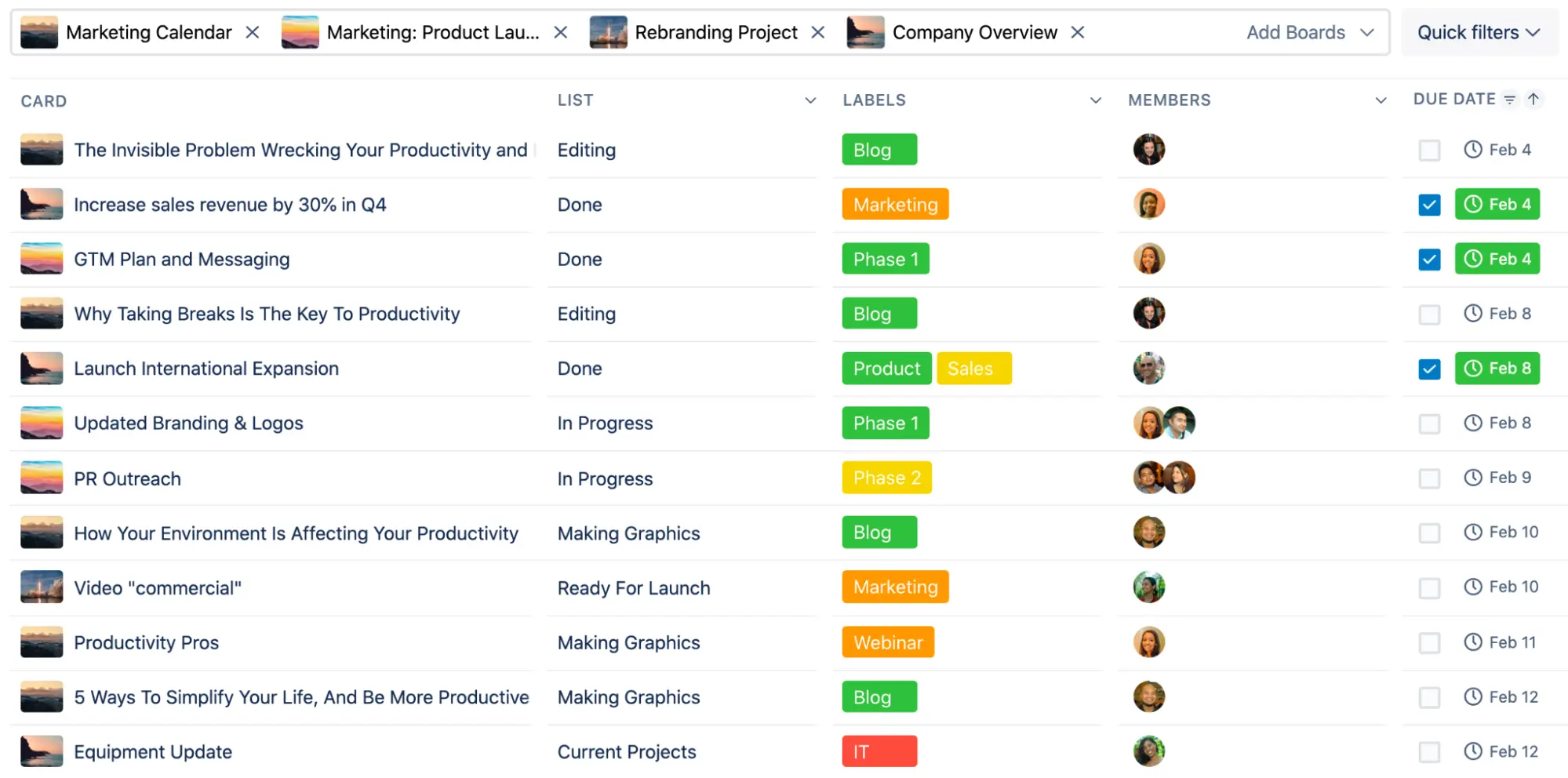 Why Use a Project List
Project lists are an easy way to organise all of your projects in one place. Especially when you have multiple people contributing to the project, a formal list is essential. It will help you stay on top of outstanding items and create utilisation visibility for senior leaders. Project lists can also help you prioritise different projects and collaborate with your team.
Using a Project Management Tool
As you think about the best way to create a project list, it may be tempting to jot down notes on scraps of paper or have a running list on a Google Doc. But if you decide to give these methods a go, you will quickly find that there are shortcomings that make monitoring and managing the tasks nearly impossible, because of their lack of functionalities to provide notifications, updates and insights.
Instead, you should consider using a project management tool like Trello. Here are some tips and tricks to help you create effective project lists with Trello.
How to Create Project Lists in Trello
Create a board
When you first launch Trello, you'll want to add a board. This will act as a container for all related lists and tasks. Permissions are also managed at the board level. So if you are working on multiple projects or with various teams, it may make sense to create a separate board for each.
To create your first Trello board, click the plus icon in your navigation bar at the top right or the space that says "create new board."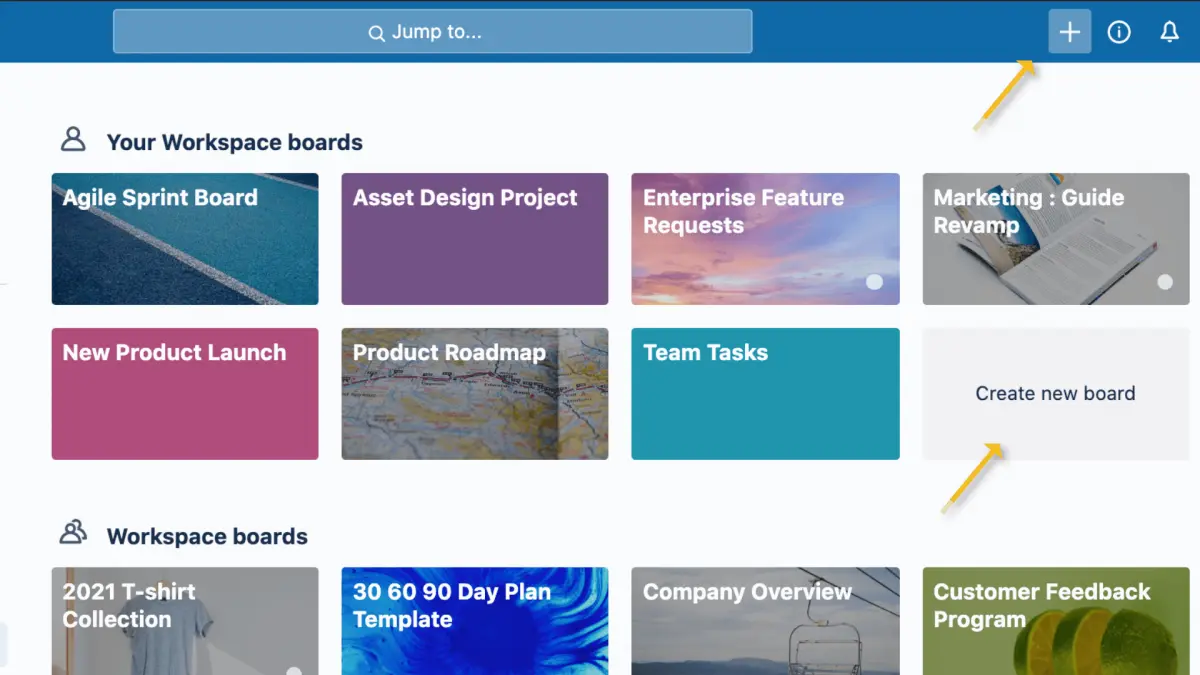 Name the board whatever is appropriate. For instance, if you create a board for each team, you will want to name each accordingly. At this time, Trello also gives you the ability to customise your board with different photos. You can also add people to your board. You will want to add them all by clicking on the "invite tab" at the top of the board.
Creating Your Project List
Trello gives you the option to create different lists within your board to categorise each project or task. The most common way of setting up this board is to have a "Pending," "In Progress," and "Complete" list so you can drag cards between lists (more on this later.)
You may also want a list for reviewing projects such as "in QA" or "Pending Approval." Again, how you set up this workflow is mainly dependent on how your specific team works and what steps are involved in a typical project flow.
Adding Cards
The next step is adding a card—cards are used for individual projects or items on your project list. To create a card, select "Add Card" at the top right of the navigation bar. You can customise each card with details about what needs to be done for that project or item.
You can even create template cards to standardise the format and reuse it in the future easily.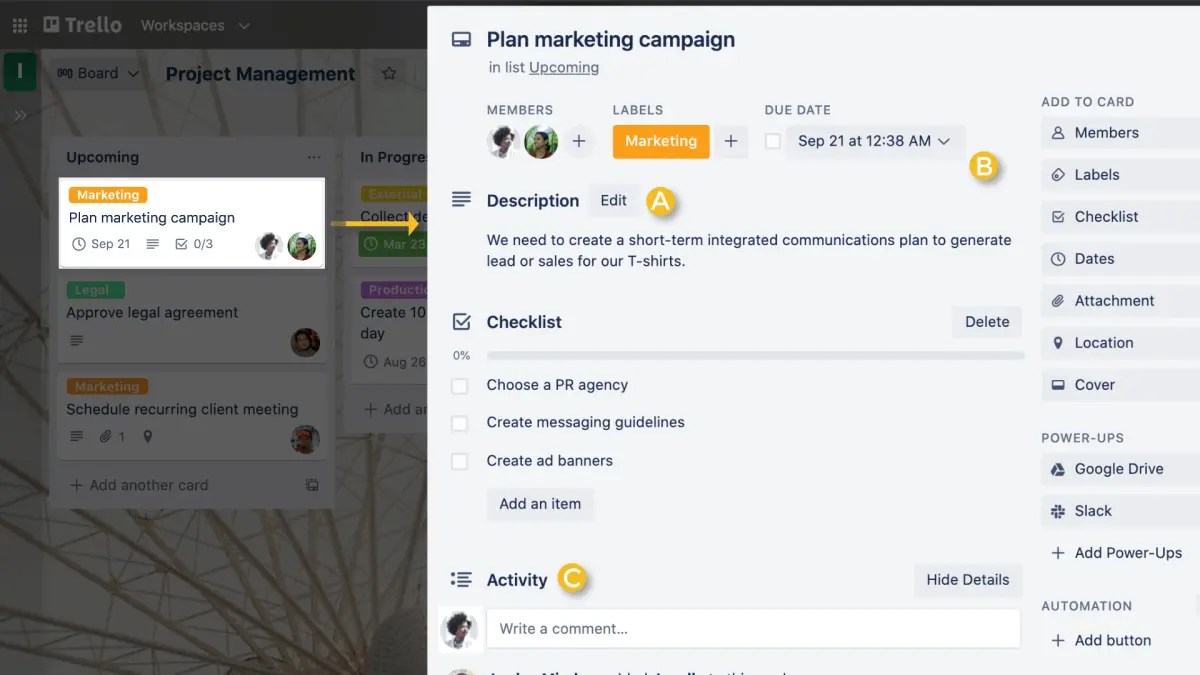 Assigning Cards
Now that you have cards that outline your outstanding tasks, you can assign each to the appropriate person and set a due date.
You can even make subtasks within the cards, add comments, notes, attach links, and more so your team has everything they need all in one place.
Moving Cards
Once your tasks have the necessary details and are assigned to the correct people, you can start moving them into different lists as progress is made. You can also set up rules so that cards automatically move once complete.
How to Monitor Progress
Once you have established a project list and standardised your processes, it's time to monitor how things are going.
Use a Visualisation Tool
Blue Cat Reports is a reporting and visualisation tool made especially for Trello. Get a bird's eye view of all of your projects in one easy-to-use report. Answering questions about how things are going is a cumbersome project, but Blue Cat Reports takes the burden off of you.
Customise your reports and schedule them to send to key stakeholders at your desired frequency.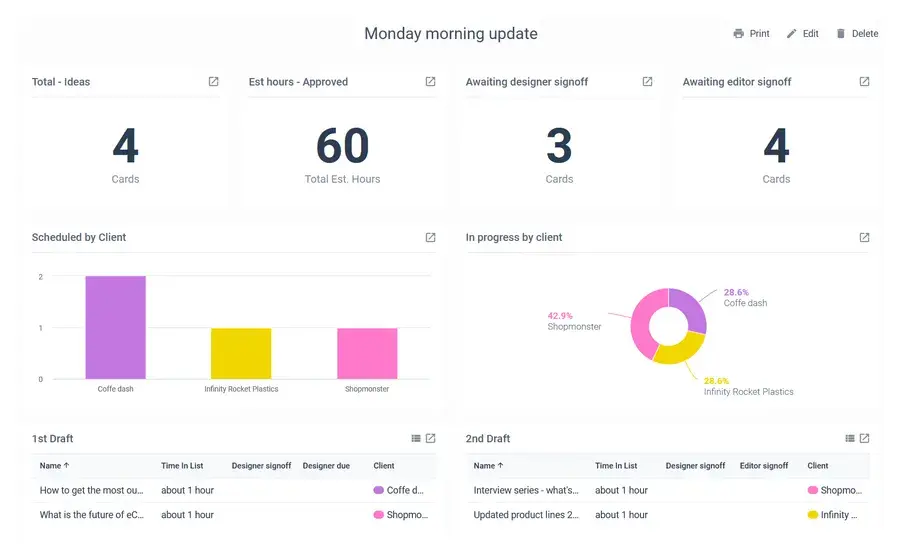 Other Tips for Effectively Managing Project Lists
Mastering your project lists doesn't have to be an overwhelming task; by breaking down the proper steps and getting the right tools in place, you can keep your projects running smoothly while avoiding common time-wasters and errors.
Standardise
Good project management is all about identifying methods that work best for you, then sticking with them. To save time and energy, identify a list of steps you find yourself repeating when beginning new projects. Once these core processes are established, it's easy to replicate them each time you start a new project.
For example, if you have a particular way of prioritising tasks or setting deadlines, try automating those elements so they can be applied across every project. This will allow you to save time and ensure you collect or provide all pertinent information up front.
Prioritise
Prioritisation is essential for getting your work done in a timely fashion. Even if you only have three things on your project list, prioritising them will boost you and your team's productivity by forcing you to focus on one project at a time. This will also allow you to effectively manage your team's time by putting them on the most important projects first.
Try using labels or swimlanes to categorise your priorities clearly. You can do so by adding labels such as Urgent, High, or Medium next to tasks that fall into these categories.
Set Deadlines
Deadlines should be set for each task and subtask, and everyone involved should know them. These deadlines are essential as they help ensure that all of your priorities are addressed in a timely manner.
Especially when tasks have dependencies, setting deadlines for each subtask will help ensure that things stay on track.
Use Automations
Setting up automated reminders and workflows in your task management software is a great way to keep your project lists under control and save yourself time. If you're managing tasks for multiple people, you can set specific reminders for each person or group.
Trello has many automation capabilities that will effectively move cards along through your workflow, create recurring tasks, send reminders and status updates, and more.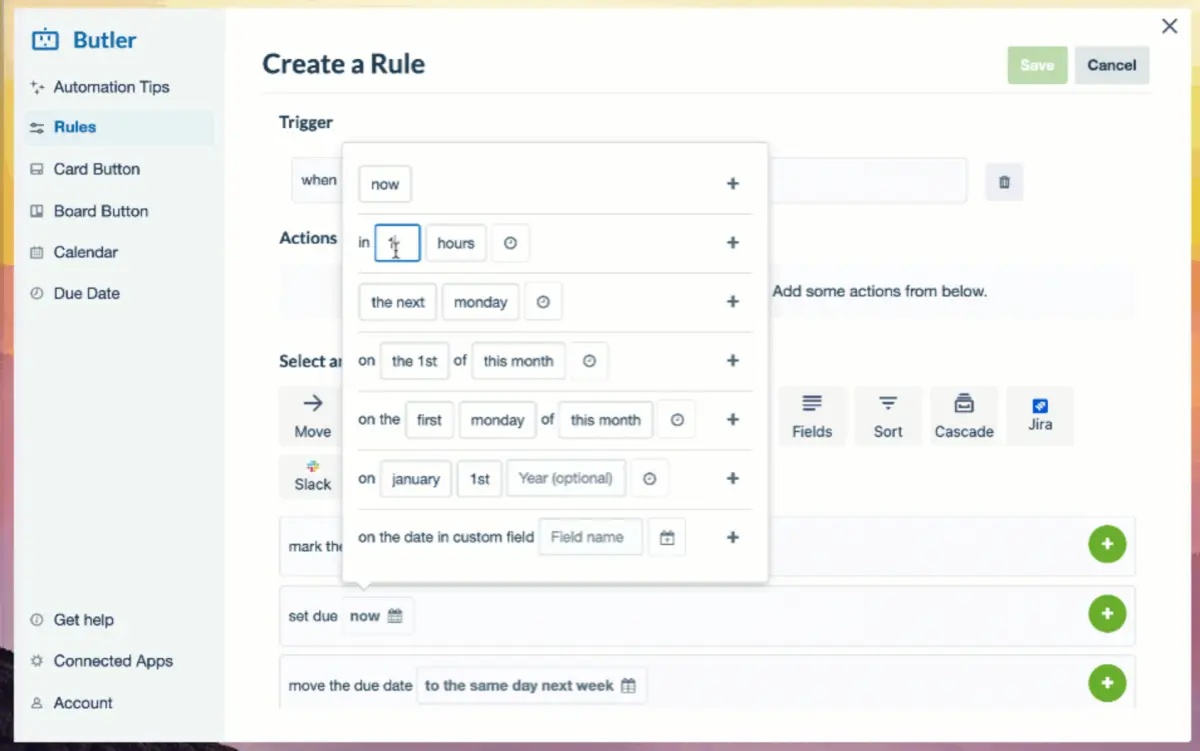 Track Time
If you have employees or contractors who work on your project lists, setting up time-tracking processes will help you better understand how much time each task and project is taking. This will also make it easier to manage resources, assign tasks, and ensure each team member is effectively utilised.
Trello has time-tracking powerups that allow board users to track their time on a task or card.
Communicate Clearly
An essential part of effectively managing a product list is communicating proactively with your team and key stakeholders. While using an effective project management platform and reporting tool can help you monitor progress and see how things are going, it should not completely replace the need for communication.
We still recommend checking in with your team to see how things are going and creating a forum for them to share any setbacks or challenges they are facing so you can plan accordingly.
Part of communicating effectively also includes sharing progress and challenges with leadership. This is where automated reports can be extremely handy.
Iterate
After each project, review your workflow and look for areas you can improve. For example, did things get done on time? If not, what were the reasons? Were there monotonous tasks involved in managing the projects that can be streamlined or automated in the future? Now that you've learned what went well and what didn't, adjust your processes and project lists accordingly.
Try Our Tools
To better streamline, monitor, and manage your Trello project lists, try using a tool like Blue Cat Reports to track your projects and communicate progress with ease.