A Count or Sum of Cards will give you a quick at-a-glance count of Cards or Sum of a custom field value across a selection of Cards.
To create a Count or Sum of Cards: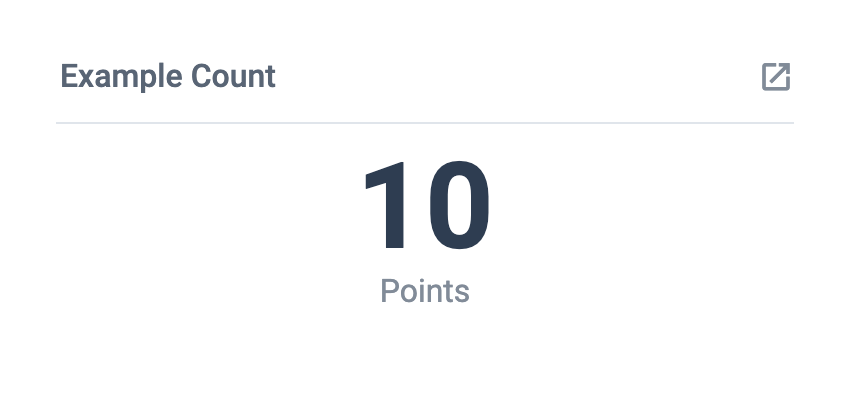 Create a new chart.

Select "Count of Sum" from the menu options.

Select which Cards you would like to count.

Open Cards - all those Cards from your Board that are visible. This includes completed Cards as well.
Completed Cards - all Cards on your Board that have been moved to your "Done" list(s).
Cards Added to Board - this is all Cards added to your Board.
Unchecked Checklist Items - this is all checklist items which have not been marked as complete.

Select the Board from which you would like the Card count. Hit "Continue" or press enter.

Now you can choose to apply a filter or not. Filters can be edited on the report after should you decide to view your data differently.

Note: If you have selected to report on Completed Cards we recommend the "No Filter" option as a default.

If you have selected to report on Open Cards we recommend adding a filter for Lists to only show the Open Cards in the Lists you are interested in. For example you may only want to show cards in your 'Doing' Lists...

No filter - this will show all Cards on your Board.
Filter - you will be able to select the data you'd like to see from your Board.

Give your count a name. Hit "Save" or press enter.
After you're finished...
Once you're count is complete you can do the following:
Hover your mouse over different parts of the chart to show further details on your specified data.

Drag and drop this chart tile anywhere you like within your dashboard.

Drill down (by clicking on the chart) and see full details of completed Cards and the time they took.

Note: Drilldowns are only available once you click 'Done' in the top right.