Background
Pillow May is a growing accountancy practice situated in the UK's beautiful Wiltshire countryside. They like to do things differently, taking an innovative approach, teamed with the latest technology. Flexible working is key to the team and lets them balance work and family time as well as recruit the best new team members based on their suitability not their availability. They are longstanding members of B1G1 Business for Good initiative, have been featured in Chartered Accountant Steve Pipe's 'The World's Most Inspiring Accountancy Firms' and were nominated as the 'Best Place to Work' in the 2019 Chippenham Business Awards.
We talked with Samantha Sollis, the client relationship manager, known in the office as the "Fastest tea drinker in the west!"
When and why did you start using Trello?
Previously we were using Salesforce to manage everything. That was fine up to a point but we started having issues managing our workflows in there. Jessica (the owner) came across Trello and was enthusiastic about it so we decided to adopt that and set up all our processes and flows there instead.
How do you use Trello now?
We have multiple boards, one for each accountancy practice area. Ie, we have boards for VAT, PAYE and etc. and a central master accounts board which pulls everything together. All boards have a master column holding all the clients for that board. This was the easiest method we found for setting up and using the card repeater function and keeping an eye on clients joining and leaving. Cards typically move between columns when a different person needs to do something on them, ie each list has one person responsible for handling the cards in it.
Note from Blue Cat: We have created a template based on their master accounts board. Their other boards work much like this so you could take this and modify it for your own situation quite easily.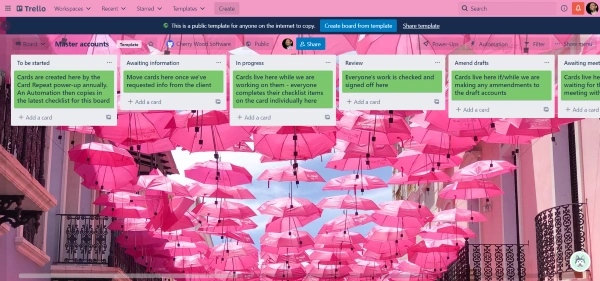 Master list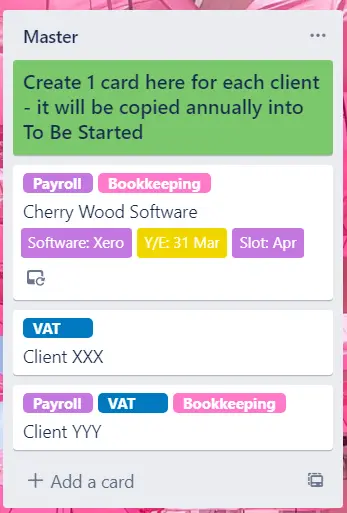 On the main accounts board we have a list over on the right called Master which has a card for each client. These cards use the card repeater power-up to make sure we create a new card for each client every year.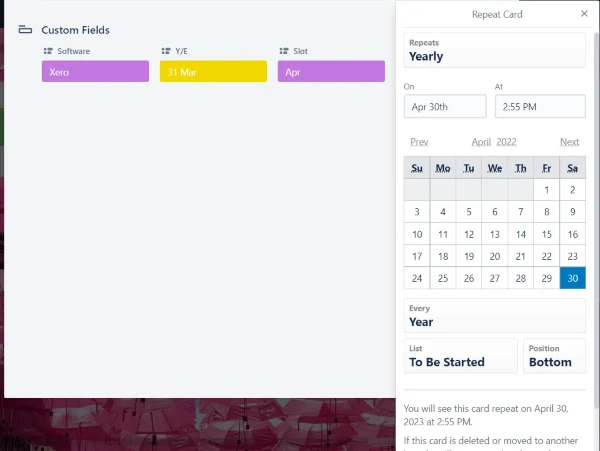 Note from Blue Cat: Trello's Card Repeater power-up is one of our top picks in our guide to free Trello power-ups, take a look at the full guide if you are interested in more free pups!
These cards all have some additional information attached
Custom fields to identify their year-end, accounting software used and the monthly slot in which we start work on their accounts
Labels for the services they use and any additional documents which need to be filed with HMRC for this client.
We also have additional labels for awaiting client and awaiting authorities. We can add either of these when a card is in progress to show if/why it is blocked
To be started list through to Review

Repeated cards are created in to be started on their renewal date. A Trello automation runs to copy the latest checklist onto each one. This is where the bulk of the process is recorded and people are assigned to most of the steps in the checklists when it is created. You can see an example of one of the checklists below.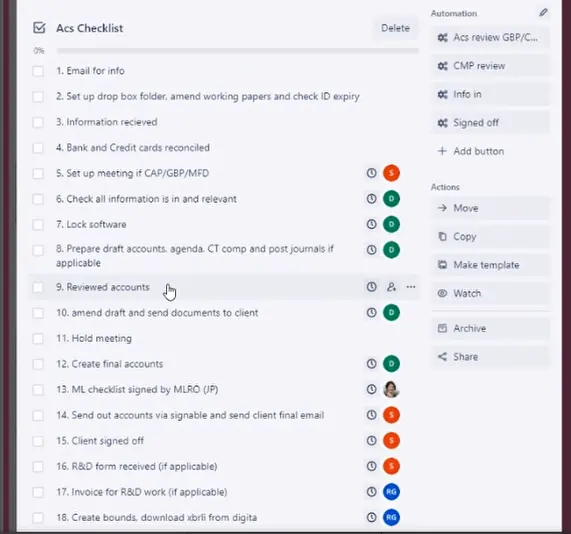 The first thing to do is to contact the client and request all the required information. On requesting the information the card is moved into awaiting information. From there it moves to in progress once all the information is received. At this stage, individuals work to check off their tasks in the attached checklist. The card is then moved into review which tells the manager that the work has been completed in draft and needs to be reviewed.
Amend drafts through to Finalise and process

At this point the work is largely complete. If there are amendments to be made they are done in the amend drafts step before the card is moved to awaiting meeting. For clients who don't have an end-of-year meeting, their card can move directly to finalise and process.
Send to Client through to Completed

At this point everything should be done and correct. The accounts are sent to the client and their card is moved into awaiting sign off and finally to be submitted. The last few bits column is where any small tasks left hanging after the main accounts have been submitted to HMRC can be completed.
When and why did you start using power-ups?
The main problem we had in Trello was that people had work spread across cards and checklists on multiple boards. It was hard for individuals to get an overview of what they needed to work on each week without having to open multiple Trello boards. It was also tricky for Jessica to get a big-picture overview of where each client project was at.
Blue Cat Reports came in useful here as we could create Quick Lists for each member of the team so they could see all the tasks assigned to them across multiple boards. Jessica could also use reports to get a higher-level view of the whole process and drill into where she wanted to.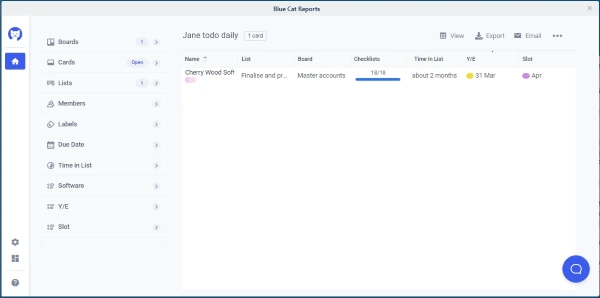 Note from Blue Cat: If you are interested in Trello power-ups you should check out our best power-ups and Trello reporting power-ups guides
Final thoughts?
Trello was the perfect solution for us to visually see our workflows as some staff find a straight list hard to follow. It was also highly customisable so we were able to create our own processes as we needed them which was key. However, as we scaled up the business we were losing sight of individuals' work and the bigger picture on where everything was in the processes. Without Blue Cat Reports we couldn't have continued using Trello. Using Blue Cat Reports with Trello gives us the views to manage our work without people having to switch between several boards every day.