No matter the size of your business, if you want to boost your chances for success, you need to follow a clear roadmap template. Trello, as an agile project management tool, can help you plan your vision and share it with your team, making it accessible for everyone.
Sure, you want your business to succeed. But do you know how to get there? Writing your objectives and planning out all possible scenarios means that you'll most likely accomplish your goals instead of stuffing them inside your brain.
Your ally for sticking to an agile roadmap template will be Trello. However, using only Trello won't be enough to stick to your vision. You'll also need a solid Power-Up like Blue Cat Reports to help you create beautiful reports from your Trello boards and analyze your insights.
But let's take a step back and explore some definitions first.
What is a Trello roadmap?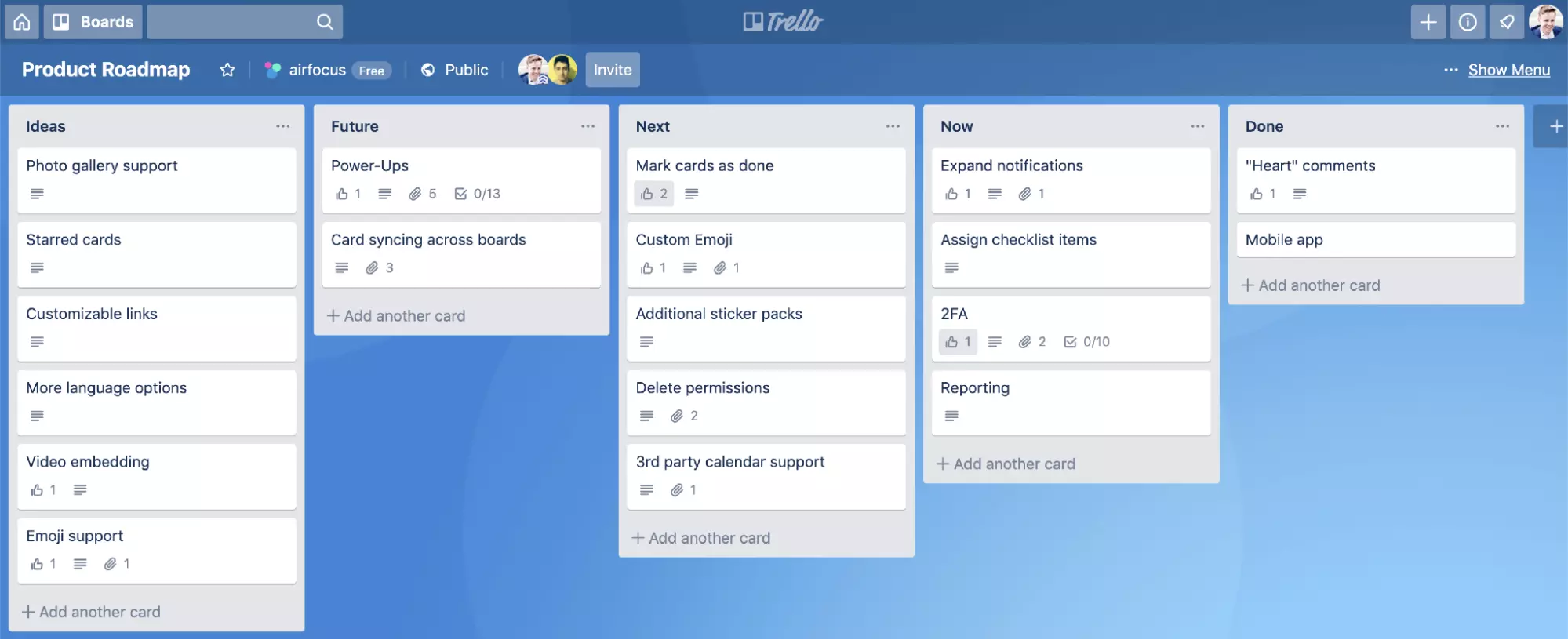 Put simply, a Trello roadmap is a breakdown of your goals or vision for new product launches or business upgrades. Whether you're a large or medium-sized company, a Trello product roadmap is a valuable tool to set priorities and consider all possible scenarios for a product launch.
In addition, a Trello product roadmap can act as a centralized piece of information that helps your team collaborate. It can be public or private depending on how transparent you want to be while offering the possibility for users to leave feedback.
A proper roadmap can help managers make the right decisions on distributing their resources. According to a study, $300-$600 billion are invested in IT in North America and end up being wasted due to wrong prioritization.
How to Create Roadmaps With Trello
As you already know, Trello is based on Kanban boards, lists, and cards. This structure by itself is an excellent place to start to map your Trello product roadmap. Here's how to create a simple sprint roadmap template:
1. Decide on Your Priorities
Before jumping on creating lists and cards, you'll need to decide on the various stages of your project and what steps your team will have to take to achieve your goals. So take a step back, and decide on the simplest structure for your Trello roadmap. You want to avoid endless columns, cards, and tags.
2. Create a Board
Now it's time to create your board. This is where you'll expand on your roadmap later. To add a board, simply login to your Trello account, hit on the "+" button in the header, and select "Create Board". Next, fill in the information that has to do with the name of your board, its color, and background, and you're good to go.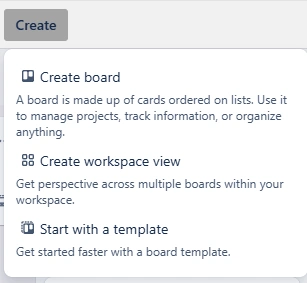 3. Create Your Lists
Next, you want to create your lists. A typical roadmap structure uses 4 lists, 1 generic with all the key information on how the roadmap works, and 3 focused on Near-Term, Medium-Term, and Far-Term tasks. To add your lists, simply hit the "Add a list" button, give your list a name and select "Add list". At this point, your Trello lists should look like this: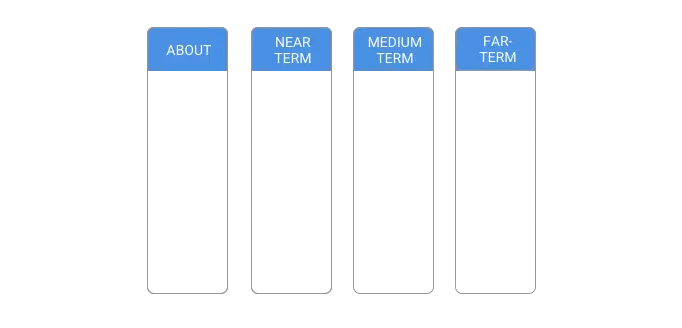 4. Create Your Cards
Now it's time to add your cards. Your cards should be relevant to your short, medium, and long-term goals and be included in the appropriate list. For example, you can use cards to represent different tasks, due dates, checklists, instructions, and documents. Simply navigate to your preferred list and hit the "Add a card" button.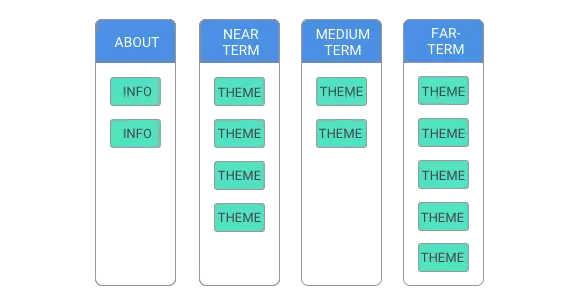 Make sure you give your card a name and assign the right team members or stakeholders to it. If you do it right, your Trello board should look like this:

5. Add a Roadmap Key
The first list in your roadmap should be devoted to explaining how this board works to the rest of your team members and stakeholders. Use this space to analyze the different color tags, the layout, how the lists work, what each status means, and more. For example, Buffer uses their "About" list to analyze their color tags and even includes a "how does this board works" card. This will save you tons of time and frustration in the future.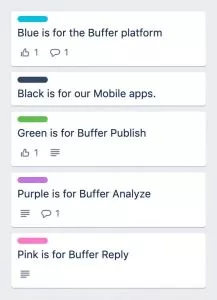 Advanced Trello Features for Your Roadmap
Now that you've created your Trello board, lists, and cards, it's time to enhance them to get the most out of your product roadmap in Trello. Here are some advanced features to help you out:
1. Visibility & Privacy
When creating your Trello roadmap, you get 3 options. You can leave the board private, public or share it with team members. For example, Buffer is all about transparency and has a Trello public roadmap. However, if you don't want to go all out with your roadmap, you can choose to create 2 roadmaps, 1 for employees inside the organization and one to be shared and updated publicly. This will help you keep information that needs to remain in the company as private and share the roadmap that can be shown to the public.
2. Feedback
It's common in Trello public roadmaps to ask for feedback through votes by team members or stakeholders. You also get the option to enable comments and track customers' or employees' engagement. This is an excellent opportunity to open up a conversation and gain perspective through others people's input. To make things easier, you can opt for the free Trello Voting Power-Up, which crowdsources input and lets you preview which cards get the most votes.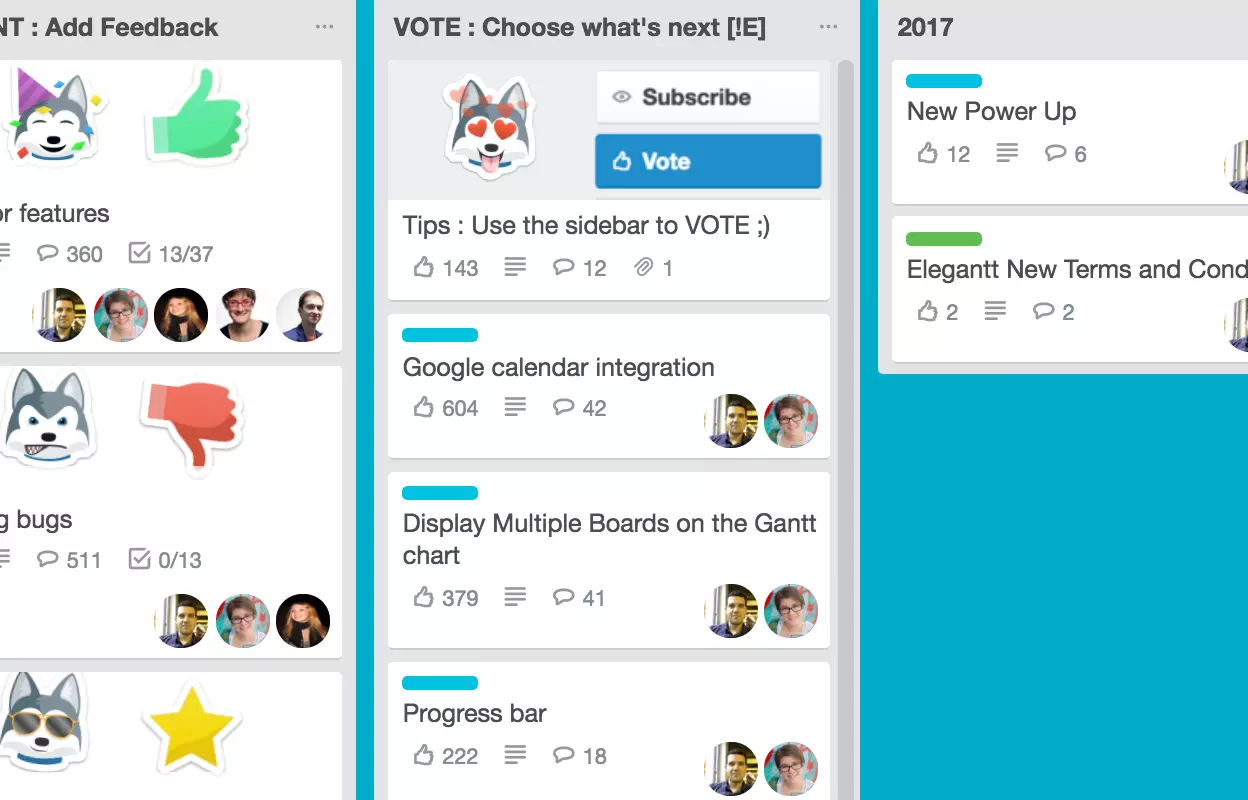 3. Feature Requests
People are often willing to submit their own ideas in public roadmaps. All you have to do is ask and make it easy for them. However, Trello is not the best option when it comes to submitting feature requests, so we'll examine what Buffer did to rectify the situation. Buffer created a card and named it "Send us a feature request". Inside this card, they attached a form where users could click on and fill in their desired features. That's something to consider if you'll be opting for feature requests in your roadmaps as well.

4. Customization
One of the tips to using Trello effectively is customizing your Trello roadmap boards, lists, and cards. One way to achieve that is by adding your preferred images as boards' backgrounds or cards' cover images. To make things lighter and fun, you can also add emojis and gifs, as they'll instantly add spice to your boards. Finally, if you have a paid membership, you can customize the view of your Trello roadmap boards to calendar, timeline, table, dashboard, and map.
5. Labeling
Labels are stellar ways of bringing life into your Trello roadmap boards, as they add color and vividness. Make sure you create a color-labeled theme that you'll also include in your "About" card as a guide to keep team members consistent. This will help you group relative items together and make your boards more readable.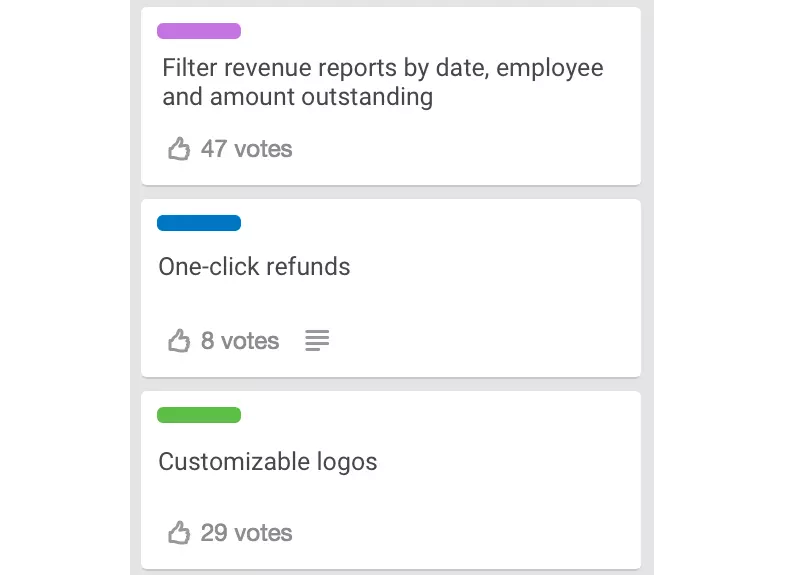 Trello Roadmap Best Practices
Building your own custom roadmap can seem daunting at the beginning. However, it's been done before! Companies like Monzo - a bank service based in the UK - created their own simple yet effective Trello roadmap template. Apart from a fully functional and easy-to-read roadmap, they took the extra mile and enhanced it with beautiful illustrations to convey the brand's personality.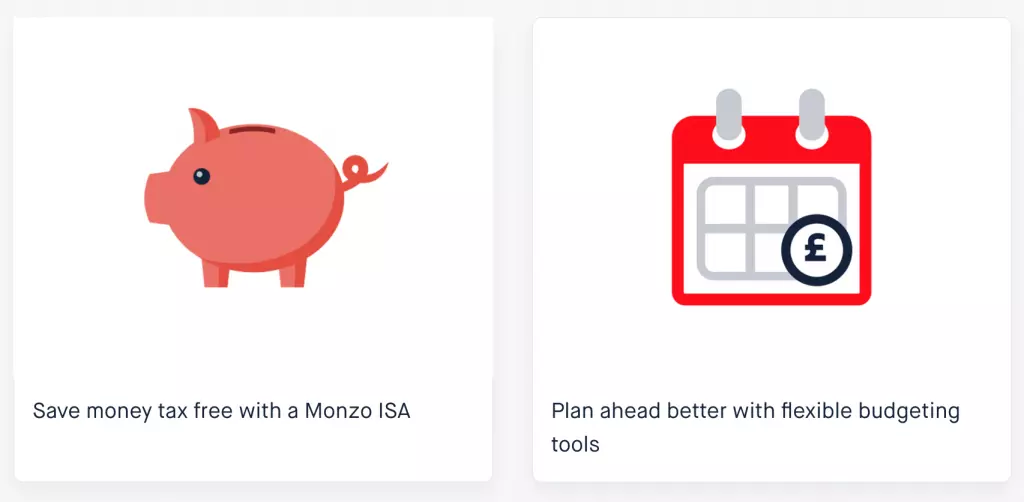 As for the structure, they focused on a simple yet effective one based on 3 lists:
Coming soon
In the future
Finished
Minimal and on point. Each roadmap item has its own landing page, where users can learn more about the latest updates, details, feature requests, or discussions. This helps declutter the board while sharing sources for extra information.

Overall, an excellent approach and a bright example of a simple yet effective public product roadmap.
Another stellar example is Attendify, an event technology company that created a custom public product roadmap. Although slightly more complicated than the Monzo one, it certainly stands out for its clear organization. Instead of using a list for "Finished", they focus on:
Researching
Designing
Developing
In the meantime, launched items have their own page like so: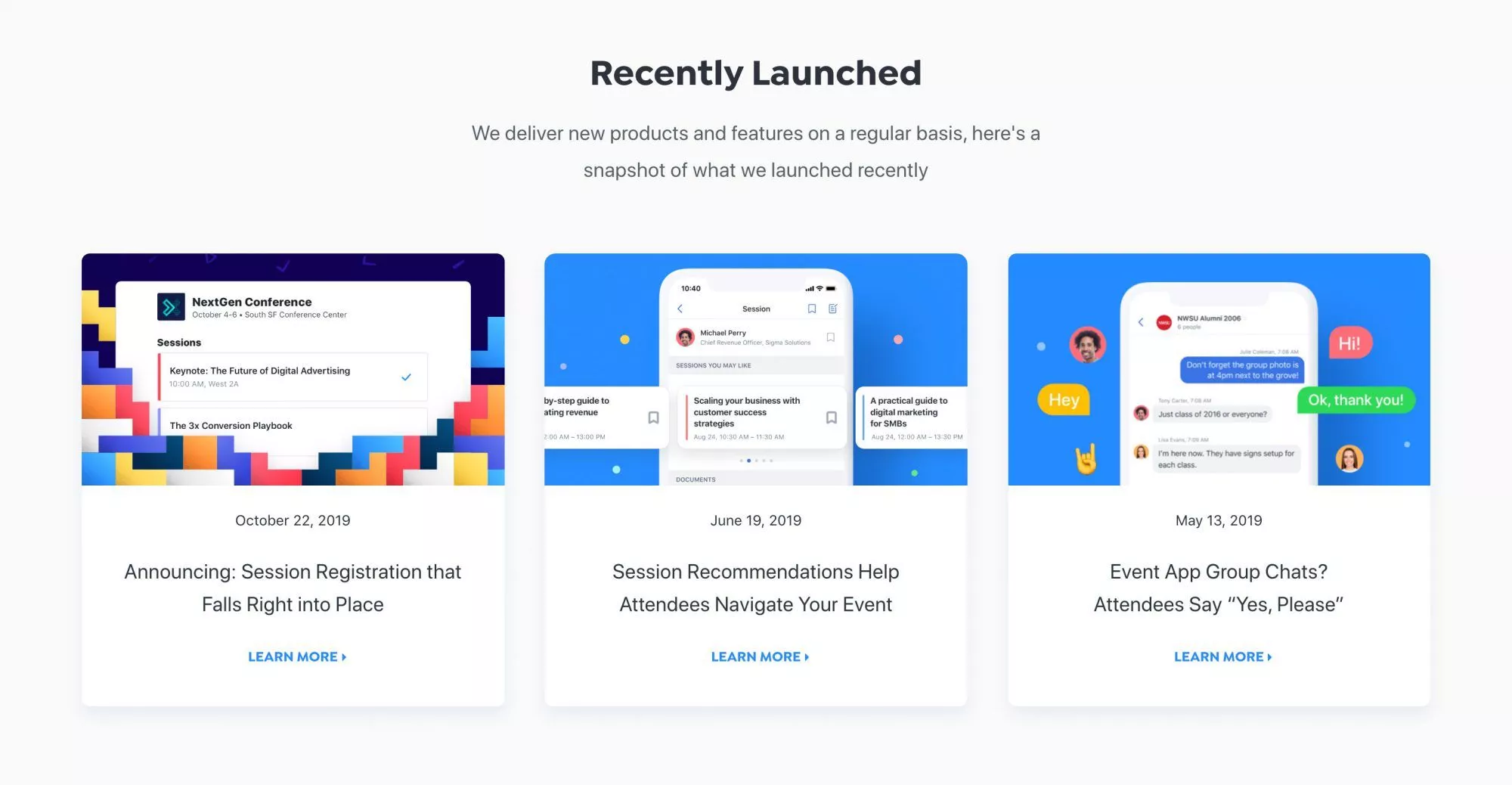 Some users are more interested in what has been done than what's currently worked on. By separating the two, they decluttered their board, helping users find the information they seek faster. In addition, they added a feedback option under each roadmap item, where users can send a message directly to the team. That's an excellent approach to gather feedback, as it shows users that their opinion matters.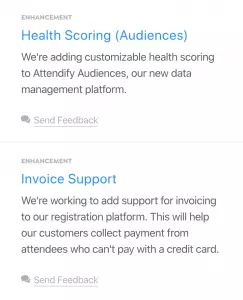 Additionally, they created a "How we build" section, where they share a glimpse of the behind-the-scenes of their processes. It certainly adds a touch of personality to the company.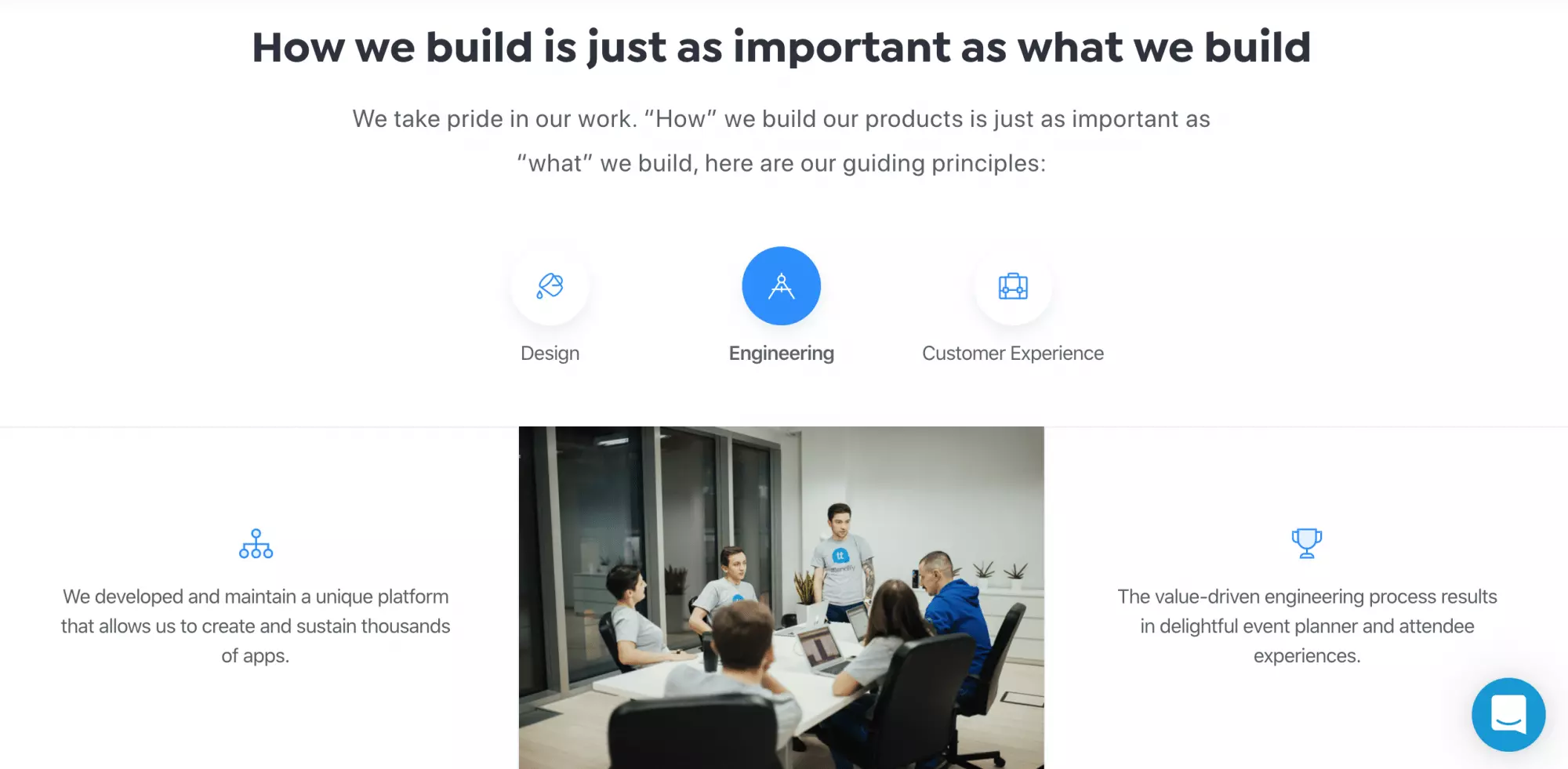 Lastly, to enhance their roadmap, they added extra resources, linking directly to their blog posts. Again, a smart way to avoid creating an overwhelming board that still shares all valuable information with the team.
Create Your Trello Roadmap
Trello, as a product management platform, has a lot of potential to become an excellent roadmap tool. After you decide on your priorities, you can opt for a simple four-card structure where you'll add your roadmap items and assign your team members. Get inspired by industry best practices and focus on encouraging feedback and communication through your roadmap for optimal results.
However, don't expect all answers to be given to you through Trello. Instead, opt for a Power-Up like Blue Cat Reports to get the most out of your Trello milestones and analyze your insights. Don't waste the valuable data generated as you work on your boards, lists, and cards. Instead, generate beautiful reports and see what's working on your roadmap in the long run. Start a free trial today!